"Email verification is a powerful weapon to enhance your business.
If you don't pass through spam filters, then you're not reaching your customers.
And if you're not reaching the customers, you for sure lose a chance to earn money"
---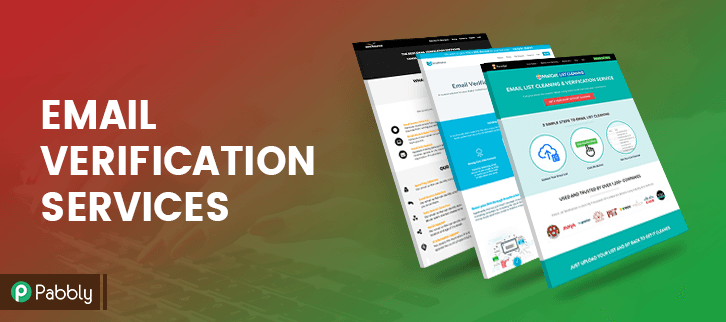 ---
Though there is a wide range of email list cleaning services to choose from it is quite difficult to select the best service among them.
To make the choice easy, keep these following points in your mind –
Cost
Delivery Accuracy
Spam Checker
Bad Domain Detector
Free Email Provider Checker
If any email verification service cover-up all these qualities then the tool is super fine for your business.
To make your work easier I have already found and listed some amazing list cleaning software [Remove Bounce & Junk Email Address]. Have a look at it and decide which one fulfills your business requirements.
For more related stuff, you can also go through the following blogs:-
Quickly, Go through the Comparison of various Email Verification Services
---
Another amazing email scrubbing service is – Pabbly Email Verification which removes hard bounce, email traps from your email list and makes it hygiene. This tool offers a 97% deliverability rate and reduces 10% bounce rate.
Along with that, you can also use its API key to connect this email verification service with your existing website or software.
---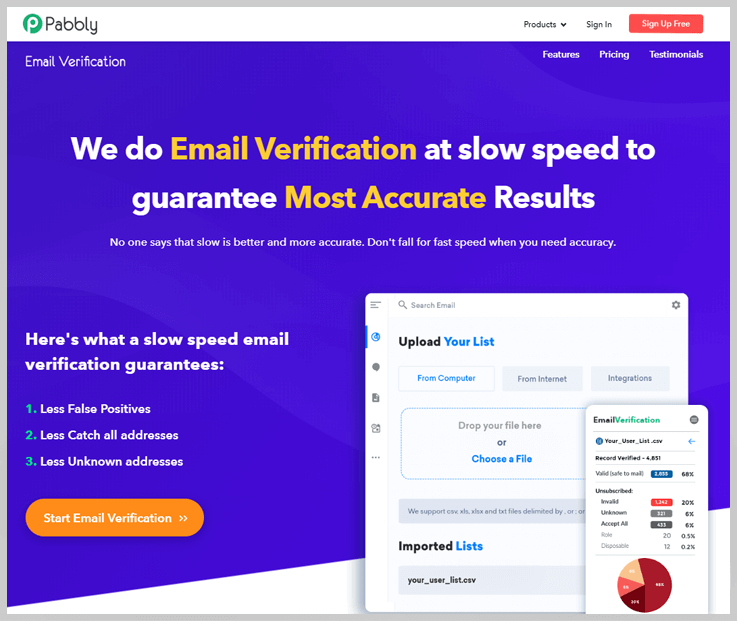 ---
Cost –
Pabbly Email Verification has multiple pricing plans to disinfect the email list of size 1k to 10M.
The first plan charges $5 for 1000 email verification.
As for the second plan, you can verify 5000 emails by just paying $15.
Also, in between these packages, there are 9 more plans, which you can select according to your requirements.
The highest plan of the service is $2999 which allows you to verify 10M emails at a time.
Features –
Software download – No
Email verification in bulk – Yes
Duplicate email removal – Yes
Complainer detection – Yes
---
MailGet list cleaning is a SaaS-based email verifier service which provides 99% deliverability, 10% reduction in bounce rate, and ensures 90.9% email opening rate.
Moreover, this software has been proven a flexible & secure email verification tool specially designed in an order to remove invalid or wrong email addresses.
---
---
Cost –
The email validation service gives multiple pricing plans to sanitize the email list of size 1000 to 10,000,000.
The basic plan began with [$4] for 1000 emails validation.
In another plan, you can verify 5000 email by just paying $12.
For the next plan, you will be charged $20 for 10,000 emails.
In between these plans, there are various other plans to verify emails up to 10,000,000 that you can select according to your requirement.
Features –
Accuracy – 99% deliverability guarantee.
Email Syntax Checker – Yes
MX Record Checker – Yes
Email Greylisting Checker – Yes
MX Server Connection Checker – Yes
Free Email Provider Checker – Yes
I have tried and tested many email list cleaning service and found MailGet List Cleaning service the best among them.
It is Secure, Affordable, Fast, and Accurate
Give a Try to this tool as it only charges $4 with the highest deliverability rate of more than 90%.

Note: The MailGet List Cleaning services also has its own Email Marketing platform which is the best way to get connected with more customers. Send bulk emails to the regular customers at just $42 and convert them into your potential customers.
---
InkThemes email verification service uses some of the prominent measures for verifying your emails. For example, it removes invalid/incorrect email syntax and filters role-based, disposable and duplicate emails from the list etc.
In addition to this, it also checks pre-suppression lists to remove bad emails from your existing mailing list.
---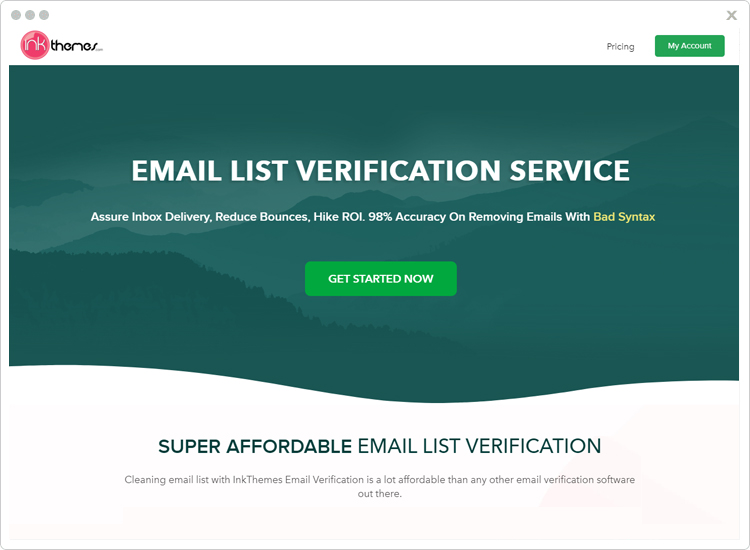 ---
Cost –
InkThemes email verification service offers some of the most exciting and affordable pricing plans for you:
You can purchase the starter plan with the one-time payment of $4 and verify up to 1000 emails.
Its Rookie plan is available at $12 which you can avail verifying 5000 emails.
Then comes the Pro Plan which you can purchase to substantiate 10,000 emails in $20 only.
The advance plan incorporates various cost estimation that varies according to the number of email verifications.
At most, you can verify 20 million emails in by lending an amount of $4990.
Features  –
Assured Inbox Deliverability – Yes
Removing Greylisted Emails – Yes
MX record Validation – Yes
MX Server Connection Validation – Yes
Hard Bounce Elimination – Yes
---
4. Clean Email -Best Email Cleaner to Delete Junk Emails
Clean Email is an online bulk email cleaner that helps to organize user mailbox and protect from getting junk emails from unknown senders. It relies on powerful rules and filters to segment all email messages into relevant bundles that are easy to handle.
Clean Email also provides opportunities to block spam email addresses and unsubscribe from marketing promotions you don't want to hit your inbox.
---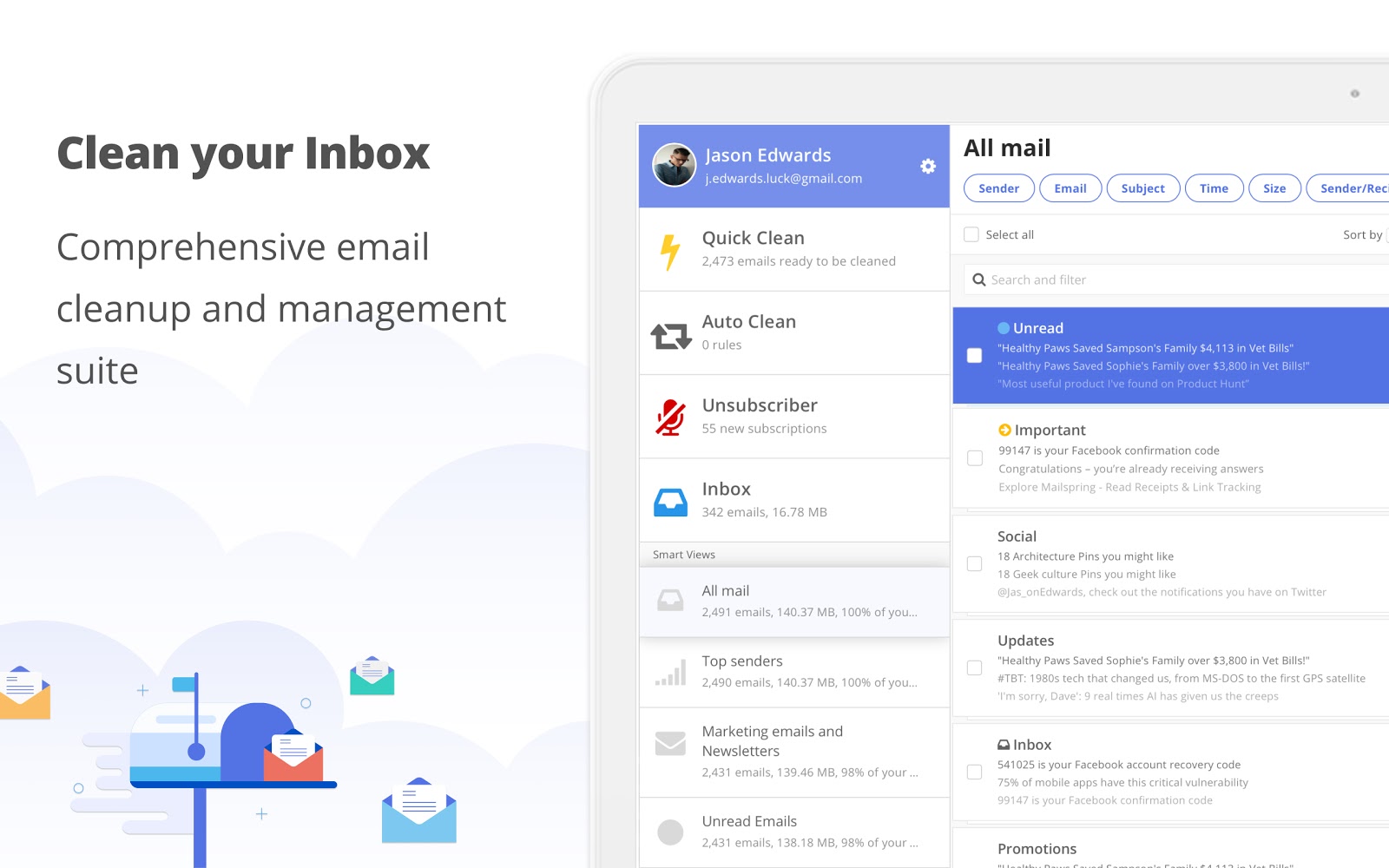 ---
Cost –
Free app trial covers deleting or applying other actions for up to 1000 emails.
Clean Email also has multiple pricing plans for monthly and yearly subscriptions.
Managing 1 email account would cost you $7.99 per month, while the same access for 5 accounts will cost $9.99.
Alternatively, you can pay a yearly $29.99 for 1 email account and $49.99 for 5 accounts you can share with anyone else you want.
Features –
Bulk email cleaner – Yes
Protection from getting junk mail – Yes
Auto rules for organizing mailbox – Yes
Easy unsubscribing from newsletters and unwanted emails – Yes
---
5. Bounceless – Intelligent Email Verification Service
Get the highest ROI of your email marketing campaign with Bounceless – a powerful email verification tool. The service gives 95% deliverability rate after cleaning the email list and reduces 10x in bounce rate.
Apart from this, you can use its real-time API key to verify emails with your application or website. It gives integration facility with MailChimp service.
---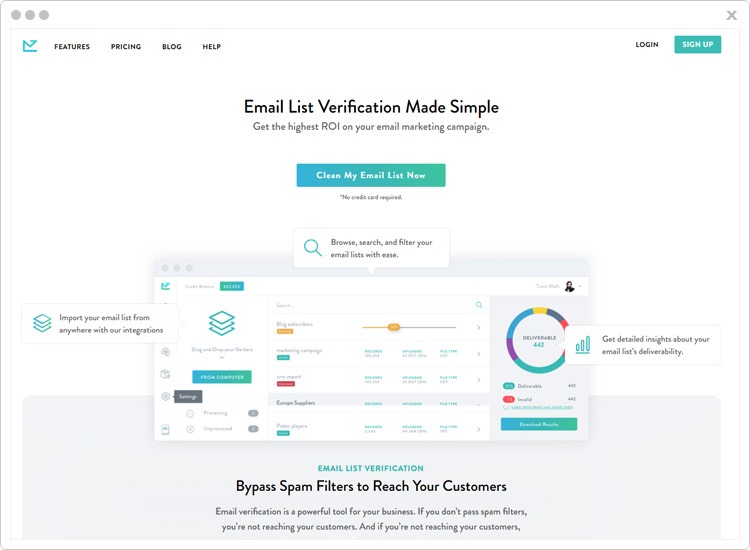 ---
Cost –
Bounceless offers numerous pricing plans which allow you to purify the email list of size 25K to 5M or more.
The starting plan charges $19 for 2500 email verifications.
In the next plan, you can verify 5000 email validation at $29.
After these, there is 8 more plan & the highest one is of $3,399 in which you can verify 5M emails.
If you want to verify emails more than 5M then for that contact Bounceless support team.
Note: This bulk email verifier software offers 100 FREE email validations.
Features –
Bulk email verification – Yes
Email duplication removal – Yes
Habitual complainer detection – Yes
Bad domain detection – Yes
---
6. Clearout- 98%+ accurate email validation and verification service

Clearout is a SaaS-based email validation and verification service built with the intention of making Email Marketing even more impactful by reducing bounce rate, improving deliverability and open rates. It is a fast and accurate email address validation tool with 98%+ accuracy and 20+ refined validation checks at the fastest turnaround time to keep your sender reputation.
This tool supports quick validation of 10 email addresses at a time and bulk validation of files in.CSV or.XLSX format. Clearout provides API to assists developers with instant and bulk email validation. The tool also offers Lead Finder to help you find quality B2B leads for your business.
Data privacy and security in compliance with GDPR makes Clearout more trustworthy for its customers.
---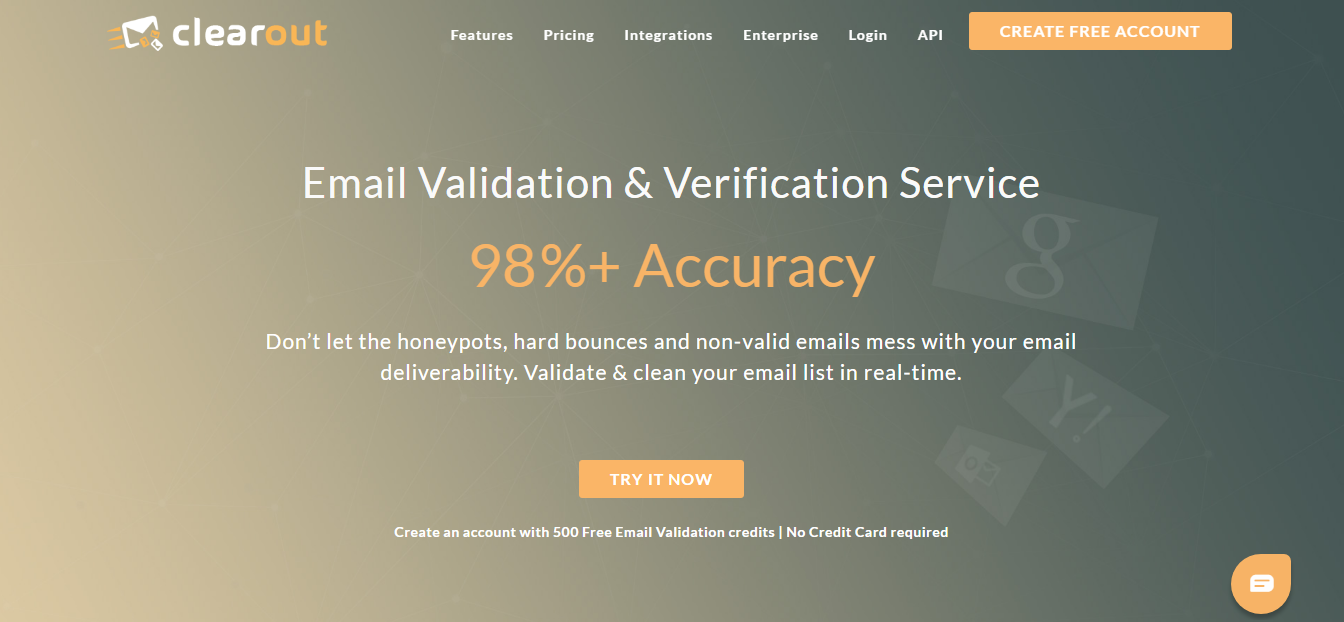 ---
Cost – 
Clearout email validation software has multiple pricing based on the email list volume.
$28 for 5000 Emails
$280 for 100K Emails
$1113 for 1M Emails
Also, in between the tool offers custom pricing for enterprises.
Minimum verification purchase is $6 for 1000 credits. The credit never expires.
Features –
Duplicate Removing – Yes
Catch-All Verification – Yes
Syntax Validation – Yes
Blacklist Verification – Yes
Yahoo, AOL Validation – Yes
Remove Dots – Yes
Remove Sub-address – Yes
Auto Suggestion – Yes
Risk Verification – Yes
Disposable Email Verification – Yes
Extended SMTP Validation – Yes
Spam Trap Detection – Yes
Domain Verification – Yes
MX Record Verification – Yes
Mailbox Quota Verification – Yes
Mailbox Error Verification – Yes
Deliverability Score – Yes
Role Account Verification – Yes
Verification Time Taken – Yes
Verification Timestamp – Yes
Free Account Verification – Yes
---
7.  BriteVerify – Email List Cleaning Service
BriteVerify is the fastest email address verification service which gives spam trap detection, bounce detection, email data append and a lot more. The excellent part of the tool is that it can also verify first & last name, location, and age of the email address.
Apart from that, it also detects toxic domains – the domains which create abuse, spam, and bot emails.
---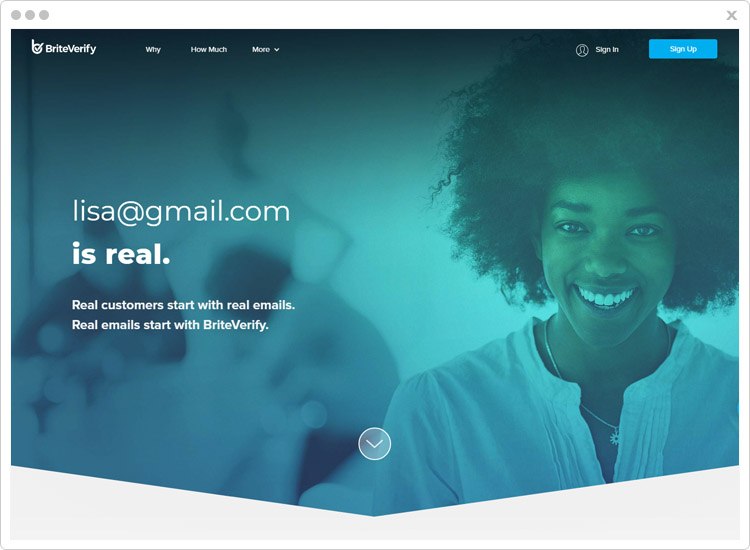 ---
Cost –
This email list hygiene service offers several pricing packages for its users which allow you to clean the email list of size 5k to 5M or more.
You can verify up to 250k and it will cost you around 1cent.
For Example –
If you verify 5,000 emails in a month then, 5,000 * $.01 (1¢)Total Cost = $50
In the next plan, you have to pay $.008 per validation and the cost will be applicable on 250k to 500k emails.
For Example -If you verify 500,000 emails in a month then, 500,000 * $.008 (1¢)Total Cost = $4000]
Features –
Role-based account detection – Yes
Catch-all account detection – Yes
Spam trap removal – Yes
Disposable email address (DEA) detection – Yes
---
8. EmailMarker – Email Verification Made Simple
EmailMarker – another stunning email list cleaning tool which cleans all the junk email address, detect spam keywords, complaints, traps and more from your email list. Further, it also assures in increasing the deliverability, and deduction in the bounce rate.
With this service, you can filter low-quality emails from high-value contacts and send them to real customers.
---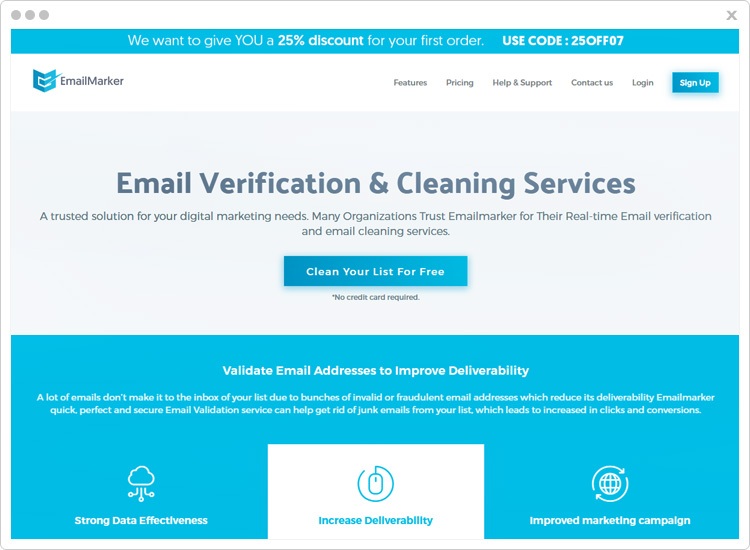 ---
Cost –
This email list validation tool provides many pricing plans to verify the email list of size 1K to 2M.
For verification of 1000 emails, you have to pay $3 per month.
Another plan charges $13 for the validation of 5000 emails in a month.
Other than that there is more 8 price package which you can choose accordingly.
The highest plan of EmailMaker software is of $999 for 2M email verification.
Note: This email scrubbing tools give 150 email validation for FREE.
Features –
Installation required – No
DNSBLs and URI DNSBLs checked – Yes
Spam keyword detection – Yes
Role-based account detection – Yes
---
9. Xverify – Best Email Verifier
Xverify is a trusted company for all your email verification needs. Eliminate hard bounces, reduce spam complaints, and minimize fraud in milliseconds. This email verifier tool works in both real-time or via batch processing and is proven to provide a 98% accuracy rate.
Xverify is CERTIFIED with two privacy framework i.e EU-U.S. PRIVACY SHIELD FRAMEWORK and SWISS-U.S. PRIVACY SHIELD FRAMEWORK. They offer Data Processing Addendum's to any client who will need them as part of their GDPR Compliance.
---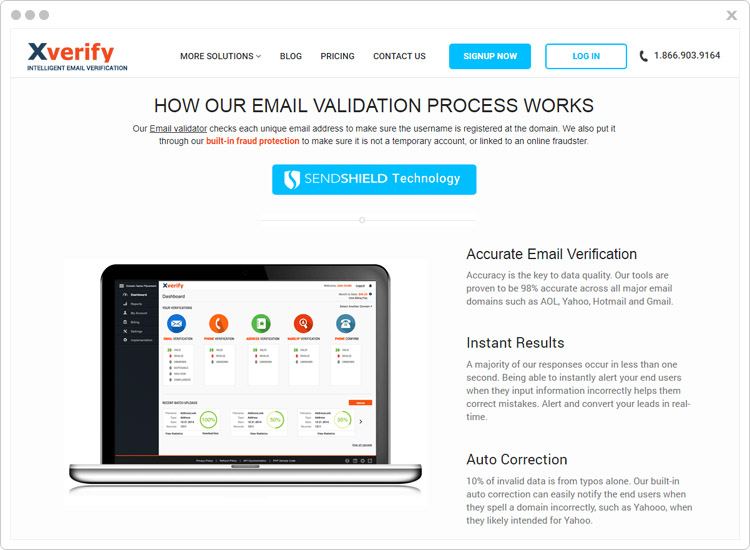 ---
Cost –
This email verification tool is completely pay as you go. The more you verify the bigger the discount.
The lists under 5k are a penny of $0.01 per verification.
While the lists over 50k get you down to half a penny $0.005 each.
For large multi-million lists can get you down to $0.001 each.
Features –
Bulk Email Verification – Yes
FTP Upload Option – Yes
Catch-All Detection – Yes
Spam Complainer Detection – Yes
ESP Integrations – Yes
---
Conclusion
Consequently, in this blog, we described some of the finest email verification services.
Also, they provide a range of features like removing junk email address, email traps, bounces off your email list and make it healthy and hygiene.
So, now we hope that you are able to select the best email scrubbing tool for your business as we end of 5 Email Verification Services article.
Still, if you need more information related to email list cleaning software just check out the following blog once –
Furthermore, you can contact us for any more queries and suggestion!
We'll be happy to hear from you.