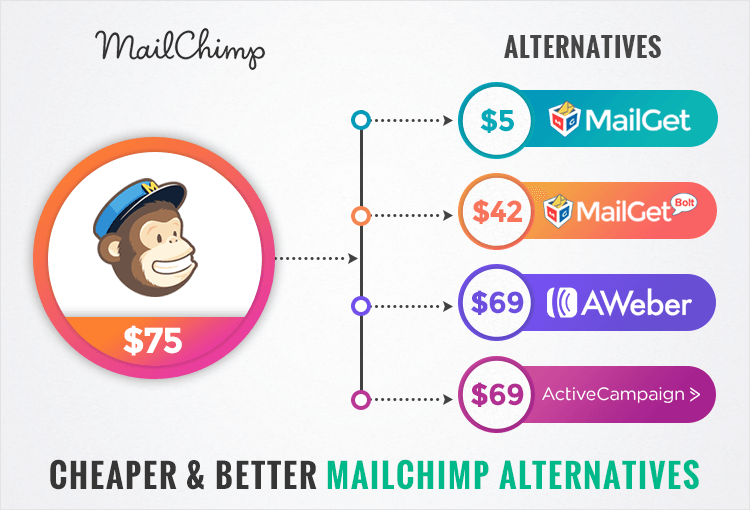 MailChimp is a renowned email marketing automation platform, but it too has some flaws which bring's it down.
Some of the drawbacks of MailChimp email marketing service are:-

It's not at all cheap and provides no discounts or offers on bulk emailing.

Free plan has got very basic features, important features are locked. So, for effective emailing, you have to opt for paid versions.

If you encounter any problem on weekend or at nights, no customer support will be there to help you out.

Beisdes, MailChimp doesn't facilitate Spam control.
So, if you are looking for a cheaper & better alternative. Then this blog will assist you to find the cheaper as well as enhanced email marketing solution which is best for your business.
You may also like:-
Quickly, go through the comparison of MailChimp Alternatives!
Let's start exploring the details.
---
Pabbly Email Marketing is veritably one of the best alternate for MailChimp. This email marketing service is easy-to-use, affordable, gives top-class customer support. And it is studded with lots of features like email list cleaning, email tracking, follow up tool and much more.
With this email marketing service, you will get inbuilt delivery engines that assure 99% inbox delivery. This delivery engine will give you a 2x open rate of your email campaigns. You can even add multiple SMTPs of your choice.
---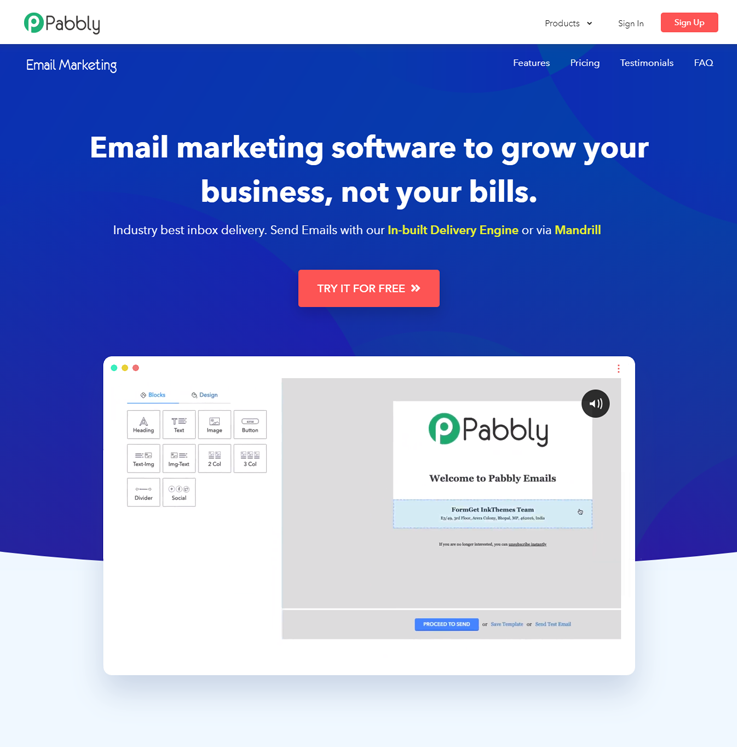 We initially used MailChimp to do email marketing. Later we switched to Pabbly Email Marketing and the reasons behind the change are:-
Price plans are cheaper, we targeted 5,000 contacts just by paying $29 for the base plan. MailChimp charged $75 for the same.
In Pabbly Email Marketing even the free plan allowed accessing all features. But here in MailChimp most of the advanced features are paid.
---
Free & Paid Plans Offered By Pabbly Email Marketing
Just sign-up and connect upto 3 SMTP for better inbox deliverability of your future email campaigns.
For the Rookie plan, you gotta pay $29 every month & get access to send emails to 5000 subscribers.
Next comes the Pro plan in which you can send emails up to 15,000 users by paying $49 each month.
Pabbly Email Marketing provides an Advanced plan according to which you can send emails to 50,000 subscribers at the price of $99/mo.
[
Note
:- On all yearly subscriptions you can enjoy the benefits of 20% discounts on every plan.]
---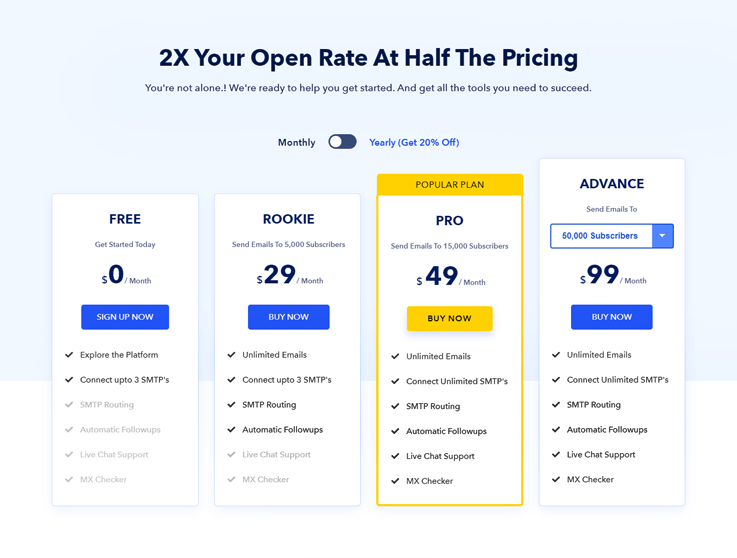 ---
Features That Makes Pabbly Email Marketing Better
Drag & Drop Mail Builder:- Create emails that are 100% responsive using email editor. Without using a single line of code, just drag & drop fields required and design your own emails to increase customer engagements.
Integrations: Get multiple integrations like Zapier, Google Analytics, etc and enjoy unlimited features that come with it at a very affordable price.
Pre-Designed Templates:- Email creation is a time-consuming process to avoid it Pabbly Email Marketing gives you free access to over 500 email templates which are attractive in design.
Auto Drip Emailing:- Conduct drip email campaigns to reach customers at times when they are most available to engage, just schedule and rest will be done automatically.
Customer Support:- Awesome customer support is provided, even on weekends prompt replies to queries are delivered by the support team.
---
Pros That Pabbly Email Marketing Has
Inbuilt SMTP that assures high inbox delivery.

Even the base plan has all the latest features & facilities.
Cons That Pabbly Email Marketing Has
Restriction of sending emails in a free trial plan.
---
2. MailGet – Email Service Provider
The major benefit of using MailGet over MailChimp is that it allows multiple SMTP integrations simultaneously in it and supports most of the popular SMTP services. It also ensures inbox delivery, higher open rates, good deliverability and much more in which MailChimp lacks.
This is also the cheapest email marketing service in the entire list which delivers futuristic features with every plan.
---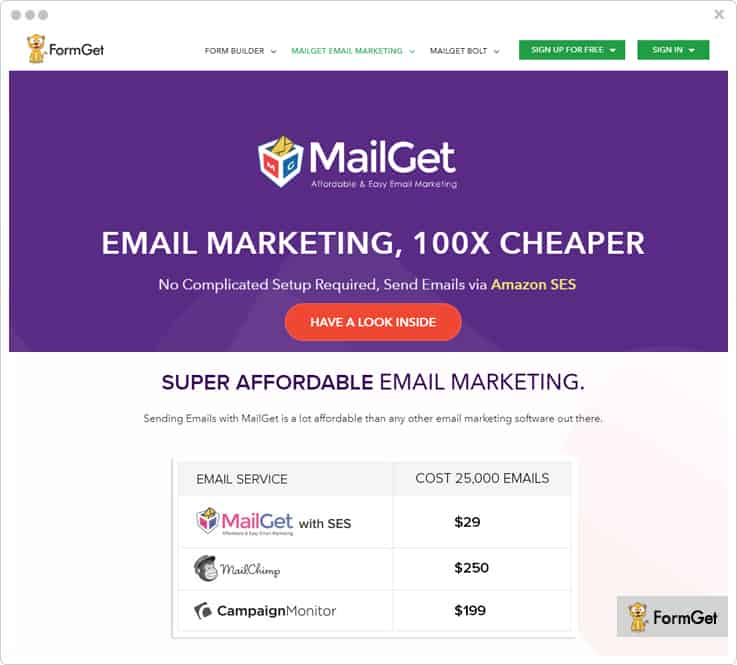 If you want a good open rate and deliverability on different email campaigns, I will say try MailGet as it helped us generate an Open Rate of around 43%.
This is a service which will allow you to switch SMTP services and help you get good deliverability with fewer efforts at just $29.
---
Free & Paid Plans Offered By MailGet
MailGet is one of the cheapest email service provider on the list, the base plan is priced only $29 a month for unlimited email delivery to 5,000 users.
This plan will charge $49 on monthly basis for unlimited email delivery to 15,000 contacts.
Other than the pricing plans mentioned above, you can choose from 11 more packs for mass emailing. The price may vary as the number of subscribers increase.
Features That Makes MailGet Better
99% Inbox Delivery:- With this emailing service it is easy to achieve higher inbox delivery. This will enhance user engagements and increase open rates as the emails will land in the inbox.
SMTP Routing:- An advanced facility using which you can send emails via multiple SMTP servers, plus it guarantees email delivery as well.
Multiple SMTP Integration:- You can easily integrate multiple SMTP services as all the well know services are supported.
Email Preview:- Email inbox preview will help you prevent spamming & unsubscription as you can preview the emails before delivering them in bulk.
Alternative Email Service Details
---
Pros That MailGet Has
Fully responsive email templates.

Simply SMTP set-up and user-friendly dash.
Cons That MailGet Has
Without an SMTP service, email delivery is not possible.
---
With HubSpot Email Marketing, you can create professional marketing emails that engage and grow your audience. With the easy drag-and-drop email builder, you don't need to wait on IT or designers for help.
On top of the email tool, you can use the forever-free HubSpot CRM to create tailored touch-points for your customers. HubSpot Email Marketing is automatically connected with the HubSpot CRM, so you can tailor relevant emails based on any details you have — such as form submissions and website activity.
Using the CRM, you can include personalized content in your emails, like first name and company name, to ensure your contacts feel like they are being personally addressed, all while tracking email activity in the CRM.
Free & Paid Plans Offered by HubSpot Email Marketing:
The HubSpot Email Marketing tool is free for up to 2,000 email sends per month.
Upgrade solutions start at $50 with the Marketing Hub Starter. With this plan, you can send up to 5X contact tier email send limit, based on the number of contacts you have in your HubSpot CRM. Say if you have 1000 contacts, and upgrade to Marketing Starter, you can send 5 times that number in sends so email marketing send limit per month will be 5000.
With the Professional plan, at $800/month, and the Enterprise plan, at $3200/month, you can send up to 10x contact tier email send limit per month, plus you get access to many additional features.
Features That Make HubSpot Email Marketing Better:
Drag-and-drop builder: With this feature, you can quickly draft email campaigns that look professionally designed and display perfectly across any device – all by yourself, without designers or IT.
Goal-based templates: If you don't want to start from scratch, you can pick one of HubSpot's pre-designed goal-based email templates, or choose from dozens of templates in the marketplace.
Power personalization capabilities: Because HubSpot Email Marketing comes with native integration to HubSpot CRM (free-forever, unlimited contacts), you can use an email subscriber's lifecycle stage, list membership, or any information in their contact records to automatically serve up the most relevant subject lines, content, links, attachments, and calls-to-action.
A/B Tests and analytics: With this feature, you are able to uncover the subject lines that get the most opens, and the content and calls-to-action that earn you better engagement rates and more sales.
Alternative Email Service Details
---
4. SendX – Affordable and Intuitive ESP
SendX is an intuitive and affordable email marketing software built to meet two main objectives of offering enough features at an affordable cost and straightforward pricing. With SendX, you can find all the necessary features at an affordable cost of just $7.49/mo for 1000 subscribers, and you just pay for the number of subscribers you have & get access to all the features.
---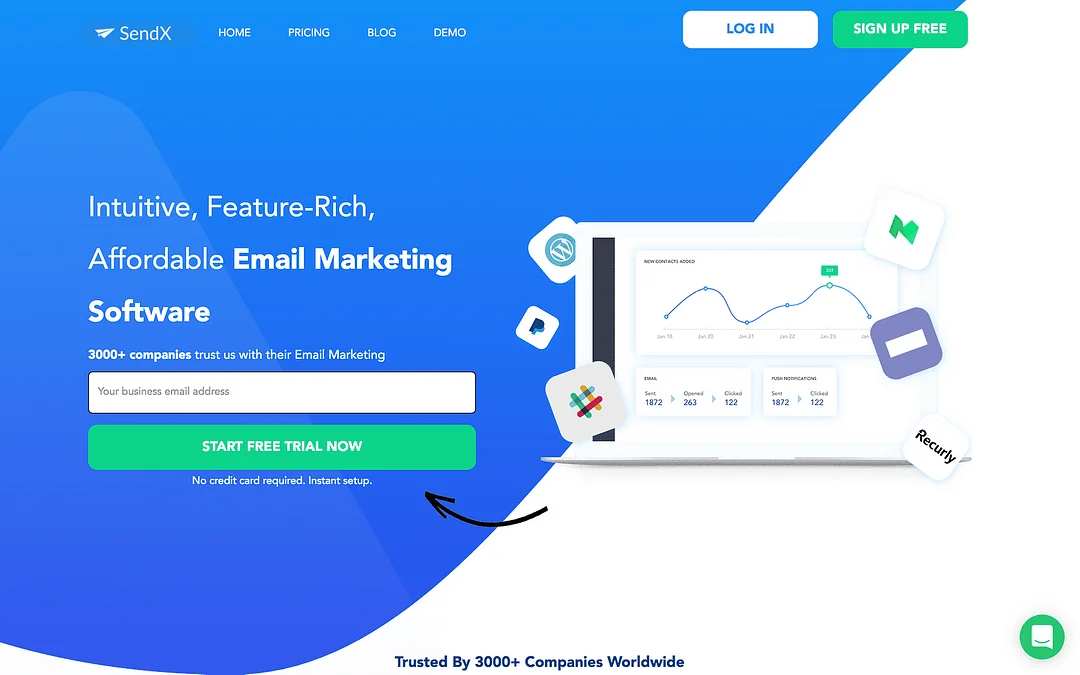 ---
Free & Paid Plans Offered By SendX
While there is no forever free plan, there is a 14-day free trial, and no credit card is required.
The paid plan starts at $7.49 per month for 1000 subscribers, and goes to $14.99 per month for 1001 to 2500 subscribers, and so forth on an incremental basis.
If you sign up for an annual plan as opposed to a monthly plan, it is 25% cheaper.
Features That Makes SendX Better
Email Deliverability:-SendX email deliverability is one of the best. From an expectation-setting standpoint, SendX tells a range 75-99.4, depending on the customer quality and list hygiene. Plus, with SendX, you have the luxury to get in touch with an expert to solve your deliverability or engagement issues.
Subscriber-based Charges:-Since SendX is an email marketing software it charges you based on your email subscriber size. So, you don't pay for all contacts that are part of your audience, but only for the contacts you can send emails to.
Unlimited Email Lists:- SendX allows unlimited email lists for every plan, as opposed to Mailchimp which allows only 3 for the Essentials plan. Additionally, you can send unlimited emails no matter how big your email list is, while Mailchimp will start limiting you as you grow past 50k contacts.
Customer Support:-SendX takes their customer support rather seriously, and provides responsive support via chat and email, no matter which plan the customers are on and in which country they live in.
Alternative Email Service Details
---
Pros That SendX Has
Intuitive UI with an excellent WYSIWYG editor.

Provides responsive email templates.

High email deliverability.

Extremely affordable at $7.49/mo (billed annually).

Allows sending unlimited emails with all SendX plans.
Cons That SendX Has
Doesn't have advanced workflows.

Offers limited integrations.
---
5. eSputnik – Email Marketing Tool
eSputnik is an omnichannel marketing automation service that allows launching promotional campaigns via Emails, SMS, Viber, and Web Push Notifications.
This software has a lot of useful built-in features especially for online stores: segmentation by events, product website recommendations, triggered emails, multilanguage campaigns, etc. The main advantages of eSputnik are an easy-to-use email editor, convenient dashboard, and affordable pricing plans for all business sizes.
---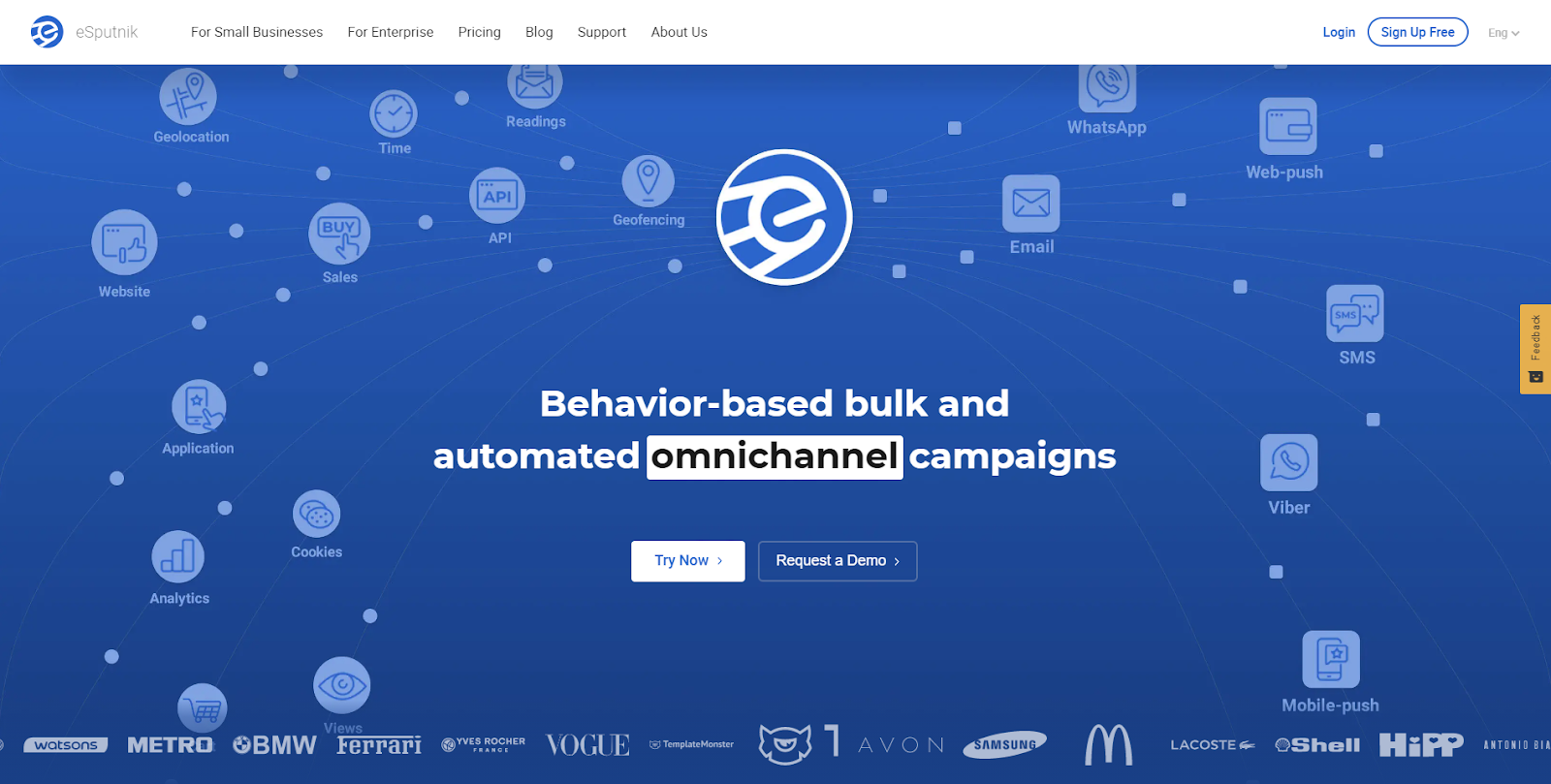 ---
Free & Paid Plans Offered By eSputnik
There are three pricing plans for email campaigns:
Pay as you Go – trial version with 2500 emails and 10 SMS available for free. Moreover, web push notifications are available for free in the trial version. You can also set up personalized web push notifications for $3,5 only.
Optimal Plan – this package costs less than $35 per month for 10000 subscribers.
Enterprise – special package adapted to your business needs. You can fill the form and discuss your personal plan with eSputnik specialists.
Features That Makes eSputnik Better
Contact Segmentation:- You can apply basic as well as advanced logic to segment contacts on the basis of order, abandoned browse, abandoned cart, new sales, price drop, etc.
Automated Workflows – It has ready to use workflows for welcome campaigns, subscription confirmation, abandoned cart, browse abandoned, birthday greetings, etc.
Product Recommendation – With it, you can track the customers' browsing history and send them personalized emails with relevant offers, complementary products, and accessories.
Drag & Drop Builder – You can use its easy-to-use drag and drop email builder and large email template library.
Alternative Email Service Details
---
Pros That eSputnik Has
Product recommendations for the website. Predicts the next purchases of your visitors;
Artificial Intelligence that allows to automate your campaigns and send triggered emails;
Multilingual email campaigns;
Cons That eSputnik Has
Prices for Viber campaigns are pretty high;
Some templates are outdated;
---
6. Sender – Email marketing Service
Sender is a more straightforward email marketing tool with an easy-to-use, powerful, affordable email marketing application and high email deliverability. SENDER allows you to send emails, manage your contact lists, create your campaigns using drag and drop editor, and analyze results.
Because of this, it offers very competitive prices for their monthly and pay-as-you-go plans, establishing itself as one of the most affordable alternatives to Mailchimp.
 So if this can be an incredibly cost-effective alternative, while still offering you the essentials of email marketing.
---

---
Free & Paid Plans Offered by Sender
The free plan includes up to 2,500 subscribers and 15,000 emails per month. What's more, you get access to all Sender features from their paid plans, with no restrictions whatsoever.
The only difference from the paid plans is that Sender includes branding in emails and opt-in forms for users on free plans.
Sender's monthly plan is by far the cheapest per subscriber, and since it includes all features, the lowest subscriber tier is covered by the free plan.
Features That Makes Sender better:
Drag & Drop Email Builder.
Email Templates.
Advanced Subscribers Management.
Email Personalization.
Advanced Email Campaign Reports.
Drip Email Automation.
Pop-Ups and Embedded Forms.
API & Integrations.
Alternative Email Service Details
---
Pros That Sender Has
Premium features for any plan.

The interface is user-friendly and intuitive.

Support agents are ready to help 24/7.

High deliverability.
Cons That Sender Has
No long-term commitments.
---
ActiveCampaign is a powerful & easy-to-use system that simplifies the process of marketing automation. This email marketing system is capable of fetching contact details which will help you do effective messaging in order to convert visitors, to leads, to customers, and earn more profits.
ActiveCampaign is a MailChimp alternative that can handle all your email marketing needs intelligently.
---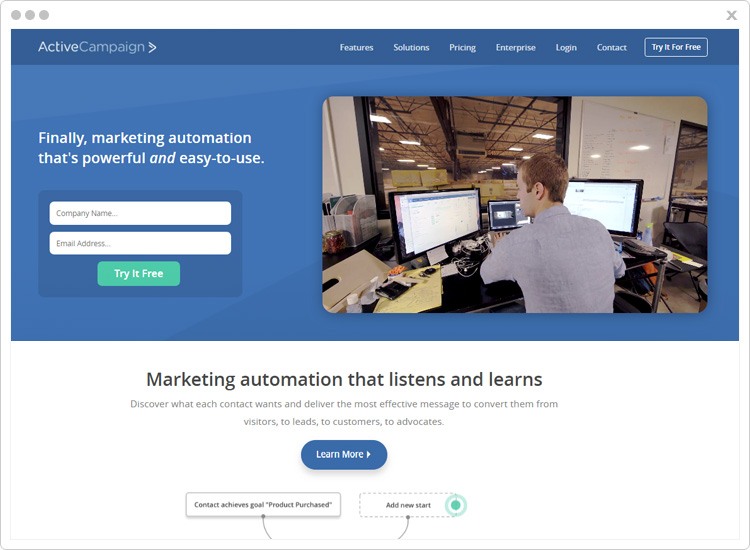 ---
Free & Paid Plans Offered By Active Campaign
Commence by sending 100 emails to 100 contacts through the free trial. The free trial provided by Active Campaign lasts for 14-days.
Lite package includes services like unlimited email delivery to 1,000 contacts at the cost of $29 a month.
$70 is the price of Plus package in which you can delivery limitless emails to 1,000 contacts using additional features & facilities.
There are 2 more packages designed by Active Campaign which are Professional package & Enterprise package. As the number of users rise the price of the packages will also increase.
[Note:- If you opt for a yearly plan than you will get an additional discount on all packages.]
Features That Makes Active Campaign Better
Contact Segmentation:- You can apply basic as well as advanced logic to segment contacts on the basis of user-interactions, locations, behavior and more.
Split Testing:- It will help you achieve highest open rates, clicks, and higher ROI as different types of content, subject lines, and emails formats can easily be tried.
GEO Tracking:- Simple email tracking of opens, bounce, clicks etc are provided by most ESP's, but Active Campaign is capable of live geo-location track with which locations of contacts can also be tracked.
Spam Prevention:- You can do a real-time analysis to prevent spamming. This feature constantly checks user and judges them on various factors to avoid junk box delivery.
Alternative Email Service Details
---
Pros That Active Campaign Has
Customer support is quick & responsive.

Provides training, webinars & tutorials for the knowledge base.
Cons That Active Campaign Has
Some of the functions are complex.

You get the free trial for a limited time period.

Email builder lacks in some advanced features.
8. Pepipost – Ecommerce marketing automation
Pepipost is the most suitable tool for multi-channel marketing automation. It allows turning cold traffic into brand advocates at scale with event-driven campaigns and extremely personalized experiences. With the help of their API, you can send emails through SMTP without any trouble.
This service provides an interface that is very easy to use and manages your account in an effective way.
---

---
Free & Paid Plans Offered by Pepipost
Its pricing starts with $25 for 150, 000 emails per month and pricing varies according to the number of emails you want to send.
If you want to send more than 2,000,000 emails per month then you have to contact its sales department.
Features That Makes Pepipost better:
It is easy to configure with major website creation tools.
100% inbox delivery.
Easy configuration with major website creation tools.
Best delivery protocols and guidelines to fight spam.
It is easily scalable.
Responsive and mobile-friendly emails.
Alternative Email Service Details
---
Pros That Pepipost Has
Different signup forms for lead signups

Sales tracking reporting

Live view website tracking
Cons That Pepipost Has
Missing iOS or Android application.
You can also replace MailChimp with ConstantContact mailing service, as most of the features which MailChimp offers are available in it. When compared to pricing it as low-cost plans with similar services & facilities.
---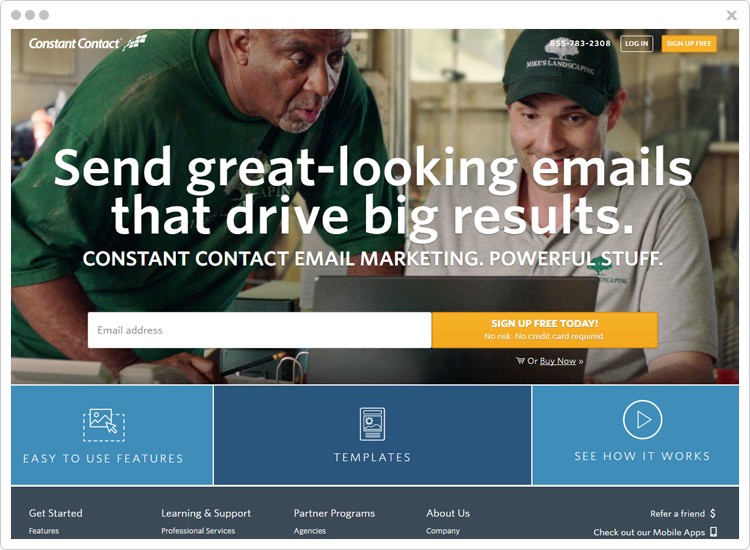 ---
Free & Paid Plans Offered By ConstantContact
Testing trial by ConstantContact will last for 60-days free and will allow you full access to all email marketing tools available in the service.
First is the Email Package which charges $20 for unlimited email delivery to 500 users, $45 for limitless sending to 2,500 users and so on.
The next is Email Plus Package which equips the advanced features. The plans offered are like $45 a month for unlimited email delivery to 500 users, $70 for email delivery to 2,500 contacts and so on it goes.
Features That Makes Constant Contact Better
Email Builder:- The drag & drop email builder makes it easy to design emails and customize templates.
Contact Management:- Upload contacts from Gmail, Outlook, Excel, and other third-party sources. And takes care of the other contact details effortlessly.
Real-Time Tracking:- Email tracking tool notifies you details like opens, clicks, unsubscribers and more & all these are updated in real-time.
Easy Access App:- Create, send and monitor emails straight from your mobile. The free mobile app allows you to perform various emailing activities on the go using the App.
Alternative Email Service Details
---
Pros That ConstantContact Has
Provides free email templates which are responsive.

Easy contact imports from different sources.

The application is secured & follows Anti-Spam policies.
Cons That ConstantContact Has
This is an overpriced service, as it charges more and offers limited services.

Subscription canceling is difficult as you can't cancel online or via email.

This service does not support Autoresponder. 
10. AWeber – Email Marketing Platform
AWeber is another flawless emailing platform which can help you replace MailChimp. Email automation, contact segmentation, sign-up forms, API's for emails, unlimited customer support via phone, live chat & email and more are the facilities that are there in AWeber.
All the list facilities will bring a rise in open rates, increase customer interaction, the end result of which will be higher ROI.
---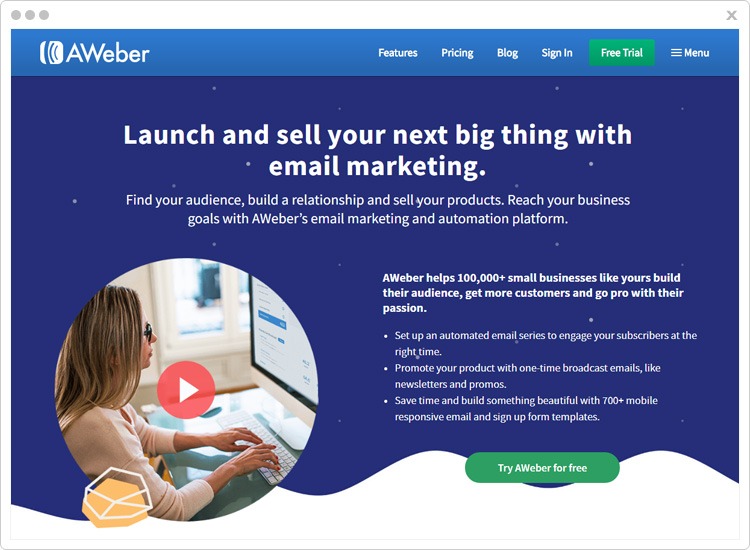 ---
Free & Paid Plans Offered By AWeber
Free trial allows you to use all features available in a paid versions for 30 days.
First paid version costs $19 a month for unlimited email delivery to 500 subscribers.
$49 is the monthly price of this paid version with which you can deliver limitless emails to 5,000 contacts.
For bulk email marketing there are 3 more plans and one custom plan for which you can contact the sales team.
Features That Makes AWeber Better
Email Tagging:- This feature will help you target subscribers and trigger emails to users based on the opened emails and the links they click.
Mail Tracking:- Get each & every detail on user actions performed on your emails like open, clicks, bounce, unsubscribe, and more on different campaigns.
Free Email Templates & Images:- AWeber offers 700 ready-made email templates that are fully responsive in design and you can use them for free.
Subscriber Management:- This email marketing platform simplifies the process of contact management as you can create segments, collect, view, segment and manage contact info.
Alternative Email Service Details
---
Pros That AWeber Has
Get over 600 professional images for FREE.

Android & iOS apps are also available.

RSS to EMAIL options.
Cons That AWeber Has
Some of the email templates are outdated.

Mail automation facility is very basic.

You can't send emails to multiple segments at once.
---
Conclusion
After going through this article, I am pretty certain that till now you must have found a good alternative for the MailChimp email marketing platform.
Moreover, this blog highlights all the detailed information about email services. Plus, it also emphasizes low priced services which provide similar features as MailChimp.
For information related to email marketing check out the following blog:-
So, let's end this blog on a positive note
Also, you can get in touch with us for more details & queries.
Don't forget to share your views in the comments section below.