The email list cleaning service helps to create and manage a successful email marketing campaign. In today's age, where maintaining a bulky email list is becoming difficult day by day, there is a need for such services that help us to clean our email list and improve email deliverability.
Moreover, the email list scrubbing tools assists you in eliminating the incorrect, incomplete, or duplicated email addresses in a database. Thus, you will get a completely new & clean email list with valid email addresses. With this, you can easily improve your email marketing method.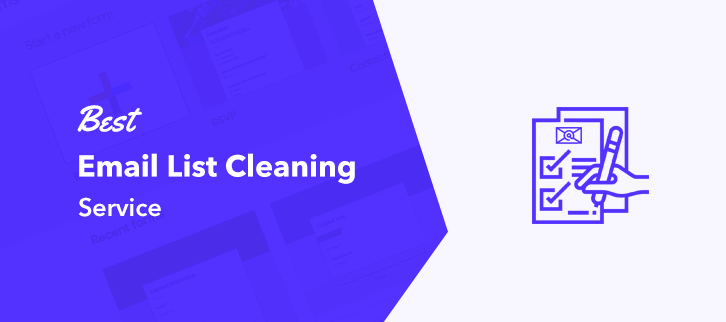 Here, in this article, we are providing information about some of the trustworthy email list cleaning services that will help you in the maintenance of a good contact list. So, go through this article and choose the best one among all the options available.
---
| | | | | |
| --- | --- | --- | --- | --- |
| Service | Basic Plan | Duplicate  Email Remover | Greylisting Email Verification | Ratings |
| Pabbly Email Verification | $5/month | ✓ | ✓ | 5/5 |
| MailGet | $4/month | ✓ | ✓ | 4.5/5 |
| Clearout | $20/month | ✓ | ✕ | 4.7/5 |
| Xverify | $40/month | ✕ | ✕ | 5/5 |
| Snovio | $39/month | ✕ | ✕ | 4.5/5 |
Pabbly email verification is one of the most user-friendly email list cleaning service that is too available at a very cheap price. It ensures that you will always have correct & active email addresses in your list and removes all the invalid addresses.
The main attribute which differentiates this service from others is that it takes proper time and does the email verification process slower so that you will get 100% accurate results without any error. This is really a very unique feature because instead of automation it follows manual work and pings each customer's email server individually regarding email validation queries.
Thus, people who are connected with Pabbly email verification will always get personal attention & obtain the best results for their email list.
---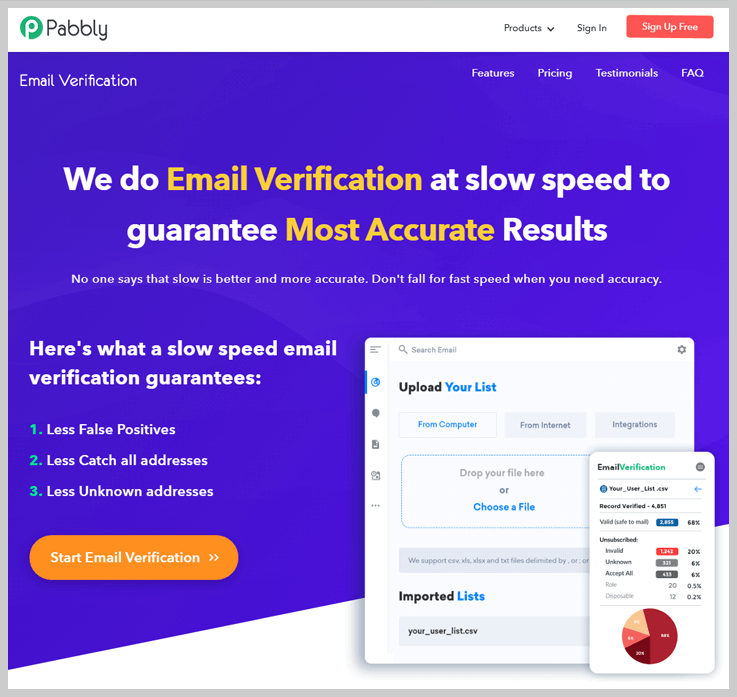 ---
Features –
Duplicate Email Removal – This email scrubbing service removes all the duplicate email addresses automatically from the database. So, you will always have a clean database and can search for any address easily.
Anti-Greylisting – It comes with the most advanced anti-greylisting technology that protects spam emails from the list and offers you accurate results.
Reduces Bouncing – Pabbly email verification ensures that your emails will always be delivered in the right inbox and reduces the bounce rate of emails.
Domain Verification – This service safeguards your domain from spammers & also eliminates the email addresses which are containing inactive, invalid domains.
Syntax Eliminator – It always keeps your emails list clean via excluding those email addresses that have invalid syntax.
Pricing –
Pabbly email verification service is the best & cheapest service in the market that you should surely go for. It has a basic of cost $5 and in which you can filter 1000 email addresses.
Moreover, it also includes other multiple pricing plans and that too are available at very affordable costs. You can check them here –
5,000 emails at cost $15
10,000 emails at cost $25
15,000 emails at cost $37
50,000 emails at cost $84
100,000 emails at cost $165
300,000 emails at cost $389
500,000 emails at cost $479
1,000,000 emails at cost $599
25,000,00 emails at cost $1199
50,000,00 emails at cost $1799
10,000,000 emails at cost $2999
Besides, if you need more than 10,000,000 emails, then you need to contact the service provider.
---
2. MailGet – Email List Cleaning & Verification Service
MailGet email list cleaning service ensures the high deliverability of your emails and also a reduction in bounce rate. So, all of your emails will only deliver into customers' inboxes that increase the email opening rate.
With MailGet, it is very easy to get your email list cleaned in simple clicks. You just need to buy your plan, upload a bulk email list and then click on a clean list button. After that, the list will be sent to your email address that you can download and immediately start sending emails to your customers.
---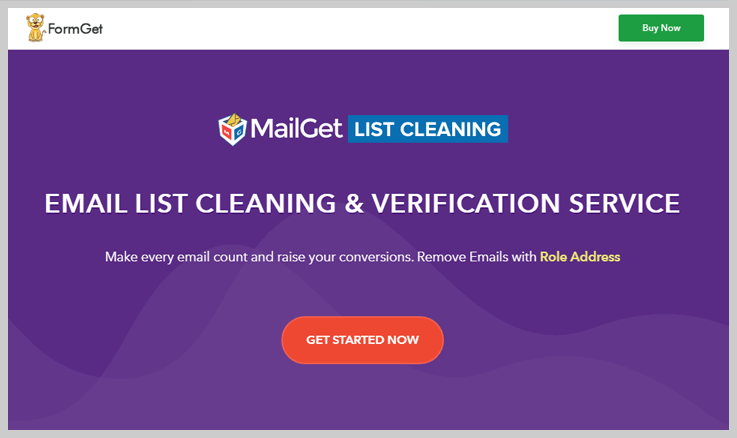 ---
Features –
Greylisting Email Verification – This is an inbuilt feature of the MailGet list cleaning service. It protects and removes greylisted emails from the list and delivers you 100% genuine emails.
Extraction of Same Email Addresses – It is a very convenient feature that removes all the duplicate email addresses from the list and saves your time.
MX Server Connection Verification – Mail exchanger fully checks the mail server which is receiving multiple email messages and always provides you a valid email list.
Suppression Verification – MailGet provides you a suppression list that comprises a listing of those users' emails who are unsubscribing to your emails. Therefore, this will helps you to send emails to only interested customers.
Removal of Emails with Invalid Syntax – This service comes with a very efficient, & secure cleanup mechanism that cleans your contact list from bad and syntax error emails.
Pricing –
MailGet email list scrubbing service includes various pricing plans at very affordable prices and also comes with different handy features like complete email verification, accurate results, customer support and more.
Starters – This is the basic plan of MailGet that has a price of $4 and allows you to verify 1000 emails.
Rookie – You can purchase this plan at a price of $12 and get access to verify approx 5000 emails.
Pro – This is the very popular plan of MailGet that enables you to check 10,000 emails at just an amount of $20.
Advance – In the advance plan, the pricings are fully dependent on the number of emails. You can buy it at a price of $35 in which you will get 15,000 emails to verify. Moreover, you can increase the email counts from 15,000 to 20 million emails. Hence, the price will also increase accordingly.
---
3. Clearout – Email Validation & Verification Service
This is another email list cleaning service that validates, verifies & cleans your email list in real-time. It automatically removes those emails that have duplicate email addresses and reduces your manual work.
Also, this service ensures that your emails always land in the customers' inbox and increase the open rate.
---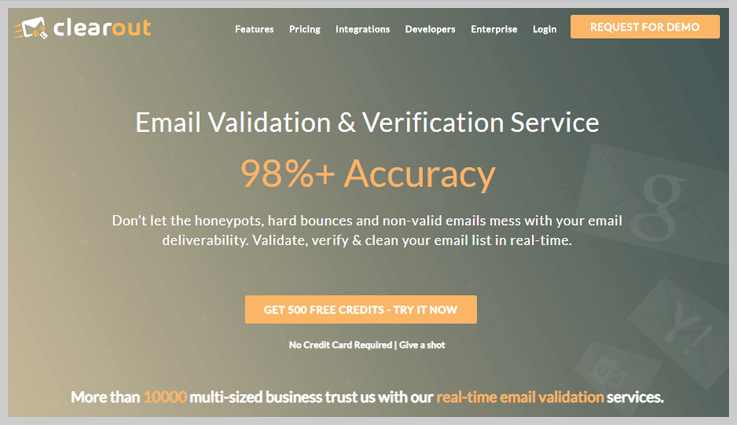 ---
Features –
Domain Confirmation – This email list cleaning service always checks and ensures that you are working with a successful mail server domain network.
Verifying SMTP Validation – Clearout validates SMTP servers through which you are sending emails to determine the active and inactive mail servers.
Role Account Verification – With this feature, it's easy to verify all the role-based email addresses such as admin, support or sales from the email list.
Remove Sub Addresses – This email scrubbing tool can remove & normalize the subaddresses of the Gmail, Outlook, Yahoo or iCloud to avoid various email addresses aiming to the same inbox.
Auto Suggestion – With this autosuggestion feature, you will get a autocomplete spellings in the email addresses. It reduces your spelling mistakes.
Pricing –
Clearout email validation service comprises various paid plans on a monthly and annual basis. The basic plan has a price of $20 and provides you 5000 credits per month. If you need more than 5000 credits then you can go through its other plan that too are available at cheap prices. Further, for custom pricing plans, you need to contact the service provider.
---
4. Snovio – Email List Cleaning Service
This tool protects from email deliverability failure and helps to improve the open rate of your emails. The main feature of Snovio is that it enables you to build drip email campaigns and directly send them to customers.
With this functionality, you don't need to create emails again and again, since the pre-written content will automatically be delivered to contacts and also on planned time.
---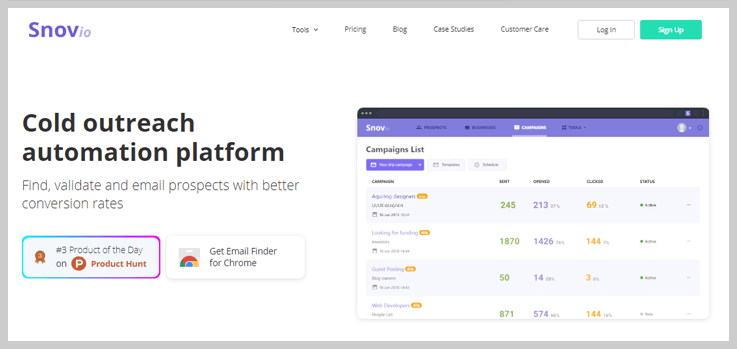 ---
Features –
Email Finder – This tool helps you to find email addresses & profiles on LinkedIn of people for whom you are looking for. It also provides other ways to discover emails such as find by domain, by company name and more.
Connect with API‌ – Snovio lets you integrate with its API and to sync your leads or contacts. You will also be able to get a complete list from a particular domain, find email addresses, verify emails, change a recipient's status and more.
Track Email Performance – You will be able to find out the complete performance of your emails with this tracking feature like email opens, clicks, bounces, subscribers and much more.
Email Verifier – With Snovio, you can verify emails individually or in bulk and also remove the invalid, abandoned emails. Thus, your email list will always be clean and you can find any contact effortlessly.
Technology Checker – This feature helps you to identify and analyze your competitors' websites. You can easily examine which CMS, marketing, web frameworks, software, analytics, and eCommerce tools they are using.
Pricing –
Snovio email list scrubbing tool allows you to utilize its free plan as well as paid plans. Check details for paid plans here –
S Plan – This plan is perfect for startup ideas and provides you 1000 credits at just a price of $39.
M Plan – In this plan, you will be able to get 5000 email credits at a cost of $69 per month.
L Plan – It is the most popular plan of Snovio which is ideal for companies who want to expand their business. In this, you can verify 20,000 emails at a price of $129 per month.
XL‌ Plan – This plan has a price of $199 and will be ideal for satisfying any business requirements. Also, you will be able to verify 50,000 emails per month.
---
5. Xverify – Intelligent Email Verification
Xverify is one of the best email list cleaning services that help in the email marketing method. This service is basically known for its fast mechanism. With this tool, you can immediately inform or alert your users whenever they input any incorrect information and assist them to correct mistakes.
---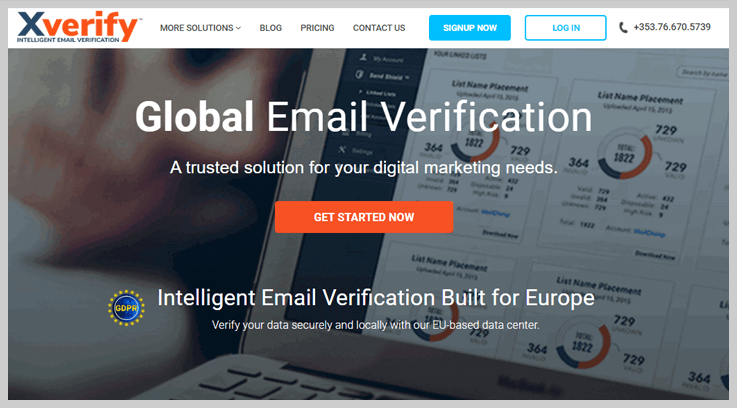 ---
Features –
Email Verification – This service ensures 100% accuracy by verifying all major email domains such as AOL, Yahoo, Hotmail, and Gmail.
Auto-Correction of Domains – Xverify comes with a built-in auto-correction feature that alerts users whenever they spell an incorrect domain name.
High Email Deliverability – With this service, you can easily eliminate hard bounces and make sure that your emails always fall into customers' inbox.
Protects Against Frauds – Xverify helps you to protect from frauds and attackers. It verifies each unique email address to make sure the username is registered with the right domain. It also makes sure that any user does not have any temporary account, or linked to an online fraudster.
Elimination of Invalid Data – This tool checks in your database for invalid, unwanted email addresses and removes them automatically. Hence, you will always have a clean and precise list to send emails.
Pricing –
Xverify email list cleaning service follows the Pay as you Go strategy. The pricings are dependent on the count of emails. You just need to enter the number of emails that you would like to verify and pricing for such email count will automatically appear in front of you.
Further, the basic plan has a price of $40 and provides you with 5000 emails. Likewise, you can see the prices of other various plans also. More, its highest plan includes 2.5M emails at a charge of  $25000 per month.
---
Conclusion
Henceforth, hope this article has helped you to compare some of the best email list cleaning services. Each of these services has its own advantages based on the efficiency, price, and packages they offer. Thus, you can choose the most suitable one for you.
You May Also Like To Read –