Searching for a way to create WordPress post from Google Sheets automatically? Then look no further my friend, as here we are going to integrate Google Sheets to WordPress via Pabbly Connect.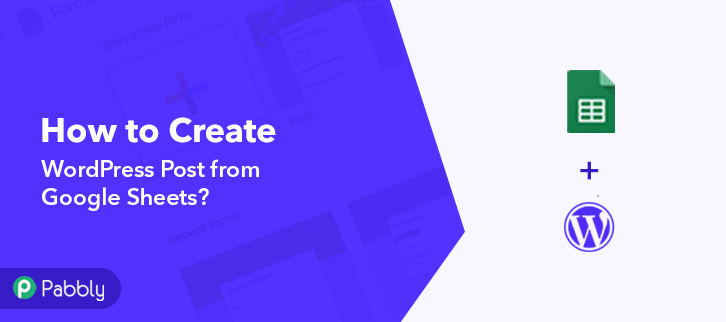 But before getting into the integration process, let's know a little bit about the software that we are about to integrate. Basically, Google Sheets is spreadsheet software for business and personal use. Whereas, WordPress is a web publishing software you can use to create a beautiful website or blog.
Thus, integrating these two services can help you automatically create WordPress posts whenever a new row is added in Google Sheets. Moreover, we have also attached a video tutorial for this integration, have a look at it-
Here to bind these services, we are using a wonderful automation and integration tool named Pabbly Connect. It is a fantastic integration and automation software, which allows you to integrate two or more applications and automate all the projects. You just have to do the integration once and then everything will be automatically taken care of by the software.
Why Choose This Method Of Integration?
In contrast with other integration services-
Pabbly Connect does not charge you for its in-built apps like filters, Iterator, Router, Data transformer, and more
Create "Unlimited Workflows" and smoothly define multiple tasks for each action
As compared to other services which offer 750 tasks at

$24.99

, Pabbly Connect offers 50000 tasks in the starter plan of $29 itself
Unlike Zapier, there's no restriction on features. Get access to advanced features even in the basic plan
Try before you buy! Before spending your money, you can actually signup & try out the working of Pabbly Connect for FREE
Furthermore, you can access all the features even in its free plan. To get started with this amazing service, you just have to go to the Marketplace and search for the apps you want to use.
We have created a template for this integration to help you. Click the image below to get started.

Therefore, without wasting any more time, let's begin with the steps to integrate Google Sheets to WordPress.
How to Create WordPress Post from Google Sheets (step by step)
Step 1: Sign up to Pabbly Connect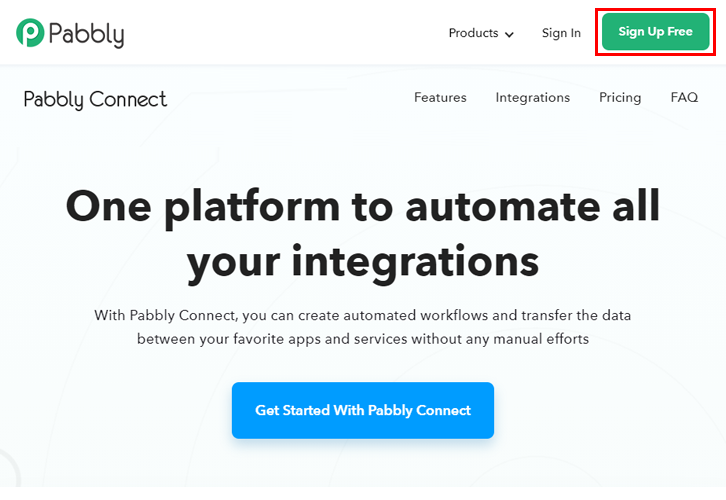 Initiate the process to create WordPress post from Google Sheets by clicking on the "Sign Up Free" icon on the Pabbly Connect dashboard. Subsequently, either fill-up the details manually or sign up using Gmail credentials.
Try Pabbly Connect for FREE
Step 2: Access Pabbly Connect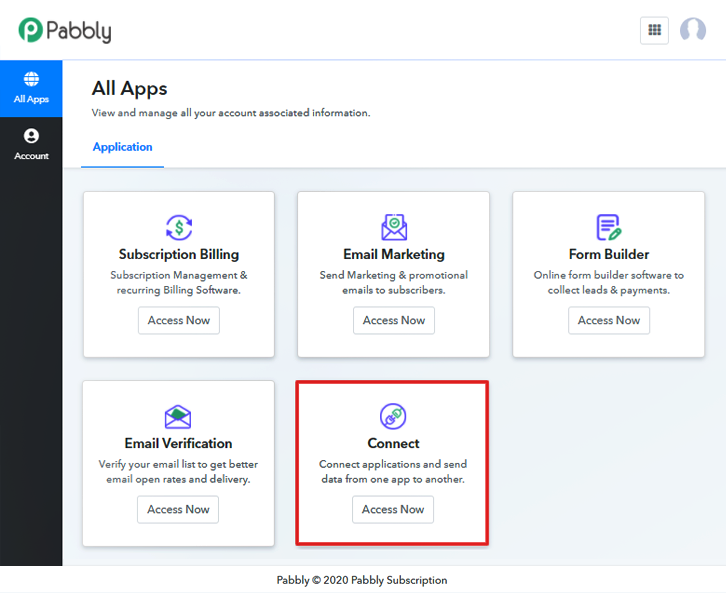 Further, after logging into the account, click on the "Access Now" button as shown in the above image.
Step 3: Workflow for Google Sheets to WordPress Integration
(a) Start with a New Workflow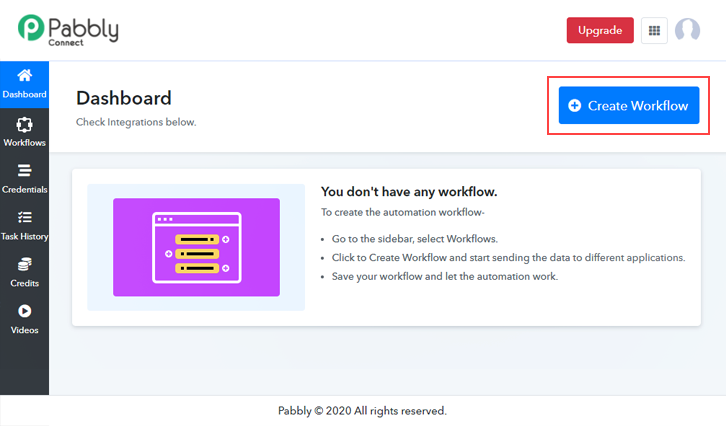 Start the process of building a workflow for integration by clicking on the "Create Workflow" button.
(b) Name the Workflow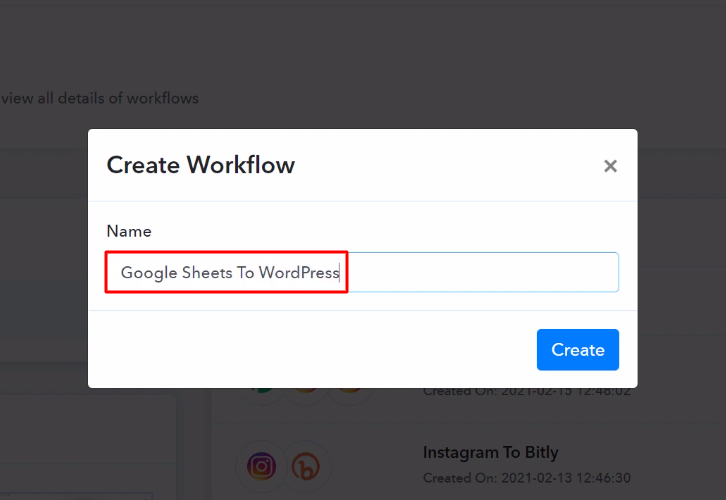 Now, add the name of workflow which in our case is "Google Sheets to WordPress". Nevertheless, you can always name the workflow according to your requirements.
Step 4: Setting Trigger for Google Sheets to WordPress Integration
Next, after building a workflow, you have to choose the integration app to create WordPress post from Google Sheets. Using Pabbly Connect you can avail unlimited actions and triggers, click here to sign up for unlimited workflows for free.
(a) Select Application you Want to Integrate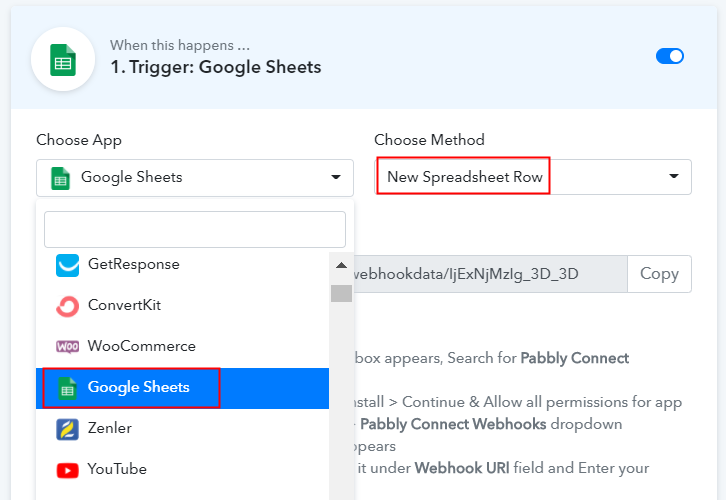 The next step is to select "Google Sheets" from the dropdown, then choose the "New Spreadsheet Row" option from choose method section.
(b) Copy the Webhook URL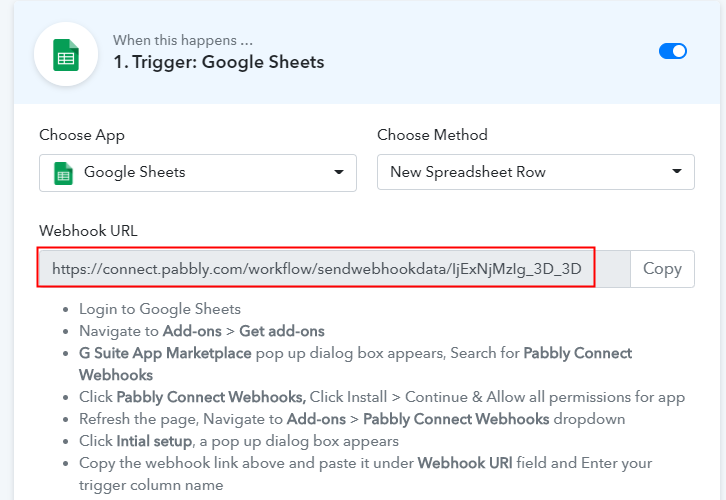 Now, copy the webhook URL which is appearing on the dashboard.
Step 5: Connecting Google Sheets with Pabbly Connect
To create a WordPress post, you gotta paste the copied Webhook URL in the sheet. But before that, you, have to install the Add-on named Pabbly Connect in your Google Sheet.
(a) Create a Google Sheets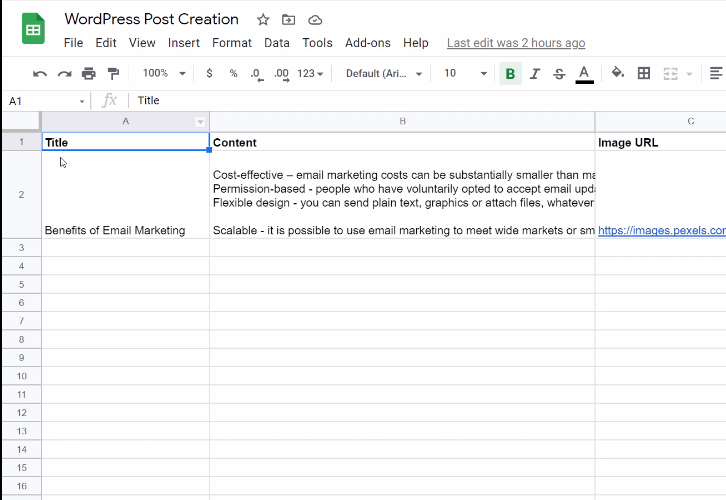 The next thing to do is create a Google Sheets with basic details like title, content, URL, etc.
(b) Click on Add-ons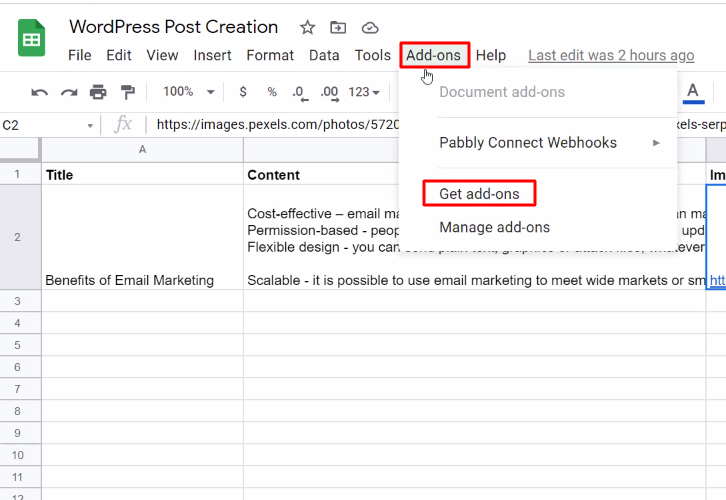 Further, in the add-on section, you have to click on the "Get add-ons" button to download the "Pabbly Connect Webhook".
(c) Find Pabbly Connect in G Suite Market Place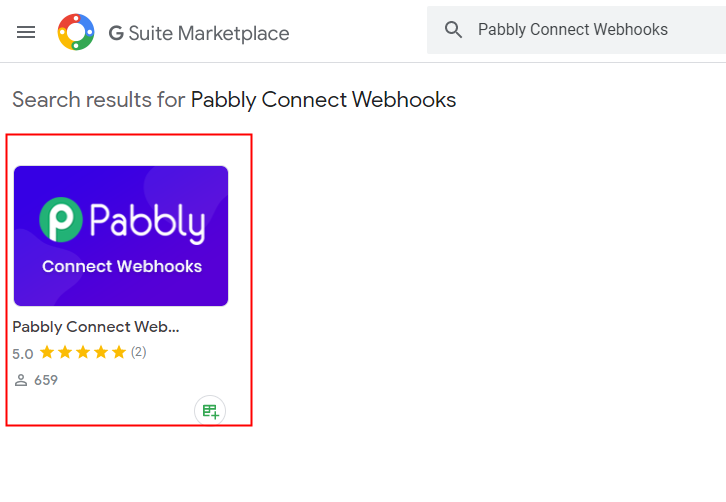 After clicking on "Get Add-on" a new window will pop-up. Here in the search bar look for Pabbly Connect Webhooks.
(d) Install Pabbly Connect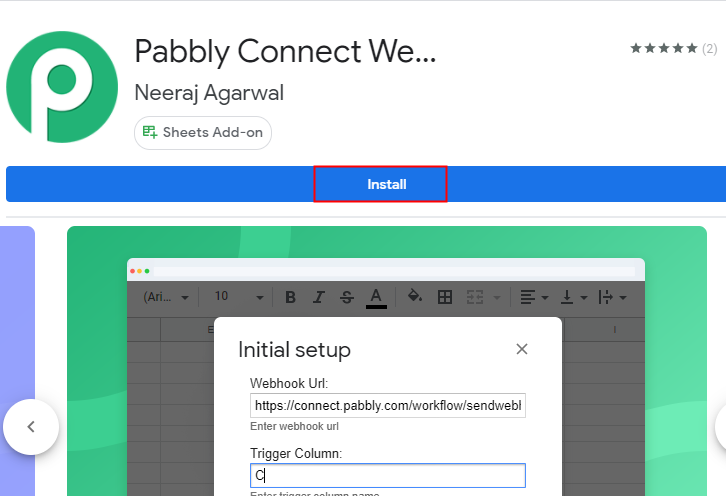 Now just click on the install option and within seconds it will get installed into your Google Sheets.
(e) Press Initial Setup in Google Sheets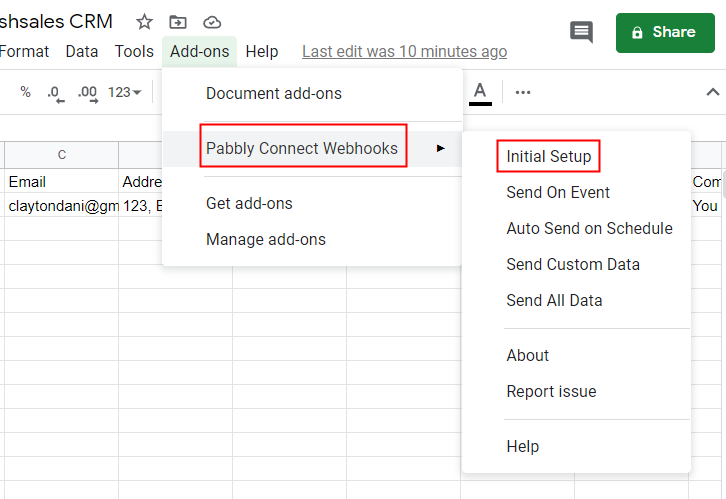 Now, when you click on add-ons, Pabbly Connect Webhook will start appearing in the add-ons section. Just click on it, it will open certain options, select "Initial Setup" to smooth the whole integration process.
(f) Paste the Webhook URL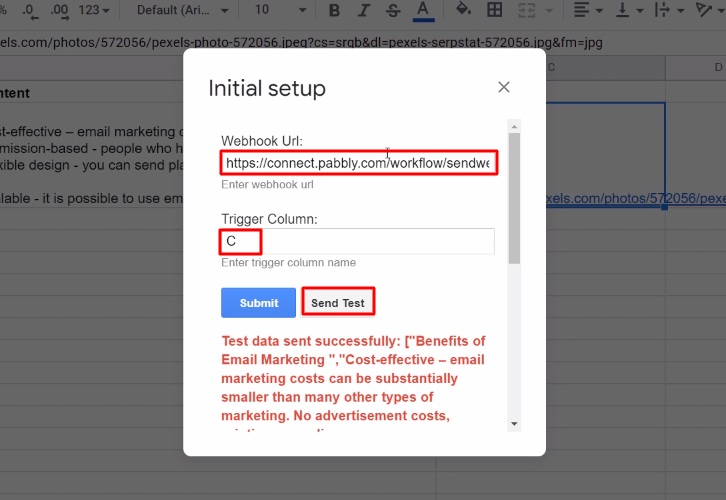 In addition, a window with two choices, the Webhook URL and Trigger Column, will appear when you press "Initial Set-Up". In that segment, just paste your copied Webhook URL from Pabbly Connect and mention the trigger column as appropriate. To confirm the integration, click on the 'Send Test' button. Before submitting a test message, make sure to press "Capture Webhook Response" on the Pabbly Connect dashboard.

When the test request is received, a message in red letters will indicate that the data has been submitted.
(g) Click Send On Event In Google Sheets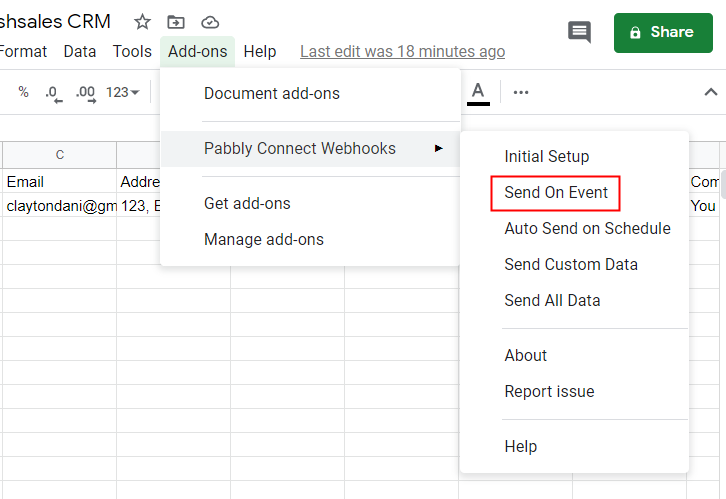 This is the additional step you have to do, to ensure that every time new data added to the sheet it will automatically create a WordPress post. For this, all you have to do is click on "Send on Event" in the "Add-On" option.
Step 6: Test the Response in Pabbly Connect Dashboard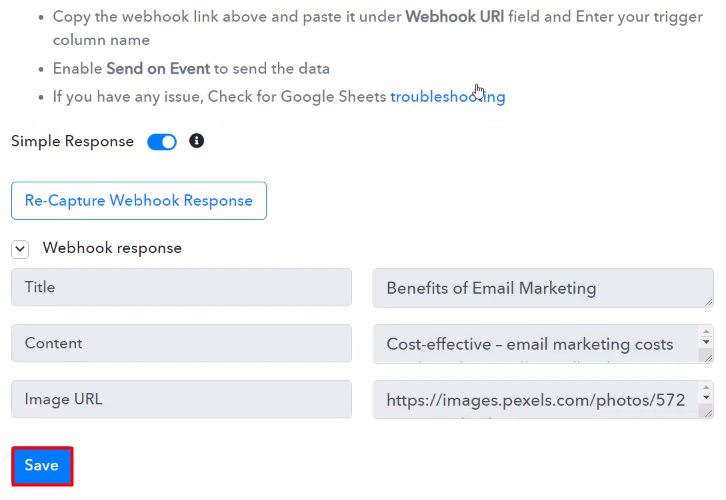 The entry will appear on the "Pabbly Connect " dashboard as soon as you click on the "Send Test" option. Next, click on the "Save" button.
Step 7: Setting Action for Google Sheets to WordPress Integration
To make Google Sheets and WordPress integration work, you have to choose the action for your trigger.
(a) Select Application you Want to Integrate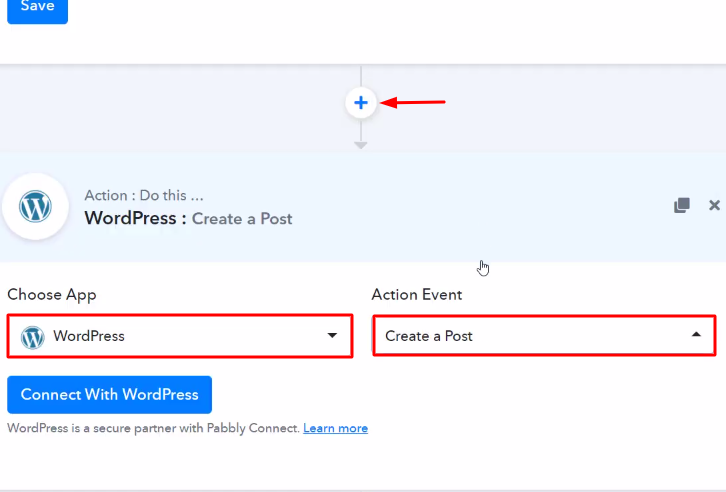 Next, press the "+" icon to add an action to the trigger. Here we can pick "WordPress" from the drop-down. Then choose the method "Create a Post".
(b) Click the Connect Button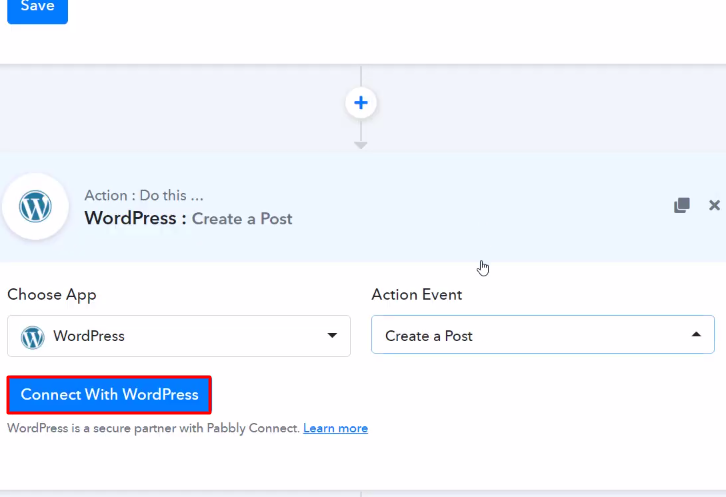 Click on the "Connect with WordPress" button after making all the necessary adjustments.
Step 8: Connecting WordPress to Pabbly Connect
To connect Google Sheets to WordPress, you need to paste the base URL, username, and password from your WordPress account, for which you have to log in to your WordPress account.
(a) Copy the Base URL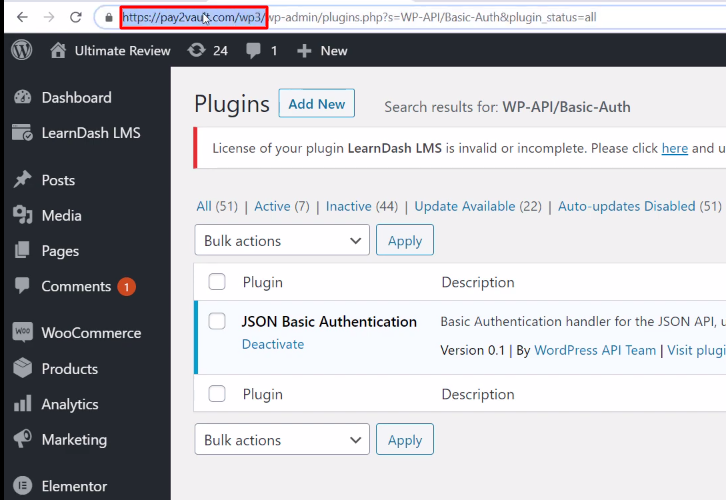 Simply, go to the WordPress account and copy the base URL from the website URL to move further.
(b) Paste the Credentials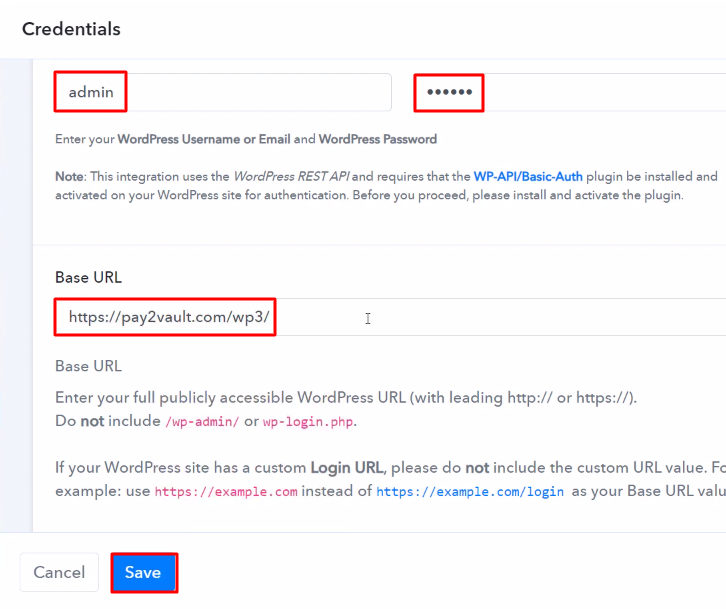 Subsequently, paste the copied URL and fill in your WordPress username and password. After making all the changes, hit the "Save" button.
(c) Map the Fields
After connecting with your WordPress account, just map the appropriate field from the drop-down region, such as the post title, content, etc.
(d) Save and Send Test Request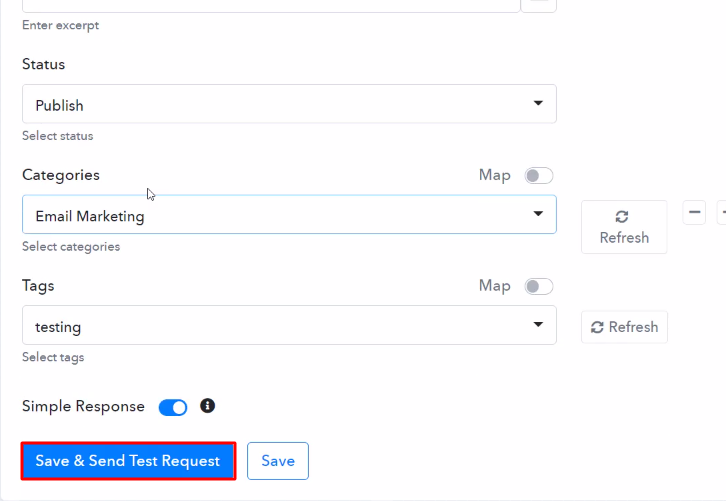 Once you have filled in all the details, press the "Save & Send Test Request" button to test the Google Sheets WordPress integration.
Step 9: Check Response in WordPress Dashboard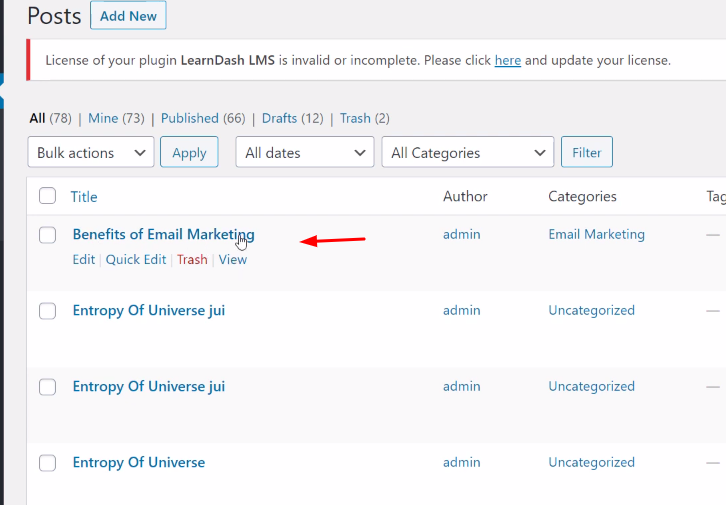 Finally, your submission will immediately appear there as a post when you search the post segment of WordPress.
Conclusion –
Hopefully, now you know how to create WordPress post from Google Sheets. This is a one-time process, after that everything will be automatically done by Pabbly Connect. Just follow all the step-by-step procedures mentioned above & your Google Sheets to WordPress integration is set.

So, don't wait anymore. Go and create your free account on Pabbly Connect today.
You May Also Like To Read –