Nowadays, most of the small or large enterprises are using email campaign software to grow their marketing programs. This software helps in improving email deliverability, bulk mailing, easy email customizations and more.
So the question is why would you switch to other campaigner alternatives? Your answer can be that such software helps you create more personalize and engaging emails.
However, research shows that today most people receive emails but avoids opening them and even if they open but won't even try to read the content. The reason is they are not interested to view again and again boring emails.
Hence, alternatives to email campaigner will assist to make your emails effective & eye-catchy. You can include things as per customers' interest and then, they will definitely love to open your emails.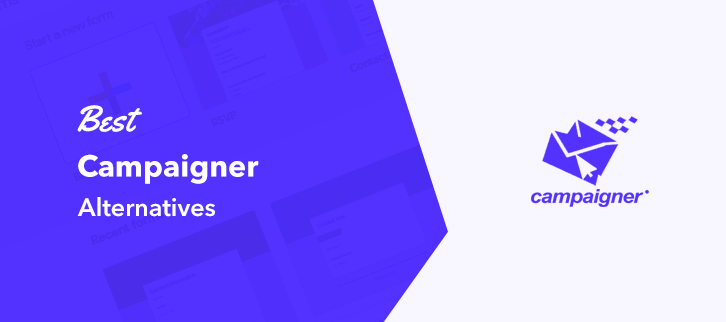 In this blog, we are going to discuss some of the best & cheap email marketing solutions along with their free & paid pricing plans. Therefore, go through these services and select the best one among all the choices available.
---
Quick Comparison between Best Campaigner Alternatives
Service
Basic Plan
Connect SMTP
Transactional Emails
Bounce Forwarding
Pabbly Email Marketing
$29/m
Unlimited
✔
✔
Moosend
$10/m
N/A
✖
✖
ActiveCampaign
$15/m
N/A
✔
✖
EngageBay

$14.99

/m
N/A
✖
✖
OptinMonster

$9

/m
N/A
✖
✖
"Pabbly Email Marketing is the only software that provides unlimited features like SMTP routing, marketing automation, inbuilt delivery engine, etc. in it's all plans"
This is the most reliable campaigner alternatives which give the best mailing solutions. Also, it is available at a very cheap price that you can easily purchase.
It provides you the highest deliverability of your emails and ensures they are moving only in the customers' inbox. Hence, it will enhance the open rate of your emails and also reduces the hard bounce.
Further, the important characteristic of this service is that it will never hinder the transmission of your emails since it fully supports SMTP routing and also lets you connect multiple servers. Thus, you can either use the in-built delivery engine or add your own SMTP‌ server to send unlimited emails to customers.
Also, with marketing automation feature, you can automate the delivery of emails. Consequently, the emails will automatically be sent to your customers at a scheduled time.
---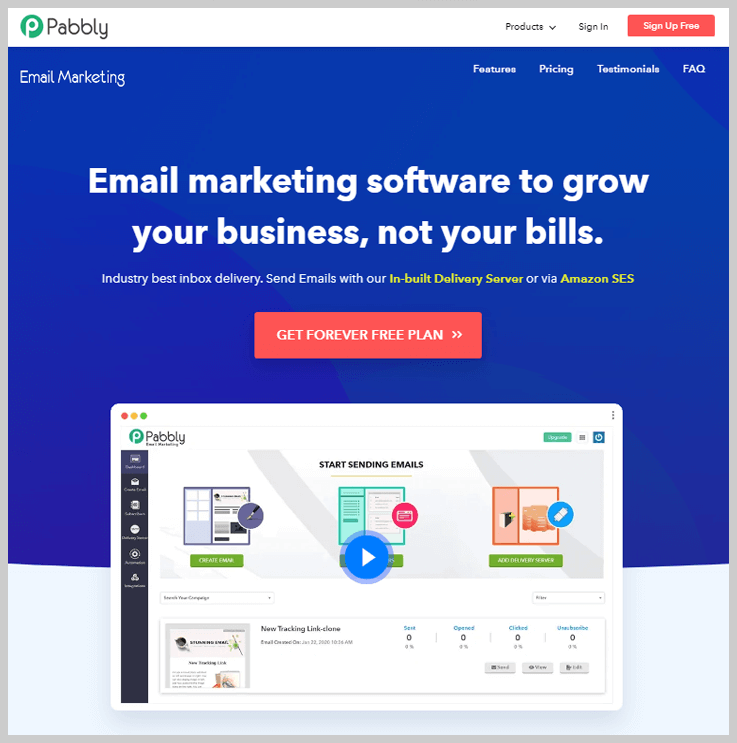 ---
Features 
Autoresponders – Autoresponder feature helps you to automatically send personalize welcome emails to newly joined customers and make them feel special. Also, it lets you transfer automatic follow-up emails to non-opens. So, you can make sure that none of your emails are missed by customers.
Easy Email Customization – You can use a simple drag and drop tool to customize different attributes in emails like heading, font size, color, images and more. Also, it offers you multiple beautiful templates to design your emails.
Connect Multiple SMTP's – With Pabbly Email Marketing service, you will be able to connect multiple SMTP servers like Amazon SES, MailGun, SendGrid, and more. Hence, you can easily send thousands of emails using your preferable server and get better inbox placements.
Analytics of Emails – This feature assists you to know the current performance of your emails like opens, clicks, bounces, & more. With this result, you can determine what more changes required to do in your emails.
Email List Management – Inbuilt MX Cleaner helps you to maintain a clean and sophisticated email contact list by removing unwanted & invalid email addresses.
Obtain More Leads – Pabbly Email Marketing software helps you to convert site visitors into valuable leads by displaying signup forms on a website. So, whenever a user visits your site a form will appear and he can easily fill it to become your member.
Pricing 
Pabbly Email Marketing service offers a forever free plan in which you can send 12,000 emails to approx 1,100 subscribers per month. Moreover, it also occupies affordable paid plans, you can check all the details here –
Rookie – In this plan, you can send multiple emails to 5,000 subscribers at a cost of $29 per month. Also, get an advantage to access handy features like MX Cleaner, import emails, subscription forms and many more.
Pro – If you need to send emails to your customers in the bulk then this plan will be suitable for you. It authorizes you to send emails to 15,000 subscribers at a price of $49 per month.
Advance – You can acquire this plan at a cost of $99 per month and send unlimited emails to 50,000 subscribers. Besides, you can also upgrade this plan if you need to deliver emails to more than 50,000 subscribers and pay according to the subscribers count.
Enterprise – Additionally, to purchase this high volume plan you need to contact the service provider.
---
2. Moosend – Affordable Email Marketing Service
Moosend is convenient campaigner alternatives for email marketing. It provides excellent features for building and sending engaging as well as informative emails. With the help of its inbuilt editor & email templates, you can easily design emails in simple clicks without any coding.
---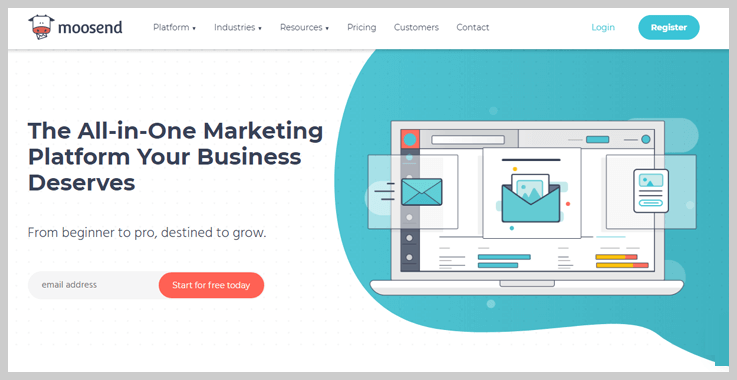 ---
Features 
Precise Contact List – With this service, you don't need to add contacts manually in a list, since it allows you to easily import all contacts from various places like CSV files, local storage, cloud storage & more.
Email Automation – You can schedule an appropriate time for all your emails to be automatically sent to customers.
Track Complete Performance of Emails – This feature provides you with complete information about the performance of your emails like opens, bounces, clicks, subscribers, unsubscribes and much more.
Get Details About Customer Location – Moosend email marketing software allows you to know the current location of your customers. Henceforth, you can track which countries have maximum engagement & then target the audience accordingly.
Add Subscription Forms – You can add simple sign-up forms on a website. Thus, whenever any user visits your site, then the form will pop up which he can easily fill up to become your member.
Pricing
This email marketing service includes free as well as paid plans. With the free plan, you can send unlimited emails to more than 1000 subscribers per month. Besides, the paid plans have various pricing you can check here –
You can buy a basic plan only at a price of $10 and transfer multiple emails to 1001 – 2000 subscribers per month.
Additionally, the advance plan has its costs according to a subscribers count. You can send emails to 2,001 – 3000 subscribers per month at a price of $20.
Also, if you are required to send emails to more than 3000 subscribers, then you can extend the subscribers' count and pay for it accordingly.
---
3. ActiveCampaign – Email Campaign Software 
With this email marketing tool, you can send personalized newsletters and emails according to customers' interests and let them feel special. This will help you to grab more engagement.
Also, with segmentation option, you can group customers based on several parameters like their demographics, location, behavior, etc. & target them more accurately.
---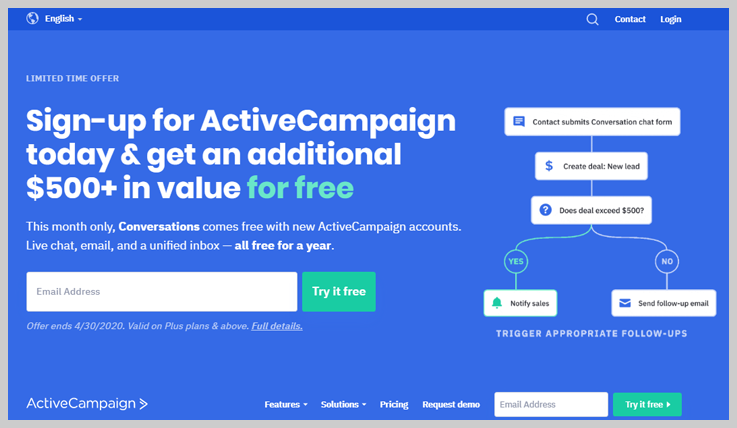 ---
Features
Event Tracking Option – This bulk email software comes with this best feature through which you can see what visitors are doing on your website. Consequently, according to their actions & interests, you can send follow up emails to them.
Automated Emails – You can schedule automated welcome emails to send customers. So, when any new subscriber joins you, then automatically a welcome message will deliver to him.
In-built CRM – This software includes an inbuilt CRM‌ that keeps all your customers' data in an organized form in one place. Therefore, you can easily see the details of a particular customer when required.
Easy Migration – With the migration feature, you can easily switch to ActiveCampaign software from your old email marketing provider. It lets you import your subscriber lists, email templates, automation, etc.
Integrated Forms – ActiveCampaign email marketing software enables you to add custom sign up forms on your website to collect more leads.
Pricing
This software comes with different affordable paid plans which you can compare here –
Lite – This plan has a price of $15/m and allows unlimited email sending.
Plus – You can buy this plan at a cost of $70/m and transfer multiple emails to customers.
Professional – It is the most popular plan of this service that comes with a price of $159/m and also includes features like site messaging, automation strategy consultation and more.
Enterprise – In this plan you can get access to handy features such as custom mail server domain, free design services, etc. at just a cost of $279/m.
---
4. EngageBay – Email Marketing Software
EngageBay is one of the best campaigner alternatives for small businesses out there that are looking to grow their business through email marketing.
It offers a completely free & inbuilt CRM that assists you to organize all your email contacts, track deals, and much more. Thus you can easily find all your confidential data in one place and also build meaningful customer relationships.
---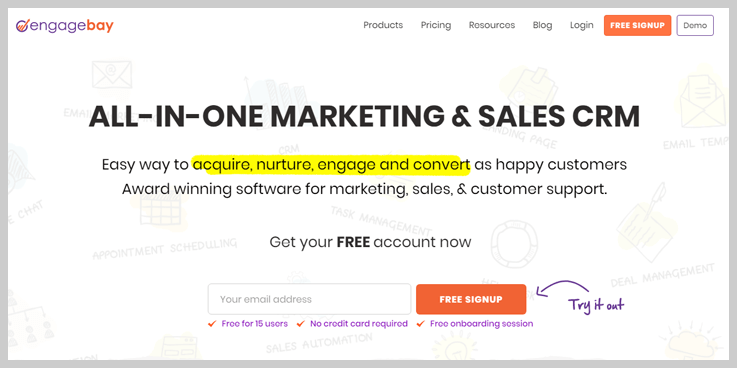 ---
Features
Marketing Automation Option – This software allows you to automate your marketing tasks and minimizes manual work. You can schedule emails to automatically deliver to customers at a particular time.
Landing Pages – With this email marketing service, you can build attractive landing pages using the smoothest drag and drop creator. This will help you to capture more new customers.
360-Degree Customer View – You can build extensive profiles for each of your contacts with information like contact number, communication history, social media, and much more. Furthermore, EngageBay software lets you get a 360-degree view of all these data on a single screen.
Push Notifications – This campaigner alternatives allows you to send real-time push notifications to your customers about your product updates, seasonal offers, promotional discounts, and more. These messages will directly deliver on the customers' device without having to go through email spam filters.
Appointment Schedule Calendar – With this software, you will be able to schedule your appointments on the online calendar. Hence, your customers or team members can also see scheduled appointments time. Apart from that, you can send confirmation and reminder emails to them if needed.
Pricing
EngageBay mail campaign service provides a free plan in which you can send 1000 emails to 1000 contacts effortlessly. Moreover, it also includes the following paid plans –
Basic – In this plan, you can send 10,000 emails to 15,000 subscribers at a cost of $14.99 per month.
Growth – You can purchase this plan at a price of $49.99 per month and easily deliver 25,000 mails to 50,000 contacts.
Pro – This is the top-most plan of EngageBay software that lets you send emails to unlimited customers at a price of $79.99 per month.
---
5. OptinMonster – Best Email Marketing Tool
OptinMonster email marketing tool comes with powerful technology to capture leads and maximize conversions on your own website. Whether you are running a small business or the big one, it will always help you generate more subscribers, contacts, and sales from the traffic you already have.
---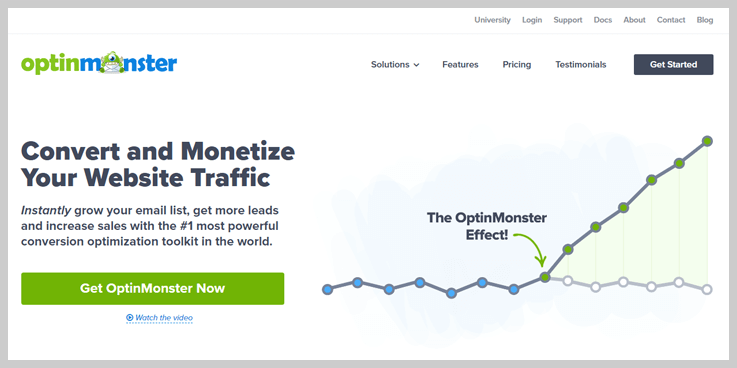 ---
Features
Geo-Location – This campaigner alternatives allows you to know the location of all your customers. Therefore, you can send personalized location-specific email campaigns as per their interests and boost engagement.
Yes/No Forms – It authorizes you to send yes/no style multi-step forms to customers and boost more traffic. In these emails, you can display your product offers with two options and let people select their preferred option.
Analytics – OptinMonster software makes it easy for you to know the full stats about the performance of your campaigns like clicks, views, conversion rates & more. This will help you to understand and improve your lead generation strategy.
List Segmentation – With this feature, you can group your customers based on their interests and send emails based on their likes.
Device-Based Targeting – This service empowers you to build campaigns according to phone, tablet, and desktop devices. Therefore you can provide a better user experience and improve your conversion rates.
Pricing
Basic – It has a price of $9 per month and allows you to send unlimited emails.
Plus – You can buy this plan at a cost of $19 per month and also get the advantage of various features like A/B testing, device targeting, etc.
Pro – This comes with handy features such as mobile-specific campaigns, yes/no forms, etc. at an amount of $29 per month.
Growth – With this you will be able to deliver thousands of emails at the rate of $49.
---
Conclusion
In this blog, we have explained about the 5 best campaigner alternatives along with their unique features, and affordable pricing plans. Hopefully, now you will be able to make the correct decision and choose the best service for your business.
You May Also Like To Read