---
Sending emails is one big puzzle of your overall marketing strategy and the stuff that makes it even more complex is choosing a decent SMTP service.
One cannot blindly choose an SMTP relay service as there are certain criterions that it must fulfill.
The integrated SMTP must –
Allow you to send bulk emails.
Offer high inbox delivery rates.
Easily integrable.
Have A Look At The Best SMTP Relay Servers
Services
Pricing
No. Of Subscribers
Multiple Domains
DKIM Signatures
Ratings
MailGet Bolt
$9/mo.
25K
✔
✔
4.8/5.0
Pepipost
$15/mo.
100K
✖
✔
4.6/5.0
SendinBlue
$25/mo.
2K
✖
✔
4.0/5.0
SendGrid
$79.95/mo.
100K
✖
✖
3.7/5.0
Inboxroad

€59

/mo.
Unlimited
✔
✔
4.6/5.0
To save you the hassle, we have devised a list of 10 best SMTP relay software which covers all the aspects of a reliable SMTP server.
For more related information check out the following blog –
Let's explore them individually –
---
1. MailGet Bolt  – SMTP Service Provider 
This emailing service has a built-in SMTP service which takes care of all the email sending process. Since the SMTP is pre-installed, you don't have to go through the cumbersome task of its integration.
Features –
MailGet Bolt is known for its bulk emailing services which also ensures high inbox delivery rates.
To achieve better open rates, the service offers you to send emails as auto follow-ups i.e. sending emails to those recipients who have missed your first email campaigns.
MailGet also allows you to schedule your email campaigns just by setting the required date and time.
---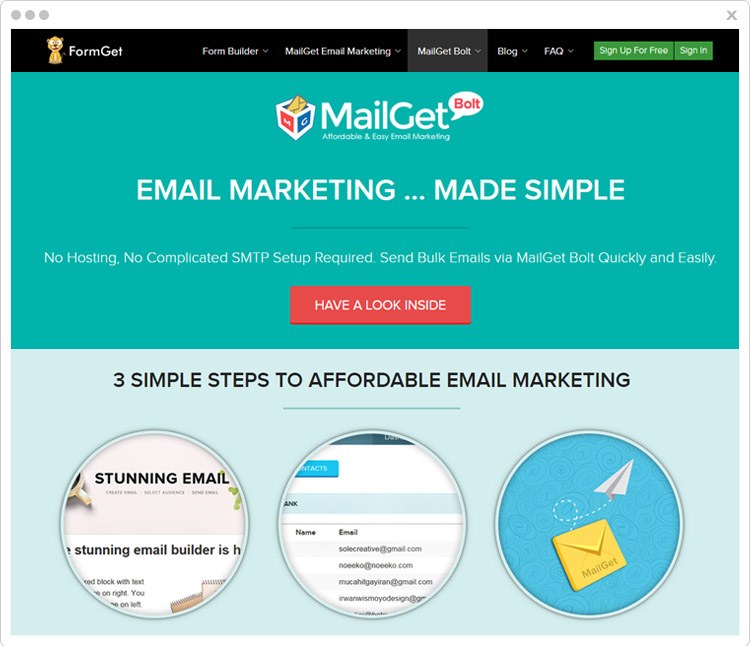 ---
Pricing –
MailGet Bolt offers several extremely affordable plans which can be billed either on a monthly or annual basis.
The cost of your plan solely depends on the number of subscribers, it provides 14-days free trial which allows you to send 9000 emails to 300 users.
Further, you can,
Send unlimited emails to 10,000 subscribers in $42/month ($35/month when billed annually).
Send unlimited emails to 15,000 subscribers in $59/month ($49/month when billed annually).
And so on..
If the annual subscription is selected for any of the plans you will get 2 months plan free of cost.
---
2. Moosend – SMTP Relay Service
Email marketing and designing a beautiful email is now faster with Moosend. With this SMTP tool, you can easily manage multiple email campaign. It comes with email automation and offers to create responsive newsletters too.
This platform is perfect for bulk messaging and email transaction.
---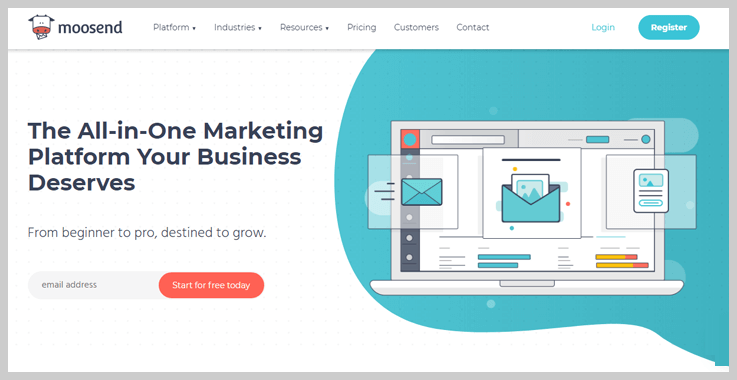 It has powerful real-time analytics, which helps Moosend to stand different from others. This email marketing tool allows you to observe and monitor your email campaigns easily.
It gives you a facility to add more option to enrich the current list. Now you can add more than just a name and email address. So, you can get more details about the subscriber. You can add a custom field from the mailing list by simply filling the name that you want in your new field.
Moosend comes with a spam testing assistant, which will help to detect spam email by checking your HTML content using real spam filters.
Pricing –
Moosend offers nearly 20+ different paid plans which are based on the number of subscribers with unlimited emails.
Send the unlimited email to 2000 subscriber at $10/ Month
Send the unlimited email to 10,000 subscriber at $46 for 6 Month
It allows sending unlimited email to 10,00,000 subscriber at $2,920 for 1 year
---
With the help of Pepipost, you can send emails by simply configuring SMTP in applications like Outlook, Thunderbird & CRM. Further, you can integrate this SMTP service via easy to use APIs with your software and applications.
Moreover, it provides you with round the clock support to solve your queries as and when they occur.
---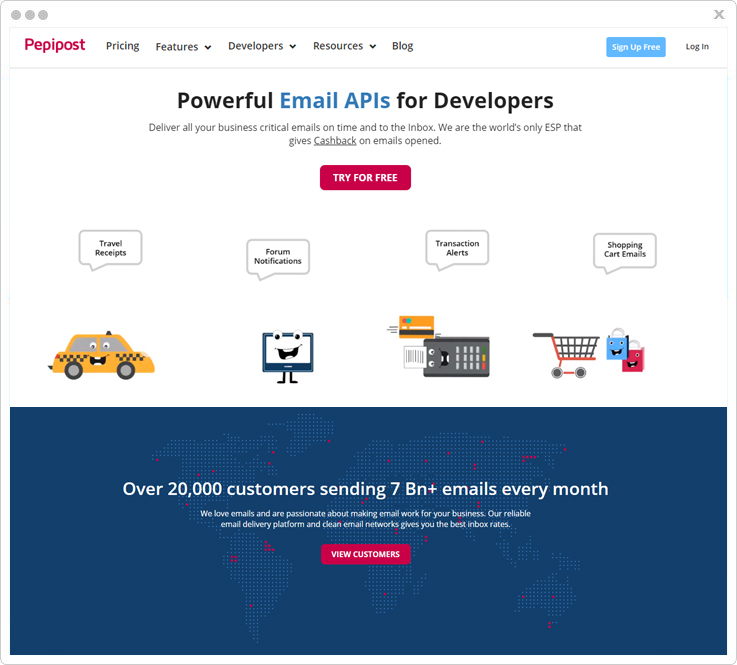 ---
Features –
It provides you with the Webhook integration you can easily get notified about the user behaviour in real-time such as open rate, bounces rate, etc.
You can keep a check on the live status of the users and monitor metrics with the help of a user-friendly dashboard.
Pepipost empowers you to create the sub-accounts & give access to them as per the roles.
Pricing –
You can send 100,000 emails for $15 per month. If you want to send an additional 100 emails you need to pay $0.60 more.
For sending 300,000 emails, the price is $65 per month. Further, for sending 1000 more emails you need to spend $0.55.
The cost of sending 500,000 emails per month is $145. To send 1000 more emails, you gotta pay $0.50.
Features –
You can perform the deliverability test & access open rates, click-through rates that will help you in the analysis & further implementations.
While using a shared IP, there are several people who are spamming because of whom you can end up having a bad reputation. SendinBlue offers you the dedicated IP via which you can send the emails the users & ensure the domain security.
It provides you with send time optimization feature that helps you in deciding the best time to send the emails.
Pricing –
Free: It offers you a free trial in which you can send up to 300 emails per day.
Lite: This plan will cost you $25 per month to send up to 40,000 emails every month.
Essential: For availing this plan, you need to pay $39 per month to send 60,000 emails/month with full stats.
Silver: With this plan, you get features like – send-time optimization, landing page builder, unlimited automation workflows. This plan is available at two different prices i.e. $66 for sending 1,20,000 emails per month & $173 for sending 3,50,000 emails per month.
---
The Mailjet SMTP server is best known for its effortless integration and multiple features. The SMTP service can also be availed in the form of plugins which can be used with CRM, CMS and other platforms.
Features –
Mailjet SMTP has a dedicated team which guides you to achieve maximum inboxing for all of your email campaigns.
The SMTP relay service is also backed by the real-time dashboard which shows open, click-through, spam and unsubscribe rate.
Mailjet too provides a dedicated IP address in order to attain a decent sender reputation.
Pricing –
Mailjet offers three simple and affordable volume based plans –
Free – Mailjet's most basic plan is FREE forever and permits you to send 6000 emails/month (200 emails/day) with unlimited contact storage.
Self-Service – This is a monthly plan whose pricing depends upon the number of emails you want to send in a month. For instance,

$7.49 for 30,000 emails/month.
$27.95 for 60,000 emails/month.
And so on.
You can also add extra features to your plan by paying additional charges.
Enterprise – For the businesses who require more than 2.5 million emails in a month can contact with sales team for a custom plan. All the features are included in this plan.
---
The list of SMTP services & software would be incomplete without mentioning SMTP2GO in it. This SMTP software not only allows you to send emails in bulk but also offers email tracking facility.
Features –
SMTP2GO immediately notifies its users if there are certain issues with the account like a sudden spike in bounce rate, etc.
Because of multi-data centers owned by SMTP2GO, your emails are guaranteed to get sent in case of internet failure.
The SMTP service provider also takes care of your reputation by keeping you off blacklists and spam folders.
---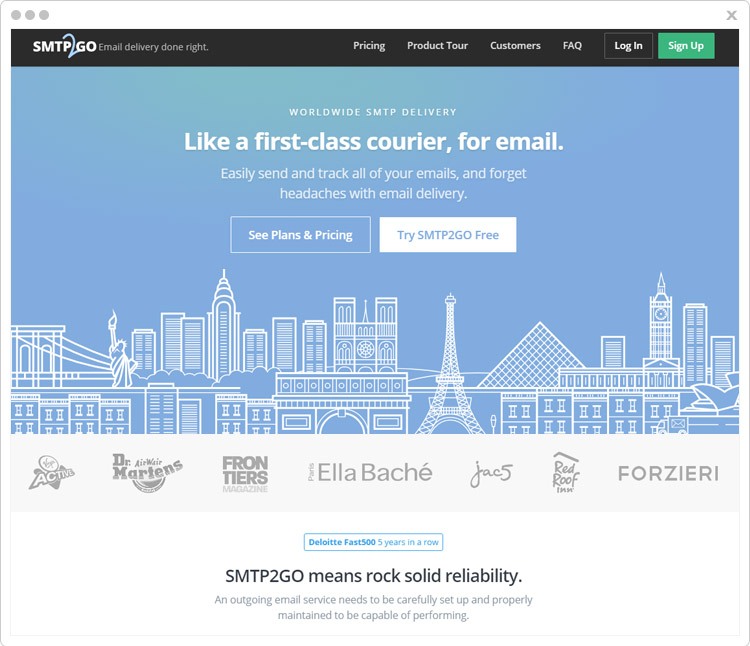 ---
Pricing –
SMTP2GO offers four pricing plans and a FREE plan in which you are allowed to send 1000 emails per month.
Gold – $14/month for 20,000 monthly emails ($0.0007 per extra email).
Diamond – $69/month for 100,000 monthly emails along with email testing tools and dedicated IP address ($0.00069 per extra email).
Diamond Elite – You get to send 300,000 emails/month with email testing tools, dedicated IP address and priority support in $199/month.
Custom – The businesses with larger needs like 1,000,000+ emails/month and all the available features have to get in touch with the SMTP2GO team for custom plan creation.
All the plan covers powerful features like the support system, deliverability monitoring, reporting, and networking.
---
---
Mandrill is one of the most famous names in the field of SMTP relay services and software which became a MailChimp add-on, earlier this year. It provides a powerful SMTP service which ensures high email delivery rates and its analytics.
Features –
One of the exclusive feature of this SMTP relay service is the option to send emails from multiple domains within a single Mandrill account.
With the extensive, globally distributed Mandrill servers, emails are sent at the lightning fast speed.
Mandrill also allows you to customize your email sending options like adding custom tracking domains, reverse DNS, etc.
---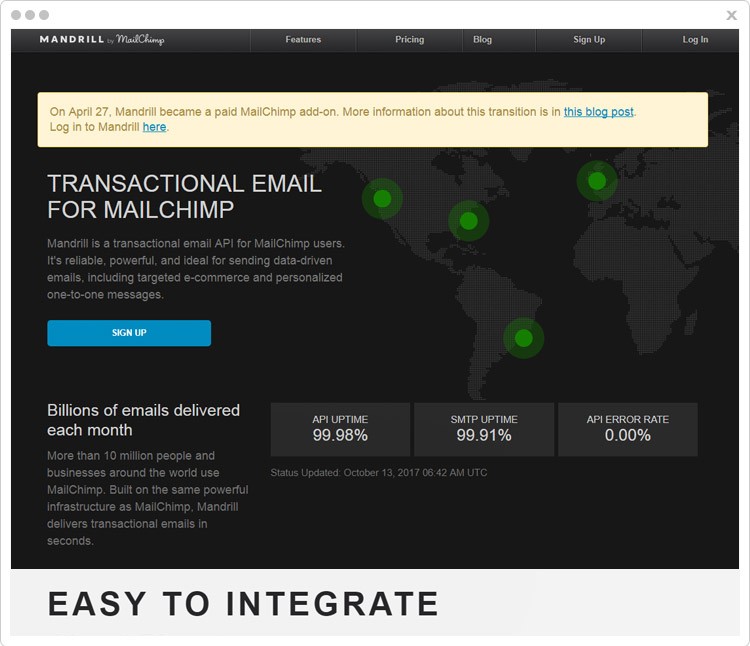 ---
Pricing –
Mandrill charges its customers according to the number of emails blocks. Each block comprises of 25,000 emails and unused block credits expire after every billing cycle.
You would have to pay $20/block if you have the email sending a range of 1-500K emails or 1-20 blocks.
If your sending quota ranges from 500K-1 million (or 21 – 40 blocks) then you would have to pay $18/block.
$16/block will be charged if your sending quota is 1 million – 2 million emails (41 – 80 blocks).
Similarly, $14/block will be charged if your sending quota is 2 million – 3 million emails (81 – 120 blocks).
You will be charged $12/block for the email sending limit of 3 million – 4 million emails (121 – 160 blocks).
Lastly, you would be paying $10/block if your email sending limit crosses 4 million mark (or 161+ blocks).
---
One of the leading email sending services which provide a seamless SMTP integration in an affordable manner, Amazon SES is ideal for any online business which requires sending promotional or transactional emails.
Features –
The SMTP service provider assures high deliverability by maintaining a decent reputation through filtering out malicious & spam contents.
Amazon SES offers the best in business email authentication and validation like DKIM signatures, SPF and DMARC.
In order to monitor the issue of non-deliverability, this SMTP software offers a dedicated sender reputation management dashboard too.
---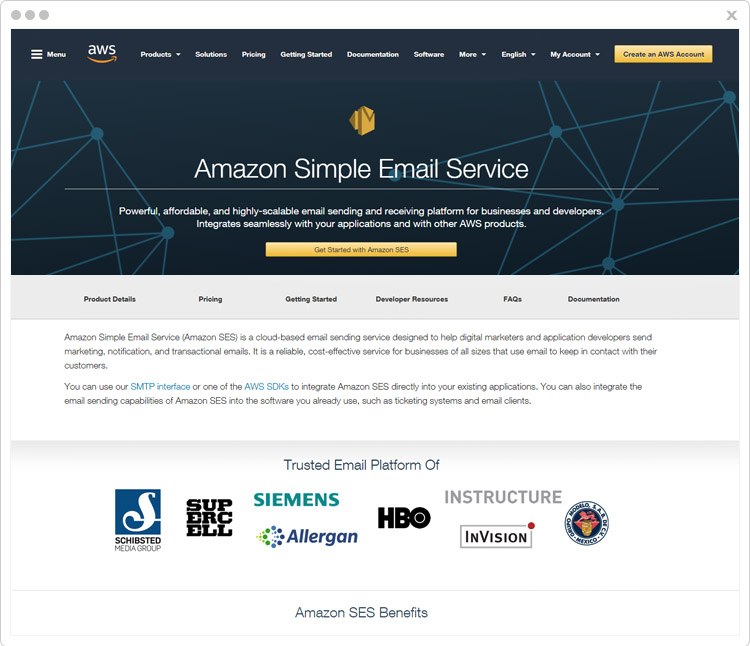 ---
Pricing –
Amazon SES charges its customers according to their usage without adding any base charge.
You get first 62,000 emails/month for FREE if you are sending emails from an application hosted in EC2. If the limit is crossed you would incur additional $0.10 per 1000 emails. Also, you will be charged $0.12 per GB of sent attachments.
If you are sending emails from an email client or software, you will be charged $0.10 per 1000 emails and $0.12 per GB of sent attachments.
In terms of receiving emails, you will get your first 1000 emails for FREE and $0.10 for next 1000 emails if receiving via an application hosted on EC2.
If you are receiving emails using an email client, you will be charged $0.10 per 1000 emails and $0.09 per 1000 incoming emails thereafter.
---
AuthSMTP can end your quest of finding a reliable SMTP service and in turn reward you by allowing you to send emails in bulk and dropping them in the inbox, that too in a cost-effective manner.
Features –
In order to provide a safe email sending environment, AuthSMTP offers SSL encryption when sending emails via SMTP.
AuthSMTP proudly talks about its servers which are built specifically to endure high volume of emails.
AuthSMTP also offers email duplication facility with all plans using which you can receive copies of emails on a separate account.
---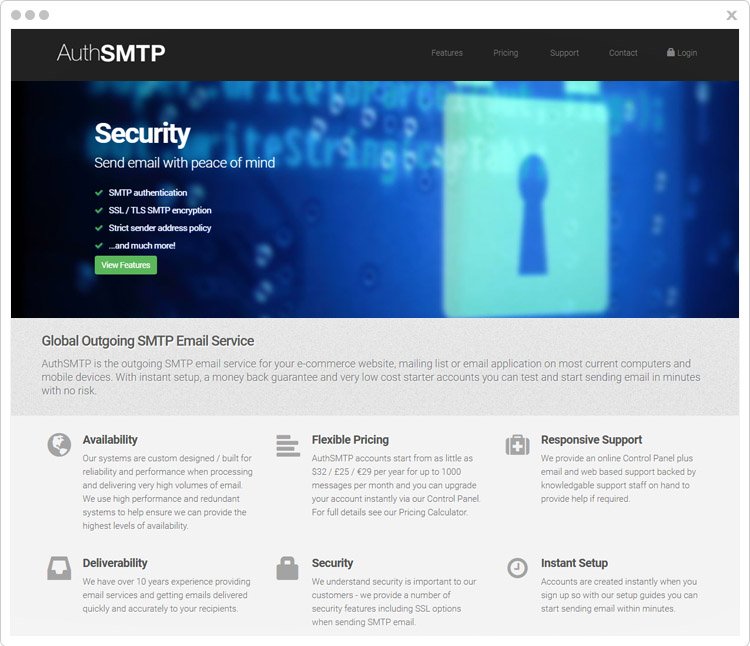 ---
Pricing –
Recommended Plan:- Cost is $32 per year and you get facilities like 1000 messages & 200 MB storage every month, shared IP address and more.
Alternative 1:- This plan has a price tag of $48 per year with which 2000 messages can be sent per month, 20 form addresses and 400 MB data can be stored.
Alternative 2:- $64 is the cost of this plan for a year with services like 3000 messages per month, shared IP, 30 emails from addresses and more.
Other than the plans discussed above there are various packages that vary in cost and resources which can be opted as per your business needs.
---
Features –
SMTP relay setup can be implemented by just modifying the pre-set SMTP configuration.
SendGrid offers at most 7 development frameworks for the SMTP integration.
Keeping high deliverability in mind, SendGrid offers domain and link customization option if emails are being sent from a shared or dedicated IP address.
Pricing –
SendGrid offers a forever FREE plan in which you can send 40,000 emails/month and 100 emails/day.
Apart from this, the SMTP service provider charges its customers according to their monthly needs like –
Send up to 40,000 emails/month in $9.95/month.
Send around 50,000 emails/month in $19.95/month.
And so on.. (Price calculator available along with plan details)
Sending via SendGrid SMTP also exempts you from incurring additional charges if email campaigns are sent via Marketing Campaign.
---
MailGet SMTP is one of the most prominent names in the field of SMTP service providers because of its flexible email sending solution, compatibilities, and affordable pricing plans.
Features –
From sending a single email to thousands, MailGet SMTP takes care of delivering every sent email right in the inbox.
Dignified reputation can also be achieved as it offers email authentication by validating it with SPF and embedding DKIM signatures.
All the emails are sent at the lightning fast speed through whitelisted servers.
---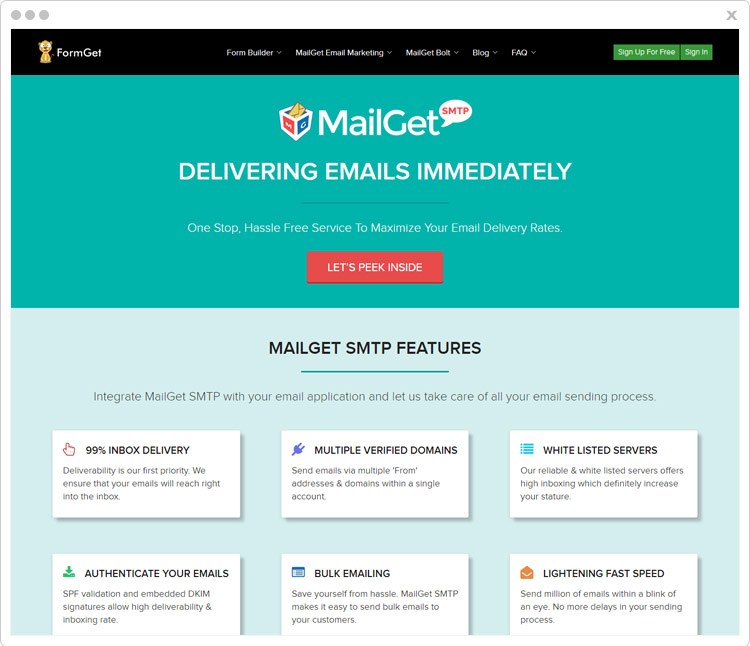 ---
Pricing –
MailGet SMTP offers 6 extremely affordable pricing plans which are based on the number of outgoing emails.
---
I would like to give a personal recommendation to MailGet SMTP service, as it is a cost-effective means and filled with a number of features that other providers lack or charged more.
We have tested and implemented it and have taken benefit of MailGet SMTP's high delivery rate and efficiency.
---
Conclusion
So, this blog was all about some of the best SMTP service providers that hold a strong position in the market and deliver premium services. We, hope that after going through this blog you will definitely find a suitable service which will satisfy your needs and will also be pocket-friendly.
If you are still not satisfied and want to know more about SMTP, then below are some blog posts that will help you get more details:-