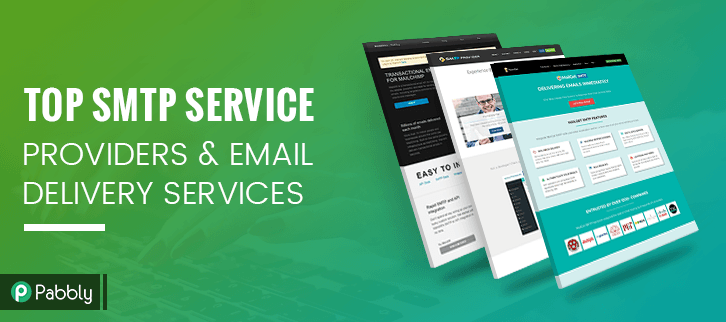 Being a marketing expert, you deserve an email delivery service which is reliable, effective, affordable and trustworthy.
So, it is very necessary to choose the right SMTP service which has a good reputation, uses whitelisted servers, gets easily connected to any email application so that your emails are directly delivered to the inbox of users, and most importantly it should be a fast & effective medium to do bulk email marketing.
Get more information here –
A Quick Glance at the Comparison of Top SMTP Service Providers & Email Delivery Services
Services
Pricing
No. Of Subscribers
MX List Cleaning
SMTP Routing
Rating
MailGet Bolt

$9/mo.

25k
✔
✔
4.5/5.0
SendinBlue

$25/mo.

2k
✖
✖
4.0/5.0
Pepipost

$15/mo.

100k
✔
✖
4.6/5.0
Mandrill
 

$20/mo.

5k
✖
✖
4.0/5.0
In this blog, we are going to discuss 5 Top SMTP Service Providers which deliver excellent Email Delivery Services in the market. And, the blog will surely help you find the right SMTP service which will fulfill all your needs and requirements.
---
1. MailGet Bolt Email Delivery Service
MailGet Bolt is another top class emailing service provider which is quick and fast. It comes pre-configured will all the setting and there is no need to set up any SMTP service in it, you just have to subscribe and start sending emails.
In addition to this, there are many other features which help you track user actions, auto respond, analyze, personalize and deliver your emails in the inbox of users.
Features:-
MailGet Bolt has email builder with the help of which you can design attractive and eye-catchy emails. All the emails delivered will be fully responsive and can be customized accordingly.
You can easily track user activities like opened, clicks, unsubscribe and monitor your emails with email tracking feature.
Autoresponder is a top class facility with which you can automatically respond back to the messages received from customers or other users as well.
---

---
There are 7 different plans offered by MailGet Bolt which is stuffed with the various feature but vary in cost:-
The first plan will cost you $42 a month through which unlimited emails can be delivered to 10,000 users.
Next plan has got a price tag of $59 for a month using which unlimited emails can be sent to 15,000 subscribers.
$89 a month is the price of this plan which gives you access to send unlimited emails to 25,000 users in a month…
And so on.
Note:-
While comparing MailGet Bolt with other email delivery services we came to know that it's the best email service that provides 30 days free-trial in which 9,000 emails can be sent.
---
Special Facilities By MailGet-Bolt Email Delivery Service
You will get a straight discount of 2 months if you opt for a yearly subscription of any of the above plans in the list. Which means by paying for 10 months you can use MailGet Bolt for a whole year.
---
SendinBlue SMTP is specifically used to send transactional and marketing emails such as – sign-up, purchase confirmation, etc. It is the trusted GDPR compliant SMTP services.
Additionally, this service provides a very user-friendly dashboard to manage and configure the emails.
Features:-
Using this service you can view reports and metrics to monitor email campaigns. It provides reports on the basis of deliverability, CTR, & open rates.
Various date and category filters are also available to fetch the users data and export filtered data in CSV file format.
You can integrate this SMTP service via. PHP Library or by manually configuring the server, port, username, and password.
---

---
Pricing Plan –
Free Plan – It allows sending 300 emails a day/month to unlimited contacts for free.
Lite Plan – The plan allows sending 40,000 emails at just $7/month. And doesn't have any sending limit.
Premium Plan 1 – Enables sending 1,20,000 emails at a cost of $66/month. Also, it avails features like landing page builder, unlimited automation workflows, etc.
Premium Plan 2 – This plan cost $173/month to send 3,50,000 emails. Apart from all the features of Premium Plan 1, it also renders you a free dedicated IP.
Enterprise Plan – It is a dedicated plan to send emails above 3,50,000/month. And to know more about the pricing contact SendinBlue sales team.
---
Pepipost is the fastest SMTP service present in the market. As the servers are flexible enough to support high as well as low email volumes. Resulting in ensuring high inbox delivery.
It renders multiple options to integrate this service in your application i.e. SMTP relay or Web API.
Features:-
Papipost has a dynamic dashboard for the live status of the sent emails. Also, it provides real-time statistics.
Effectively manage your accounts by adding a bunch of up to 15 sub-users accounts and allocate individual email access to each sub-user.
It suppresses the hard bounce emails as soon as it occurs. Also, notifies you with an automated message to monitor the bounces.
---

---
Pricing Plan –
Pepipost offers the pricing plan on the basis of the number of emails.
For 100,000 emails/month it costs $15.
And for 300,000 emails it will cost $65/month.
If you need to send 500,000 emails then it will cost $145 for a month.
---
Mandrill is a popular name in the field of SMTP service providers as it provides a reputed SMTP platform to deliver emails. It is constructed on the same MailChimp infrastructure. With the help of this, you can send emails in bulk.
But one of the major drawbacks is that, if you are using Mandrill then you can only send transactional emails and not marketing or promotional emails.
Features:-
Mandrill SMTP and API gets integrated with just a few clicks. It is very simple to connect as there are no complex settings in it.
Sending transactional emails in bulk with this SMTP service provider becomes fast and easy.
You can add one or more dedicated IP to send emails with Mandrill.
---

---
Mandrill offers free as well as multiple paid plans to its users which has various advanced features & facilities:-
The free plan by Mandrill adds 2,000 emails to your MailChimp account. After all the free emails are consumed then you have to subscribe to a paid plan to continue using Mandrill's services.
$20 is charged per block if you want to send 1 to 500,000 emails. In this case, the billing amount for 10 blocks will be $200 (Send 250,000 emails).
Next plan will charge $18 per block if you want to send 500,000 to 1 million emails.
And so on it goes. You can subscribe to the number of blocks as per your needs and requirements.
Note:-
Mandrill is an SMTP service provider that sells its emails in the form of Blocks. And each block holds 25,000 emails in it.
If you have subscribed for the certain number of blocks, then at the end of the month the remaining blocks will be expired.
---
Special Facilities By Mandrill Email Server Solution
Mandrill has some of the best facilities like it automatically tracks whether the mail is accepted for delivery when it got bounced and more. This helps you enhance the email delivery as all the details are stored.
---
Amazon SES offers the best and is one of the renowned SMTP service providers that allows you to send transactional emails in a few minutes. This is an affordable solution which comes configured with various advanced features to conduct large-scale email campaigns.
Features:-
Amazon SES offers multiple email sending interfaces which are more effective and efficient in delivering emails.
Conducting bulk emailing campaigns is a much-needed thing these days and it works quickly with Amazon SES as you can send thousands of emails with a single click.
All the servers used are certainly whitelisted servers which assures inbox delivery and also provide an extra level of safety.

You can also monitor the activities performed on your sent emails which will be helpful in correcting errors.
---

---
With Amazon SES you are charged for what you use, this SMTP service has various price plans which are easy, fast and cost-effective way of sending & receiving emails:-
With the free subscription, if you have your application hosted on EC2 in that case you get first 62,000 emails free every month.
If you are sending emails through software the first paid plan will charge $0.10 per 1000 emails and $0.12 per GB for attachments.
If you are receiving emails then first 1000 emails will not be charged. Later on, it will charge $0.10 per 1000 emails and $0.12 per GB for attachments.
And so on…
Note:-
Amazon SES has some additional and optional services which can be beneficial for your business
With Amazon SES you can have dedicated IP addresses, which can help you send a large volume of emails using a dedicated address of your own which will build a good sender reputation.
You also get facilities like Attachment, mail chunk, and EC2 data transfer but a certain amount is applicable to them which is added to the bill.
---
Special Facilities By Amazon SES Bulk SMTP Server
Amazon SES SMTP server can be integrated using different programming languages frameworks, allowing you to easily get connected to any email delivery services.
---
6. SMTP Provider Best Relay SMTP Service
SMTP Provider is a reliable and cost-effective service. Using this service you can send transactional, promotional as well as subscription emails in bulk. It is easy to use and implement SMTP service which requires a few simple steps to set up.
Features:-
With SMTP Provider you can upload, extend and easily manage multiple contacts, hence improving the efficiency of your email marketing campaigns.
This SMTP server reaches the inbox of the users to whom the email is being sent.
This SMTP relay service provider uses whitelisted servers and handovers all the reports related to the actions performed.
---

---
According to the usage and consumption, SMTP Provider has numerous dedicated price plans for promotional, transactional and unlimited usage:-
In this SMTP service, there are 12 promotional email packages which are loaded with different features and facilities. Starting from $2 to $400 a month with 1,000 to 1 million emails delivery in that period of time.
Similarly, there are 12 different plans to send transactional emails. The paid plans in this package start from $5 and range up to $ 450/month. In which you are allowed to sent 20,000-3 million response emails.
Unlimited SMTP package has 3 plans. The Unlimited P1 for $400 a month. And Unlimited P2 for $700 a month. The Unlimited P3 for $1,000 a month.
Note:-
All the above-mentioned plans come with a free trial period of a week and you can send 100 emails.
Special Facilities By SMTP Provider – Best Relay SMTP Service
If you are using SMTP Provider service to send emails then your email delivery services is the best. This is a perfect solution which has all the facilities that will fulfill all your mailing requirements.
---
7. MailGet SMTP Relay Service Provider
MailGet SMTP is a premium SMTP relay service provider which has some of the advanced and futuristic features, allowing your emails to get delivered to the inbox of users.
You can configure this cloud-based service with just a few clicks. Plus emails can be delivered immediately which can maximize your promotional campaigns.
Features:- 
Immediate delivery is guaranteed as all the servers used by MailGet SMTP services are 100% reliable and whitelisted.
Each & every email delivered from MailGet SMTP service will surely land in the inbox of the receiver as it provides 100% inbox delivery.
Bulk emailing becomes a simple step-by-step process, plus you can send emails from multiple domains and use different addresses.
---

---
MailGet SMTP has multiple price plan which comes pre-loaded with various features & facilities:-
The base plan will cost you around $10 with which you will get the access to send 30,000 emails.
This plan has a price tag of $25 using which 75,000 emails can be delivered.
For the price of $50, you will be able to send 150,000 emails.
There are other plans for $75 to $200 through which you can send 2 lakhs to 6 lakhs emails. You can select these plans according to your needs and requirements.
Note:-
All the above plans have no expiry date which means you can subscribe to any plan and your plan will remain active till the time you have emails in it.
---
Special Facilities By MailGet SMTP Relay Service Provider
MailGet SMTP is at the first position in the list because we have tested it personally and felt that it stands tall among all the SMTP Services available in the market.
This is the reason I would like to recommend this SMTP service as we have experienced its features & services and I can assure you that they are one of the best. I am sure that if you choose this SMTP service you will not get disappointed.
---
Conclusion To End It Up
We hope the data provided in this blog was helpful to you as it has all the essential information related to Top SMTP Service Providers as we have perfectly defined all the features and pricing of every service listed in this blog. And I am sure that after going through this blog you will definitely find a good SMTP service for your business.
If you are willing to fetch out more details about SMTP services and other information related to emails delivery services, below are some blogs that will be helpful to you:-