Zuora is an online payment billing software that helps in establishing an online billing platform for your business. It is one of the famous software having features like subscription order management, payment collections, metrics,  reports analytics and much more.
Along with an ample amount of features, somewhere down the lane, Zuora tends to be rigid at times. Whereas, delay in loading make users anxious & reaching out to support might take a lot of time. All these little things encourage business holders to shift from Zuora to other alternatives.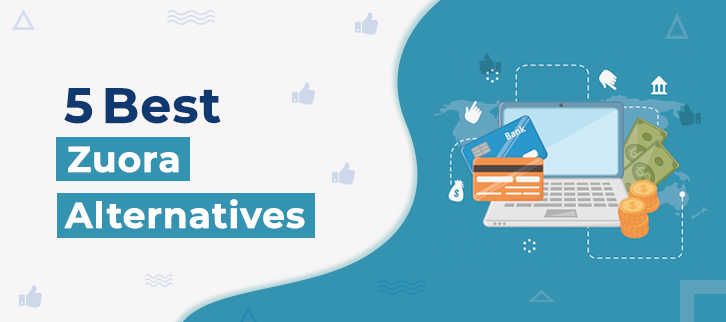 So, here we are up with the best Zuora alternatives that are easy to use and have great features than Zuora.

Zuora Alternatives With Their Pricing & Features
1.Pabbly Subscription Billing Software-
Pabbly Subscription Billing is a subscription management and billing software. It is a SaaS-based software through which you can generate unlimited revenue without paying any extra fees. Along with that, it provides detailed information about sales, customers, etc. It has an intuitive dashboard wherein you can effortlessly manage all the details regarding customers, reports and much more.
Further, you can create unlimited products and plans and customized checkout pages. We have no doubt that it is one of the best alternatives to Zuora. You can deal globally with this software as it has different currency support. It supports multiple payment gateways like PayPal & Stripe which makes the transaction easy and reliable for the users. Pabbly Subscription Billing provides great features for their customers which we discuss in detail below.
Features of Pabbly subscription billing-
Here are the features of the service that make it user's choice.
Your clients can manage card payments, subscriptions upsell/downsell, cancel their subscription and view transactions with the help of a client portal.
It generates invoices in automation along with all the useful details like products/plans, the amount of money charged, etc.  Moreover, you can even enable the option to send email notifications.
Dunning management is an effective feature in case of payment failure. It sends a notification about the transaction failure to both the user and the seller.
There is proper management of coupons and discounts. You can attract more customers by providing discounts and coupons from time to time.
Pricing-
Pabbly Subscriptions have three major plans for customers. You can choose any one of them according to your business scale and feature requirements.
Starter plan – It is beneficial for small scale businesses, this plan has sufficient features including auto email notifications, unlimited products, and plans, client portal, multiple billing module, etc. It will cost you $19 per month and you can manage 500 customers.
Rookie plan – It is the best plan you can enroll in. With 2000 customers it has all the features of the starter plan. It will cost you $29 per month. This plan includes custom domain creation, custom payment gateway which makes country-wise payment gateway integration.
Pro plan – It is the complete package to deal with billing. It costs $49 a month in which you can deal with unlimited customers. It has all the features of the software like custom payment gateways, etc.
2.Chargebee
Let's have a look at another Zoura alternative that provides good services to its customers. Chargebee is recurring billing software that is effective for businesses. It allows creating manual emails that can be sent to a particular segment of customers i.e you can edit email notifications accordingly that suit your business requirement and send it to a particular type of customer. It has its own fraud detection system which marks the transaction fraud if it is not authorized by the card owner.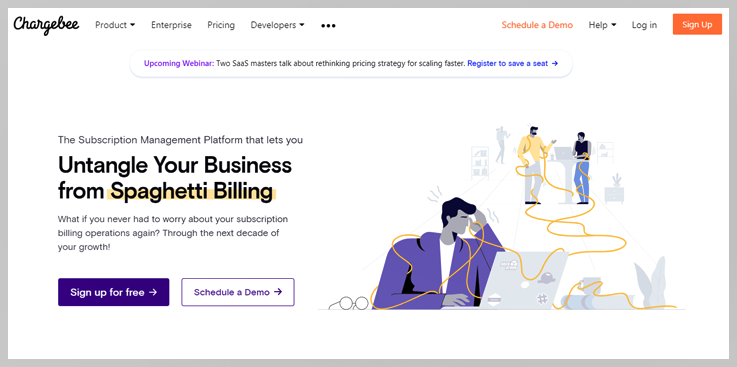 Features of Chargebee –
Chargebee provides various features, here are the following:
One of the latest features is email attachments that allow you to add an attachment to the notification emails. Through this, a seller can share a document or a file.
Through security and compliances, customer's data is handled safely and securely like personal and card details.
With Chargebee, you can accept recurring payment from your customers with their choice of payment method as it integrates with all the major payment gateways like PayPal, Stripe, etc.
It provides a globalized subscription in which it deals with multi-currency that allows your customers to pay in their local currency.
Pricing –
Rise- The first plan is Rise which costs $299 per month, for the revenue of $50k monthly and unlimited payment gateways.
Scale- The popular plan of Chargebee is Scale, it charges $599 per month and this is for the revenue of $75k per month with advance invoicing, multiple tax profiles.
Enterprise- For the Enterprise plan details, you have to contact the sales department of Chargebee.
3. Zoho Subscriptions –
Zoho Subscriptions is a platform that automates subscription management and recurring billing cycles. From small to wide businesses, Zoho can handle all. It is designed with CRM( customer relationship management) that manages sales, customers, etc.
Once it set up, you can use it without any difficulty. Zoho is a customizable software and all its features like subscription branding make this a good alternative to Zoura.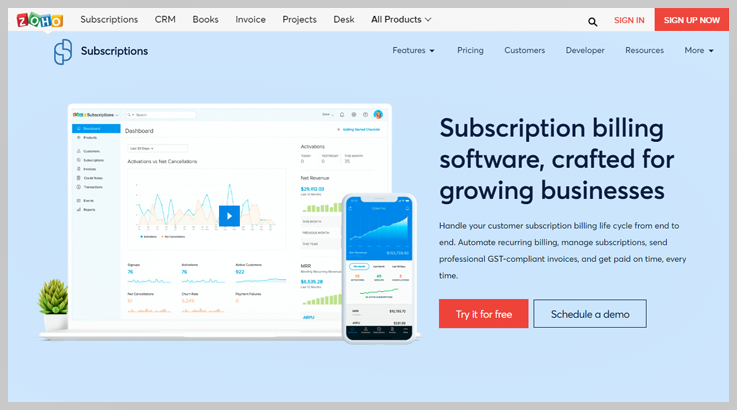 Features of Zoho –
You can customize hosted payment pages that enhance your branding. With customizable elements, you can show all the important information easily i.e you can show your brand name with the product and plan detail.
Payment failure in Zoho is not a big issue as it has good dunning management and automated retries. It notifies customers to prevent revenue loss.
Through subscription automation, you can track the subscriber's status using webhooks and provide them required follow-ups.
Metered billing is a special effective feature of Zoho in which customer is charged on the actual usage of the product or services.
Pricing-
Zoho has three plan as follows-
Basic- It is a basic plan, that charges 9,999INR for 500 customers and 3 users with 3 automated workflows.
Standard- The second plan is Standard, it costs 19,999 INR for 2000 customers. 5 users can access it with 10 workflows.
Professional- Another plan is Professional. It charges 69,999 INR for 5000 customers and 10 users can access it with 10 workflows.
4. Sellfy
Sellfy is another renowned name in the list of alternatives to Zuora. It is an online platform that can create an online store without much trouble. With Sellfy you can set up a store and manages the subscription effectively.
It is highly customizable as compared to other software and has powerful analytics that tracks the traffics and well-performing products. Apart from this, it uses Paypal and Stripe for transactions in more than 200 countries.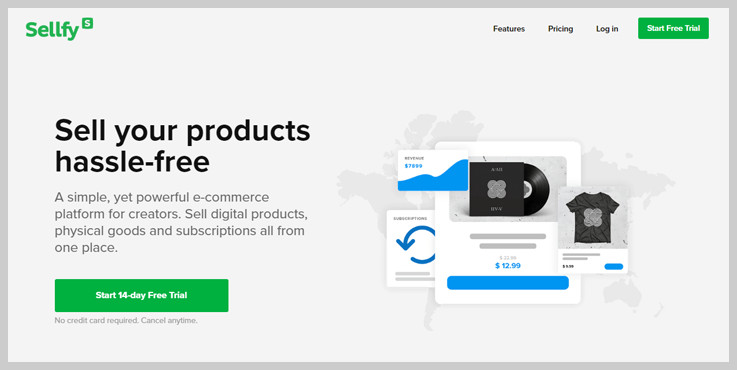 Features of Sellfy-
Sellfy has inbuilt marketing features like email marketing and discount codes.
Integrated tools help in increasing sales For example, with the Facebook live chat tool you can interact with your customers.
It has security and anti-fraud features by that payments are secure. Sellfy is PCI-DSS-ready. Buyers' payment information is handled by trusted payment processors
With the use of embedded buttons, you can enhance your website or store traffic and increase your sales. You can use the link on social media pages and other platforms.
Pricing-
Starter- It is the basic plan which costs $29 per month. It is good for sales up to $10k yearly.
Business- It charges $59 per month and best for sales up to $50k per year. Through this plan, you get the credit of 10,000 emails.
Premium- This plan is for sales of $200k per year that cost $129 per month. With this plan, you get priority support also.
5.PayWhirl
PayWhirl is a subscription billing software that provides tools to handle recurring cycles. It is integrated with different payment gateways like PayPal, Stripe, etc.
You can easily set up this on your website, it doesn't make any contracts for the services and you are always free to cancel anytime.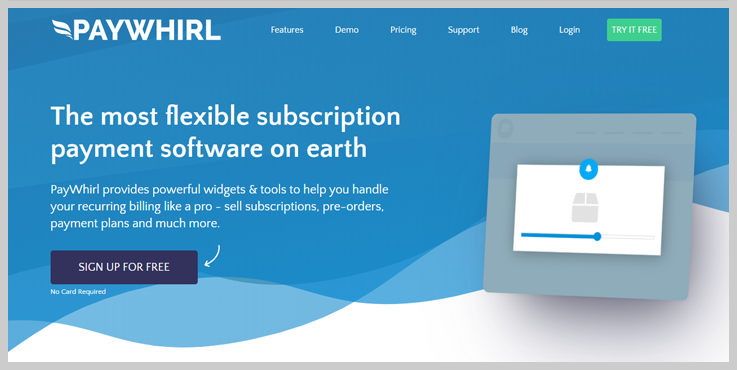 Features of PayWhirl-
PayWhirl accepts all types of cards i.e debit, credit cards. You can add your bank account and pay directly by electronic check.
There are default templates for emails and invoices but it also allows customization of it.
With the use of metrics, you can create reports that help in analyzing performance.
Safe and secure payment methods, PayWhirl never store card numbers. It uses an encrypted code that only decrypted by the payment gateway.
Pricing-
Business ultimate-  This plan costs $249 per month and charges a transaction fee of 0.5% per transaction. It provides phone support and unlimited account managers. Good for business making $10k a month.
Business plus- This plan charges $149 per month with the transaction fee of 1.0% per transaction. Perfect for businesses generating revenue of $8k a month.
Business Pro- Perfect for businesses processing $5k per month. Its monthly charge is $49 with a transaction fee of 2%.
Conclusion-
From the above discussion, we have these 5 alternatives to Zuora. You can prefer from any of the following software for your business's online recurring billing process.
Each of these applications has its own special features and different pricing. Go through all these billing applications then analyze your business needs and choose the best one for your business.
We put all the necessary information regarding these Zuora alternatives. However, if you want to explore more you can go for free trials for some days.
For queries, comment below. We will contact you soon.
You may also like to read: