Sellfy is a renowned subscription billing software that empowers you to automate the billing process.  You can effortlessly collect payments, maintain records and much more.
---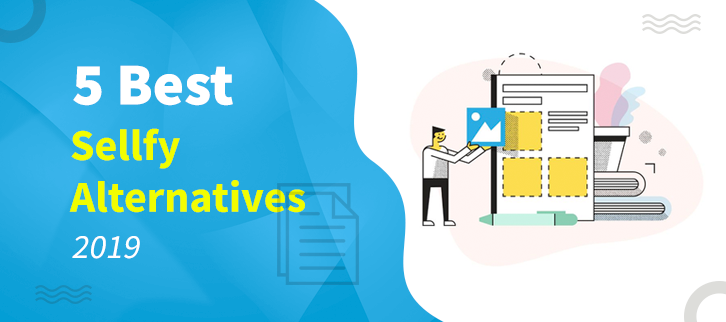 ---
However, there are several issues that users face while using Sellfy like, difficulty in the analysis due to complex structure, adding watermarks, etc. Moreover, there are times when the user gets agitated while waiting for a response from their customer support's end.
Now, it's time for you to switch from Sellfy and look for better alternatives.
Hence, we are here with the list of best Sellfy alternatives that not only provide you with the updated features like tax handling, sales analytics, hassle-free payment collection, etc but are also available at nominal prices.
So, without any further ado, lets quickly have a look at the subscription billing software.
"Have A Look At Comparison Table Of Sellfy Alternatives"
| | | | | |
| --- | --- | --- | --- | --- |
| Services | Pricing | Customers limit | Transaction fees | Coupons and Discount |
| Pabbly Subscription Billing | $29 | Unlimited | No | Available |
| Recurly | NA | Unlimited | Yes | NA |
| Chargebee | $549 | Unlimited |  No | NA |
| Chargify | $499 | 10,000 | Yes | NA |
| Zoho | 19,999 INR | 2,000 | No | Available |
---
With Pabbly Subscription Billing, you can effortlessly create unlimited plans/products wherein you are allowed to add unlimited customers. You can use this is as the alternative of Sellfy.
This SaaS-based software lets you generate unlimited revenue without charging extra fees. Furthermore, you can collect one-time recurring payments via different payment gateways like PayPal, Stripe, Razorpay, etc.
Additionally, you even get an affiliate marketing module wherein you can manage your affiliates in a single dashboard.
Features of Pabbly Subscription Billing-
Generate Reports – It generates a report that provides you details regarding the revenue, active subscriptions, all transactions, affiliate commission with infographics like Graph and charts.
Checkout Page – You can design and customize the checkout page with your preferred language. You can create a beautiful checkout page through customization.
Sales and Tax – It displays the information and data of sales accurately. You can add the tax rules according to the country, state, and business as well.
Embed & Autofill checkouts – You can customize your website to autofill the customer data on the checkout page with a simple code. It can enhance the customer's experience
Custom Domain –  In this feature, you can create your custom domain replacing the Pabbly domain for the checkout page.
Dunning Management –  It manages the complications of payment failures and It sends notification of the customer informing them about the transaction failure.
Easy invoicing – You can track all the payments and maintain the records in invoicing, therefore it makes your invoicing work easy.
Coupon and Discount – You can create coupons to provide discounts on a flat or percentage basis for your customers on different products. You can also set its redemption duration.
Pricing-
One of the best things about Pabbly Subscription Billing is the price of its plans. You can choose the plan according to the needs of your business.
Starter Plan – At $19 per month. Best for small scale businesses and can manage 500 Customers. You can set up unlimited products and plans. It also provides a detailed report and analytics.
Rookie Plan – At $29 per month. Good for Enterprise level subscription and manage 2000 Customers. It also has an Upsell/Addon feature, including all the features of the starter plan.
Pro Plan – At $49 per month. You can access all the features of the software. Can manage the subscription of unlimited customers.
---
2. Recurly
Recurly is a platform that works flexibly with customer integration. It is another Alternative to Sellfy. It provides detailed information about customer account. Billing and viewing information is easy and attractive in this software. It also provides free trials for some days.
Features of Recurly Billing Software-
Customer Management – The software manages customer information and data. It makes the work easy for the merchant.
Dunning Management – It manages the complications of the payment failures and notifies the customer about the failure. Due to a technical reason if the payment transaction failed then it can retry the process through notifying the customer.
Invoicing – It is like a document that specifies the amount of products that has been sold to the customer with details of its quantity and payable amount.
Support Multi-Currency – There is no problem in dealing with different currencies. It deals with all the major currencies.
Pricing-
Core- It is the basic plan for simple businesses. It includes a variety of payment methods, unlimited automated invoicing, multiple API keys, and webhooks. The price of this plan is $99 per month but you should contact the sales for confirmation.
Professional- Plan for big businesses and Enterprises. With the core plan features it includes Basic Fraud Management Tools, Revenue Optimization Engine. For the exact price of the plan, contact sales.
Elite- This plan is for huge businesses. It includes Advanced Analytics & Plan Level Comparison, an Advanced fraud management tool and unlimited API keys and Webhooks. For more details of the plan, you can contact the sales.
---
3. Chargebee
Chargebee is an automatic billing software that helps businesses in the billing process. It provides a user-friendly billing system to the customer with 20+ leading gateways including Paypal, Braintree, Amazon pay, etc.
Features of Chargebee-
With the recurring billing, Chargebee provides themes for the hosted pages.
Chargebee has a fraud detection system that makes the transaction safe and secure, hence you have a secure payment platform.
Chargebee allows you to work with security systems that prevent unauthorized access to personal data.
It includes multi-currency payment support to the customers. It has an automated tax management tool that works according to the place where you are selling.
You can build your own coupons with the customization and monitored its redemptions.
Pricing-
Rise- This plan is for beginners, who are new users of the subscription billing software. It charges $249 per month for 10 users. It provides unlimited payment gateways with multiple tax regions and Chargebee revenue Story, etc.
Scale- This is the popular plan of the Chargebee. It costs $549 per month for 25 users. It allows access to advance invoices with priority phone support.
Enterprise- It is a custom plan. So you have to contact sales to know the services.
---
4. Chargify-
Next Sellfy alternatives subscription billing software on the list- "Chargify ". It helps in organizing bills and manage subscriptions through various tools and features available on it. There is no transaction fee or setup fee and Chargify allows you to start with it free. One of the special things about Chargify is it provides 24/7 phone support.
Features of Chargify-
Offer Management – Create coupons and discounts to get new customers and retain existing ones.
Subscription Management – Chargify removes the management burden by providing an interface to track all subscription activity, ensuring everything is logged and nothing is lost.
Revenue Retention & Dunning Management – It prevents payment failure before happen. With Chargify, you can customize the emails to get in touch with the customer who faced payment failure.
Security & Reliability – It provides security to your customers in a recurring billing process.
Customer Experience – You can review your customer experiences and easily communicate with them. Chargify allows your customers to manage their accounts like viewing billing history and edit their plans.
Pricing-
There are three plans available on Chargify
Scaling- It costs $299 per month. It includes 100 product configurations and advanced sales tax automation, etc.
Success- It charges $499 per month. With all the services of Scaling, it includes Analytics Suites and Sales Commission with other services.
Specialized– This is a custom plan, contact sales for more details.
---
5. Zoho Subscriptions
Zoho subscription is a subscription billing software that helps the business to grow. It manages from small to large businesses. Zoho subscription handles customer's subscriptions easily. It also sends professional GST compliant invoices. You can prefer the Zoho subscription as a Sellfy alternative.
Features of Zoho Subscriptions-
Subscription Automation – It notifies you when your customer's subscription going to end therefore you can give them follow-ups.
Subscriptions Metrics & Reports – It helps you in reviewing the net revenue and invoice details.
Recurring Payments & Accounting – Zoho subscription provides your customers number of payment methods.
Subscription Management – It let you manage multiple pricing plans for your product and services.
Recurring Billing & Invoicing – It automates your recurring billing and sends proper invoices before the due date.
Subscription Branding – You can use customizable elements to show your brand at the checkout page.
Pricing-
Three plans are available on Zoho Subscriptions
Basic- The basic plan will cost you 9,999 INR on annual basis for 500 customers.  Further, this plan can be used by 3 users and it supports 3 automated workflows.
Standard-  The Standard plan Charges a 19,999 INR yearly basis for 2000 customers. This plan can be used by 5 users with 10 automated workflows.
Professional-  Another plan of Zoho subscription is Professional that costs you 69,999 INR yearly for 5000 customers. Plan can be used by 10 users and it supports 10 automated workflows.
---
Conclusion-
Here, we have covered the 5 Best Sellfy Alternatives. It doesn't matter what type of business you have, either big or small you can make use of any of the above-mentioned services.
Each of the Sellfy alternatives varies in pricing and features. You can choose the one according to your business requirements.
You may also like to read :