Searching for Facebook Lead Ads Integration with Google Sheets? Then, look no further, as here we have a perfect tool suggestion for you i.e, Pabbly Connect, which will help you to integrate Facebook Lead Ads with Google Sheets in real-time.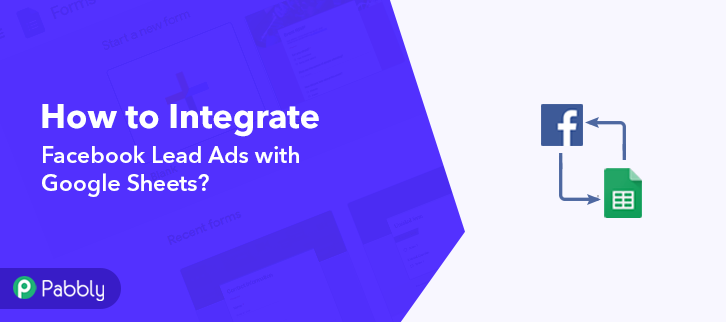 Facebook is one of the most used social media!
Stating the facts –
Every second there are 20,000 people on Facebook. This means in just 18 minutes there are 11 million users on Facebook.
Moving on to the sharing of content, people sharing 1.3 million pieces of content on Facebook every minute of a day won't be a surprise.
The above-mentioned facts make it crystal clear that this is just the right place for you to collect leads & that's what you are already doing right? But where do you store the data? How do you process the data? All manually? If yes, then it definitely would've taken a lot of your time and effort. Simply integrating the two will be of great help. Won't it?
Why Choose This Method Of Integration?
In contrast with other integration services-
Pabbly Connect does not charge you for its in-built apps like filters, Iterator, Router, Data transformer, and more
Create "Unlimited Workflows" and smoothly define multiple tasks for each action
As compared to other services which offer 750 tasks at

$24.99

, Pabbly Connect proffers 50000 tasks in the starter plan of $29 itself
Unlike Zapier, there's no restriction on features. Get access to advanced features even in the basic plan
Try before you buy! Before spending your money, you can actually signup & try out the working of Pabbly Connect for FREE
Well, now the question is How to Integrate Facebook Lead Ads to Gmail and Google Sheets?
In this blog, I am gonna walk you through the easiest steps Facebook lead ads integration using Pabbly Connect.
Let me tell you, Pabbly Connect is an application that lets you connect multiple apps and create seamless workflows for effortless data transmission. Moreover, you can access all its features even with the free plan.
How to Integrate Facebook Lead Ads with Google Sheets | Step by Step
Lets quickly dive in to find out the process –
Step 1 – Sign up to Pabbly Connect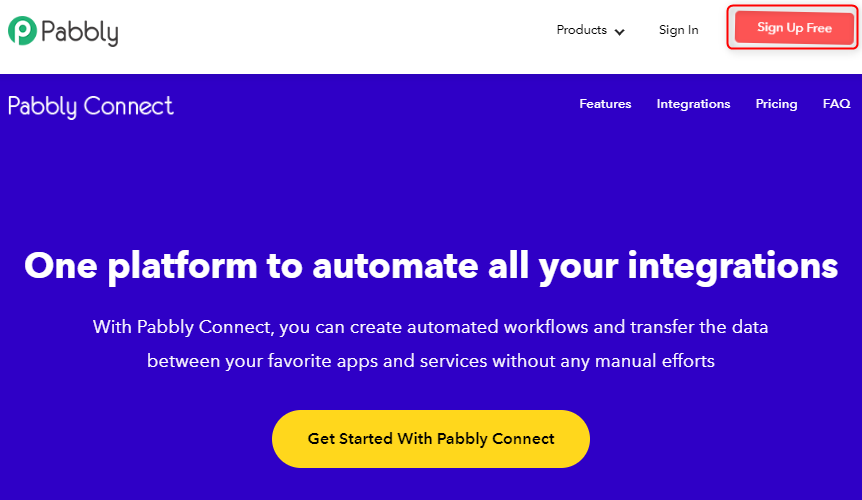 To start with the process, you gotta sign up to a free account of Pabbly Connect which will further help in the Facebook Lead Ads integration process. Quickly fill in the details manually or sign-up via your Google account.
Try Pabbly Connect for FREE
Step 2 – Access Pabbly Connect
Once you are done with signing up, access Connect (a service of Pabbly for automated integration & data transmission).
Step 3 – Create a WorkFlow for Facebook Lead Ads Integration
(a) Start with a New Workflow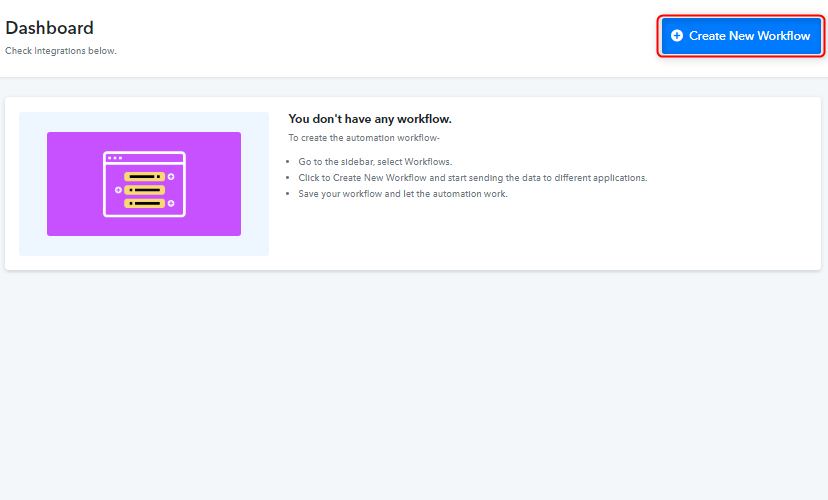 Start with creating a workflow for your project by hitting the 'Create New Workflow' button.
(b) Name the Workflow for Facebook Lead Ads with Google Sheets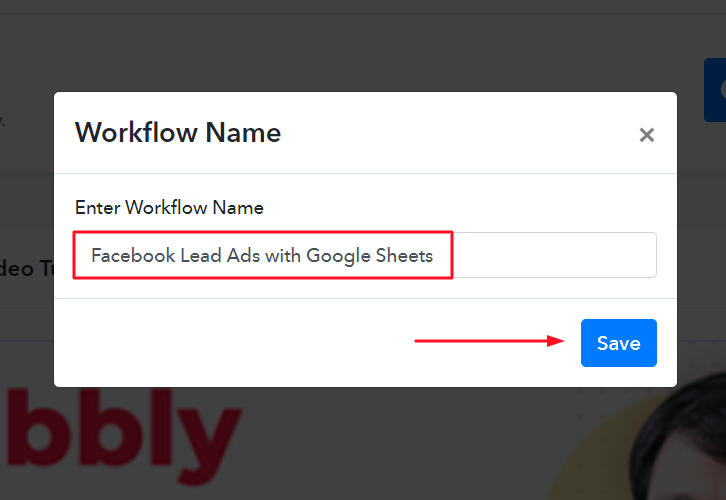 Next, you need to name the workflow just like I did. You can obviously name the workflow as per your requirements and need.
Step 4 – Setting Trigger for Facebook Lead Ads Integration
As soon as you are done with creating a workflow, you will have to select the application you want to integrate. With the help of Pabbly Connect, you can bind or connect unlimited apps, click here to create your account for free.
(a) Select Facebook Lead Ads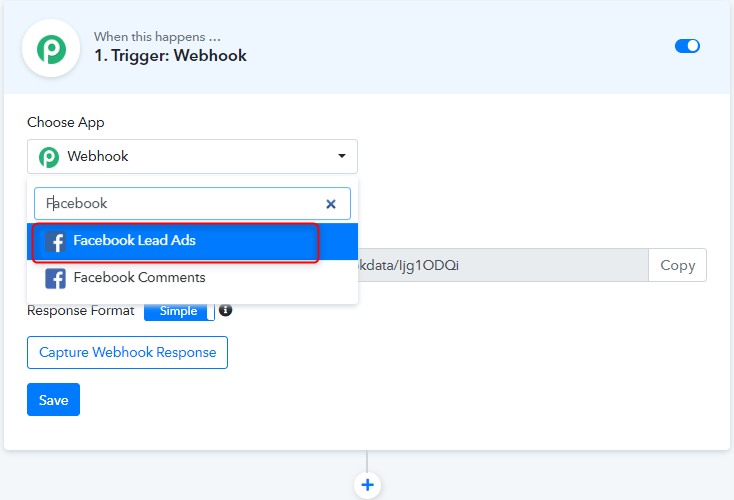 (b) Connect with Facebook Lead Ads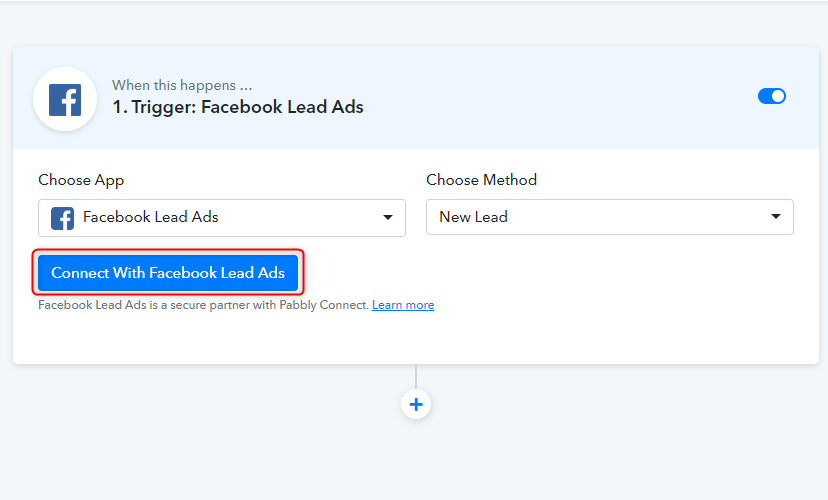 Simply, select the app i.e. Trigger to Facebook Lead Ads along with the method set as "New Lead" and hit the connect button.
(c) Click Authorize & Connect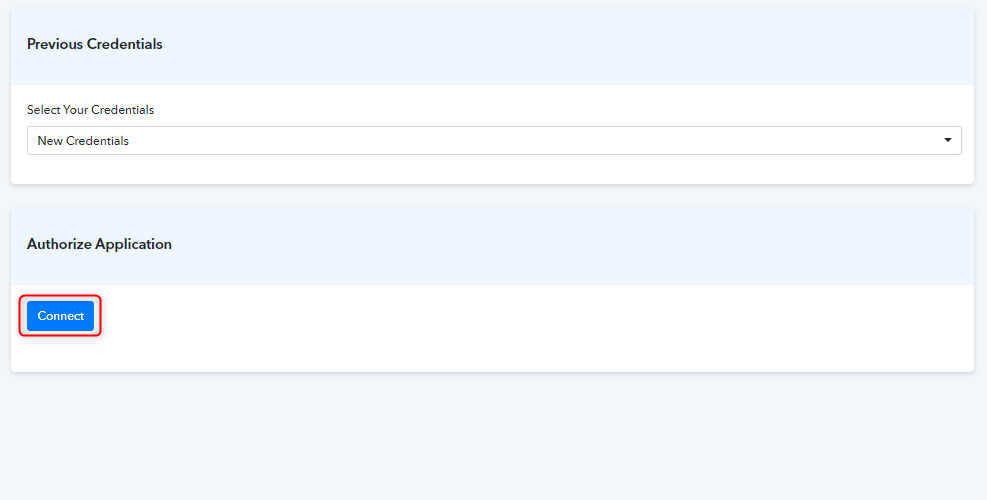 Quickly, authorize and connect the Facebook account from where you want to collect leads.
Step 5:  Select Fb Page and Form to Collect Leads Data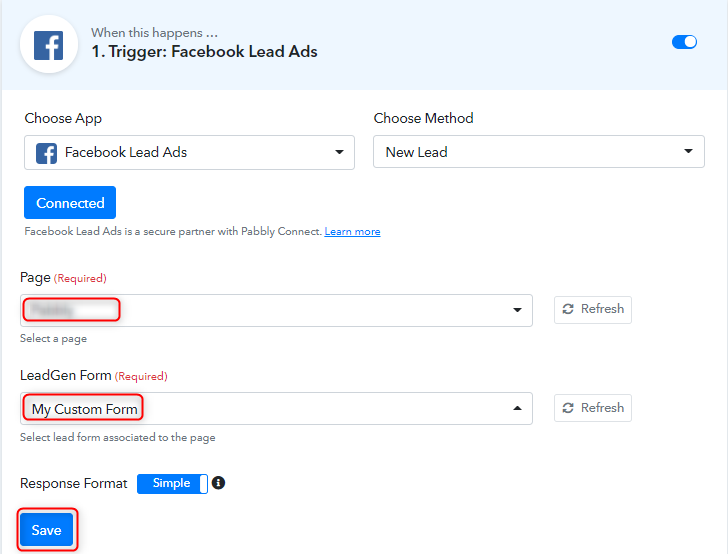 On connecting with Facebook, you will have to choose the page and form from which you want to get leads data.

Save and Send Test Request to find out the data that will be provided while Facebook Lead Ads integration process.
Step 7: Set Action to Integrate Facebook Lead Ads & Google Sheets
(a) Select Google Sheets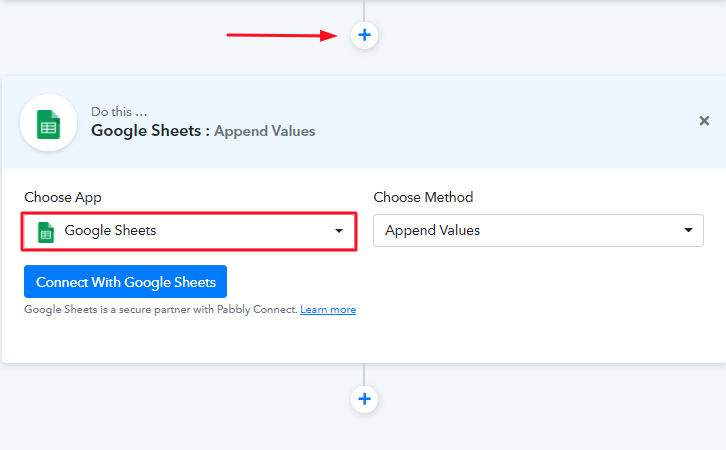 In order to connect the Pabbly Form Builder to Google Sheets, you need to press the "(+)" button. After that, just select Google Sheet from the drop-down option & press the button termed " Connect With Google Sheets".
(b) Click on "Connect"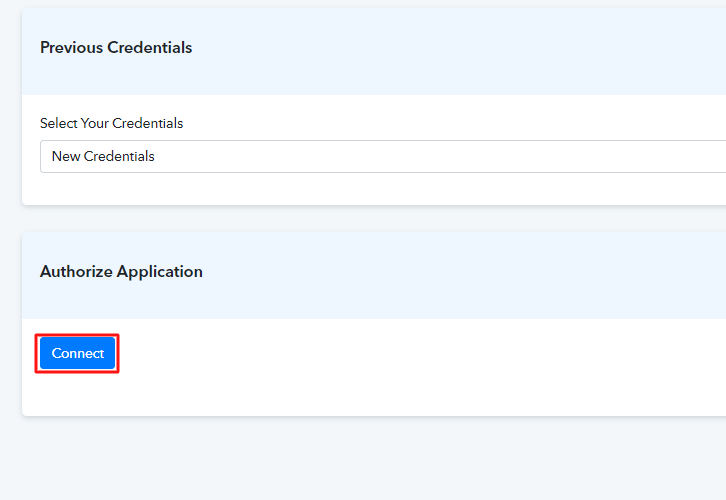 The consequent step is to connect with Google Sheet by pressing the "Connect" button. Once you press the 'Connect ' button, a window will pop-up asking you to select/fill a Google Account to which you want to connect the Google Sheets and Pabbly Connect.
Step 8: Fill up All the Fields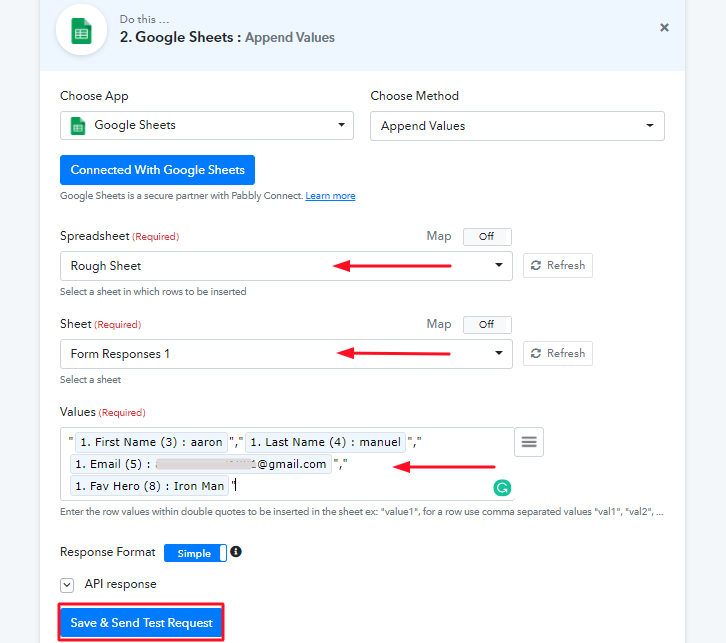 After connecting your google sheet, simply enter all the required fields one by one. Furthermore, once you fill up all the details, simply hit the "Save & Send Test Request" button to complete the entire procedure.
Step 9: Check the Google Sheet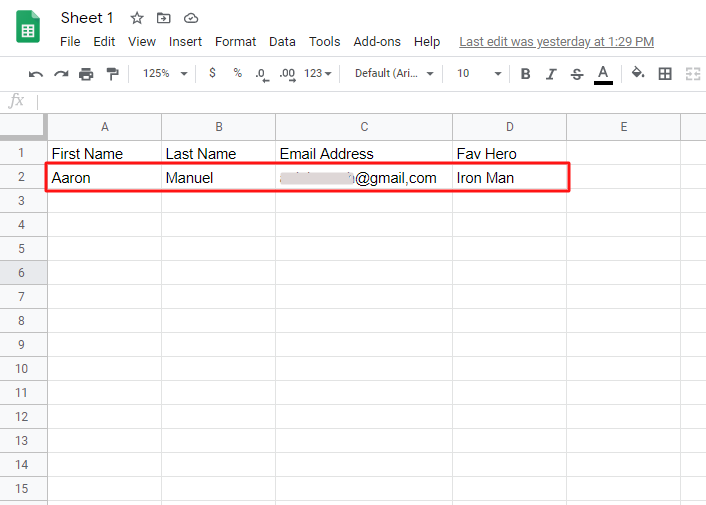 Voila! As you can see that, all the form details are now visible in your google sheet & your automation is now set.
Conclusion –
To put in a nutshell, we have explained the process of Facebook Lead Ads integration with Google sheets with the help of an automation tool Pabbly Connect.

Moreover, the process is very smooth and efficient as all you gotta do is follow the simple steps. Once you start doing so, you will find it very easy peasy to continue working on the data transmission as the software itself provides hints regarding what to do next. So go ahead and create your account for free.

Hope the process was clear to you guys. However, in case of doubts, you can always drop in your comments.  We'll get back to as early as possible.
You May Also Like to Read –