Aren't you tired of manually efforts to add Autopilot contact from new Salesforce lead? If you're still doing that, you need to upgrade right now and start using Pabbly Connect.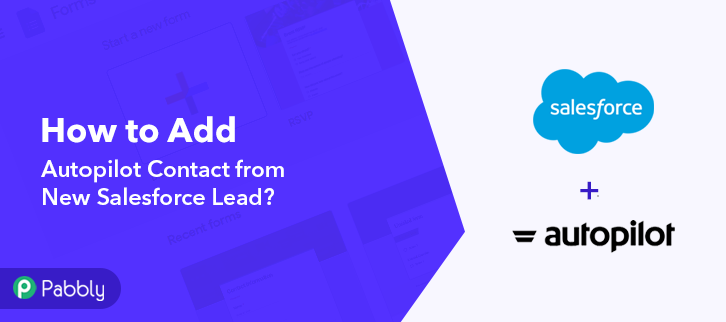 Well, Pabbly Connect is an integration and automation software that allows you to integrate multiple apps for easy data transmission. The best part is there is no need for coding skills.
You can create seamless workflows in a matter of time without any difficulty.
Why Choose This Method Of Integration?
In contrast with other integration services-
Pabbly Connect does not charge you for its in-built apps like filters, Iterator, Router, Data transformer, and more
Create "Unlimited Workflows" and smoothly define multiple tasks for each action
As compared to other services which offer 750 tasks at

$24.99

, Pabbly Connect offers 50000 tasks in the starter plan of $29 itself
Unlike Zapier, there's no restriction on features. Get access to advanced features even in the basic plan
Try before you buy! Before spending your money, you can actually signup & try out the working of Pabbly Connect for FREE
Let's understand the software and the need for this integration. Salesforce is a cloud computing solution that helps companies to better communicate with clients, suppliers, and future users by using cloud technologies. On the other hand, Autopilot is a visual communications platform for creating marketing plans and tracking lead conversions. Multi-channel marketing capabilities are provided by the product, including online, email, in-app, SMS, and conventional mail communications.
By connecting Salesforce and Autopilot using Pabbly Connect, you can easily add a contact in Autopilot whenever there is a new lead added in Salesforce. Here, we have also attached a video regarding the same.
Furthermore, we have a template for this integration that will help you move up and operating fast. To get started, click the 'Use Workflow' button below. You can also search the Marketplace for more apps/integrations.

Now, without further ado, let's get down to business and take the steps to connect Salesforce and Autopilot.
How to Add Autopilot Contact from New Salesforce Lead (step by step)
Let's get started!
Step 1: Sign up to Pabbly Connect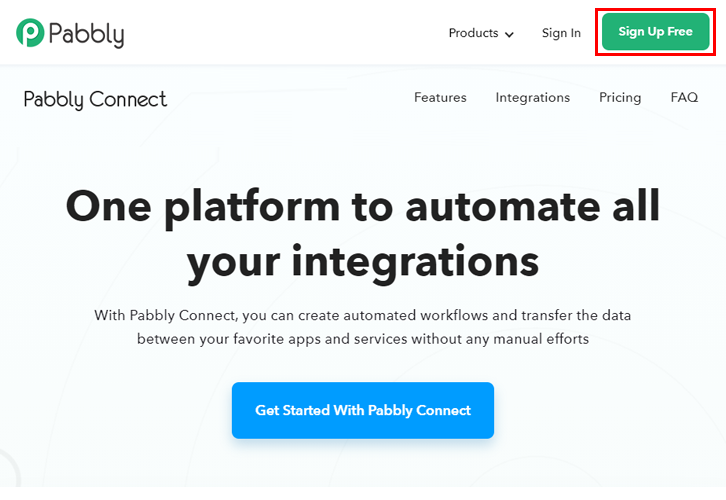 Initiate the process to add Autopilot contact from new Salesforce lead by clicking on the 'Sign Up Free' icon on the Pabbly Connect home page. Next, either manually fill-up all the details or sign up using your Gmail account.
Try Pabbly Connect for FREE
Step 2: Access Pabbly Connect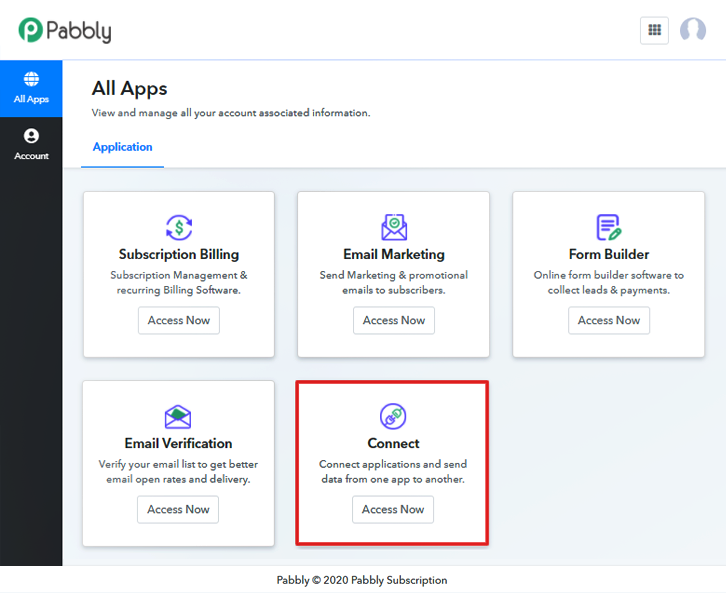 Next, after logging into the account, click on the 'Access Now' button of the Connect section in the dashboard.
Step 3: Workflow for Salesforce with Autopilot Integration
(a) Start with a New Workflow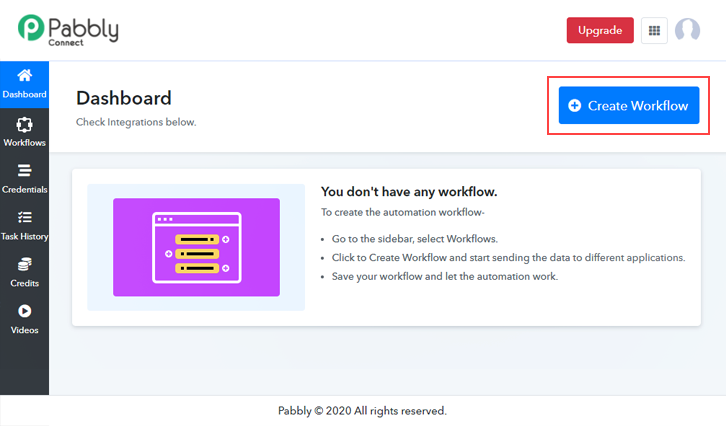 Start with creating a workflow for your project by clicking on the 'Create Workflow' button.
(b) Name the Workflow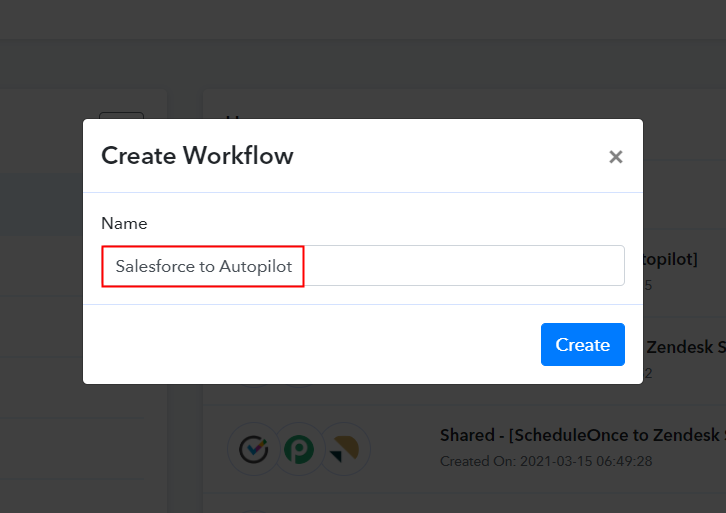 Further, add the name of workflow which in our case is 'Salesforce to Autopilot'. Nevertheless, you can always name the workflow according to your requirements.
Step 4: Setting Trigger for Salesforce to Autopilot Integration
Further, you have to choose an app to add Autopilot contact from the new Salesforce lead. Pabbly Connect lets you bind or connect unlimited apps within minutes, click here to sign up for unlimited workflows.
(a) Select Application you Want to Integrate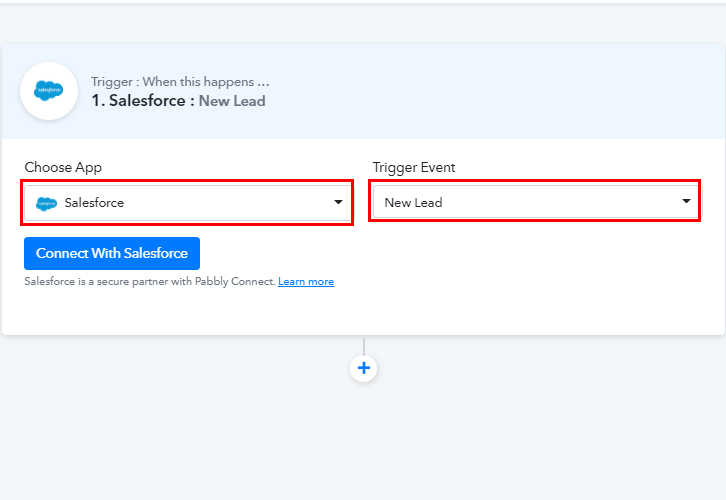 In the following step, choose 'Salesforce' from the choose app drop-down, and select 'New Lead' option from the Trigger Event.
(b) Connect with Salesforce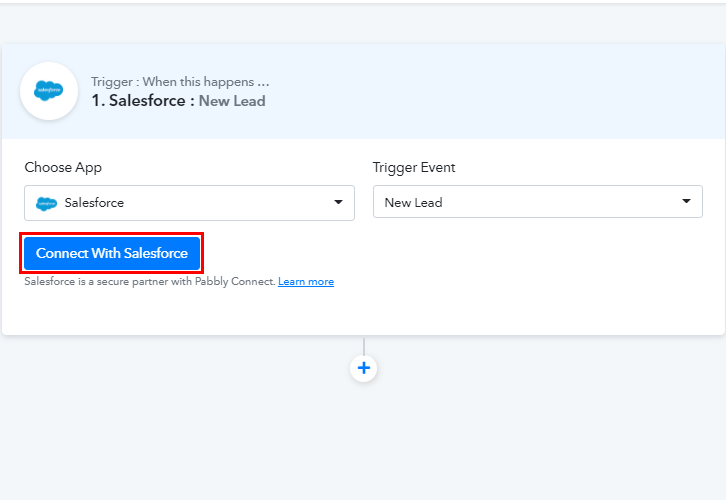 After choosing the application click on the 'Connect With Salesforce' button for the next step.
Step 5: Connecting Salesforce to Pabbly Connect
Later, to connect Salesforce with Pabbly Connect, you have to authorize the application. For this, you have to log into your Salesforce account.
(a) Authorize Salesforce Account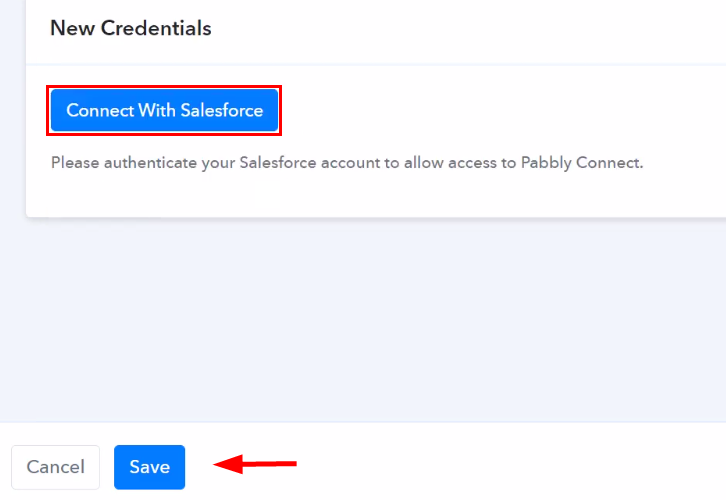 In the next window that slides in from the right, again click on 'Connect with Salesforce' button. Authorize your Salesforce account to connect with Pabbly Connect by allowing access. Then, click on the 'Save' button.
(b) Paste Instance URL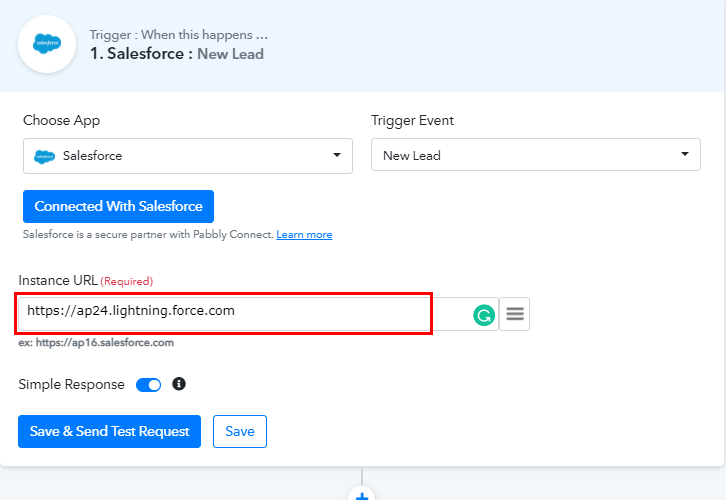 Now, you get the 'Instance URL' from Salesforce website URL. Simply copy and paste it in the respective column as shown in the above image.
Step 6: Create a New Lead
To check if the integration is capturing data or not, we will be going to create a new lead in Salesforce.
(a) Click on Leads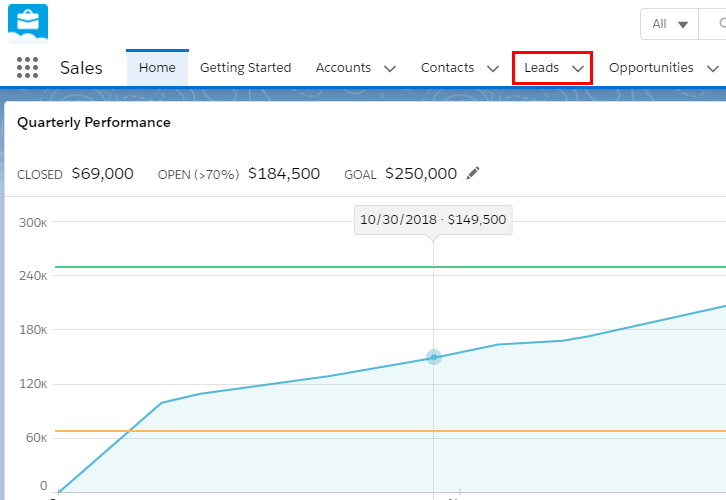 Now, go to the Salesforce dashboard, and click on 'Leads' menu.
(b) Create a New Lead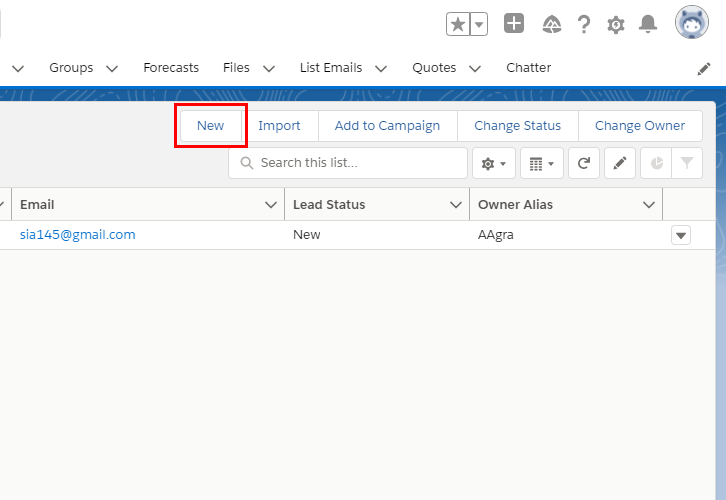 Promptly, click on the 'New' button to create a new lead.
(c) Enter Lead Info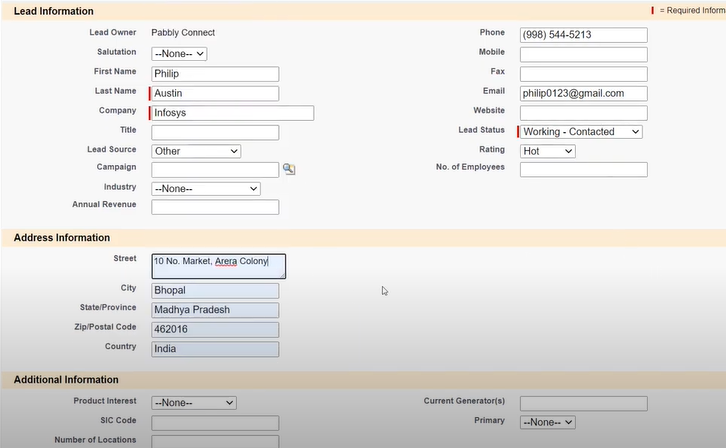 Further, you have to enter the new lead details such as first name, last name, address, and so forth.
(d) Save the Lead Details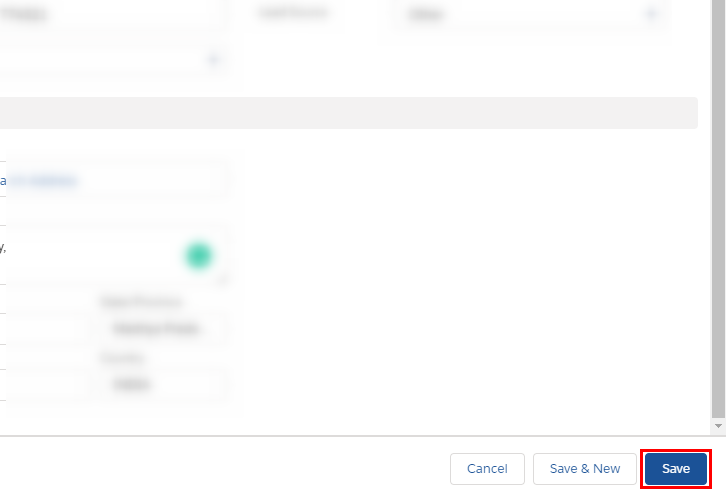 After you entered all the details for the new lead, click on the 'Save' button to save the details.
Step 7: Test the Response in Pabbly Connect Dashboard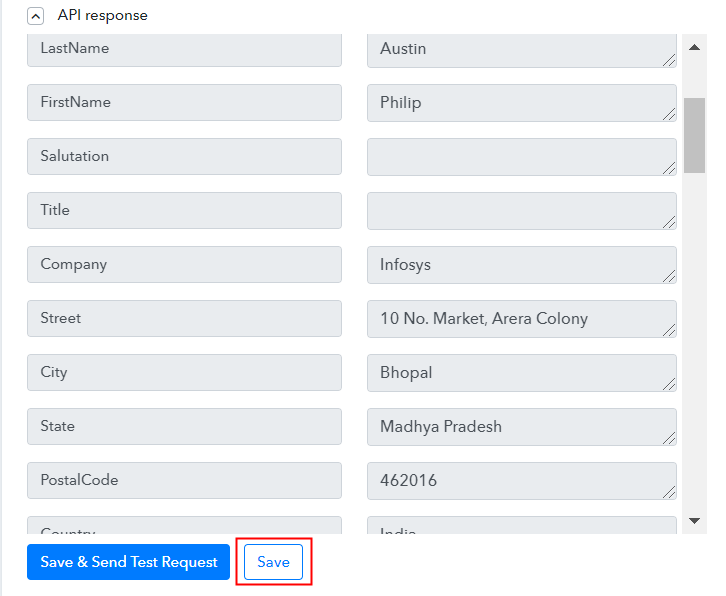 Subsequently, go to the Pabbly Connect window, and click on the 'Save and Send Test Request' button to get the response. At last, hit the 'Save' button.
Step 8: Setting Action for Salesforce to Autopilot Integration
Subsequently, to make Autopilot and Salesforce integration work, you have to choose the action for your trigger.
(a) Select Application you Want to Integrate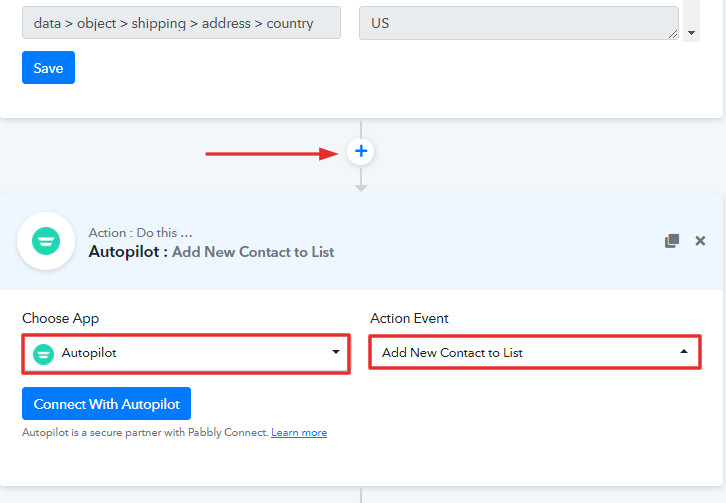 The consequent step is to hit the "+" icon then select "Autopilot" & in the choose method option, select "Add New Contact to List".
(b) Click the Connect Button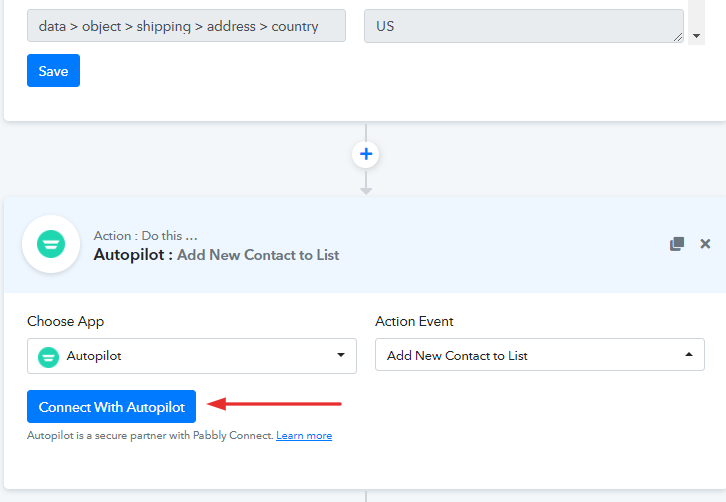 Later, press the "Connect With Autopilot" button after making all the significant changes.
Step 9: Connecting Autopilot to Pabbly Connect
Moving on to the next step, now it's time to add Salesforce lead as a contact in Autopilot.
(a) Click on the Given Link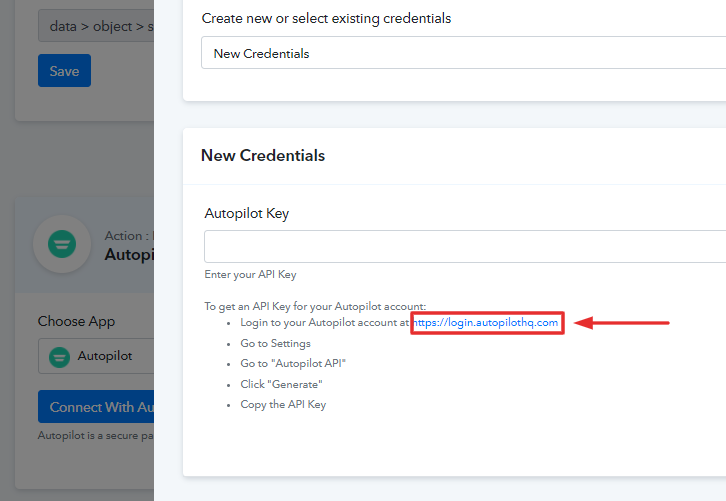 Now, click on the given link in order to get the "Autopilot Key" from Autopilot software. Once you click on the link, you will get redirected to your Autopilot account. Simply, log into your account and go to settings.
(b) Copy the API Key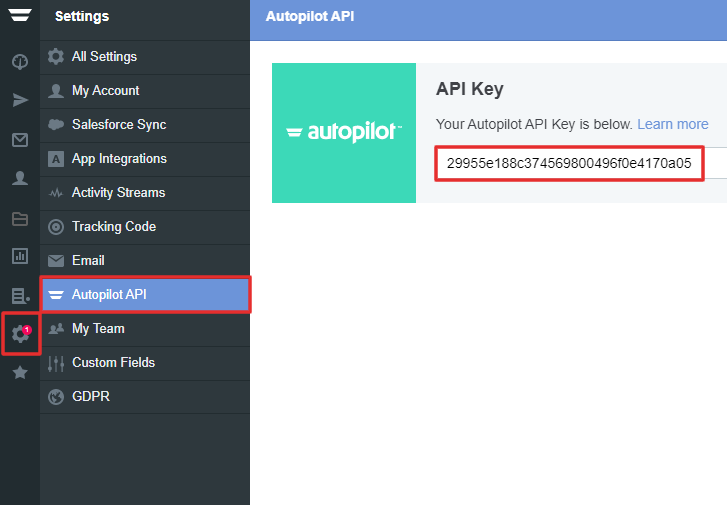 Moving on, now click on the gear icon of settings, then hit the "Autopilot API" option. After that, simply copy the given API Key.
(c) Paste the API Key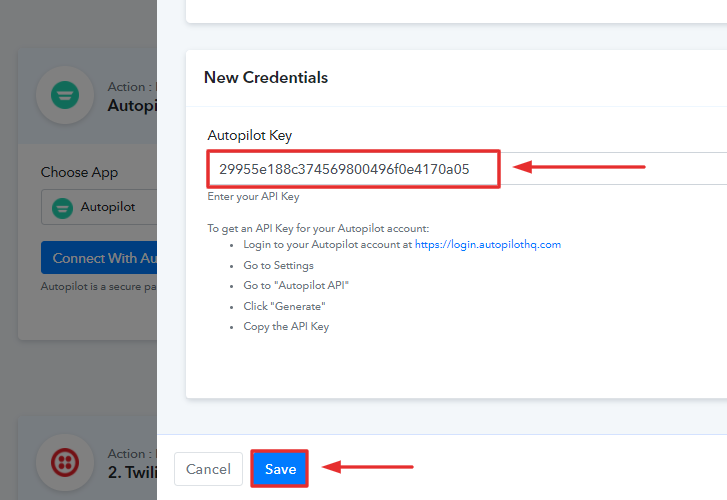 Later, paste the API key in the given box and then hit the "Save" button to proceed further.
(d) Map the Fields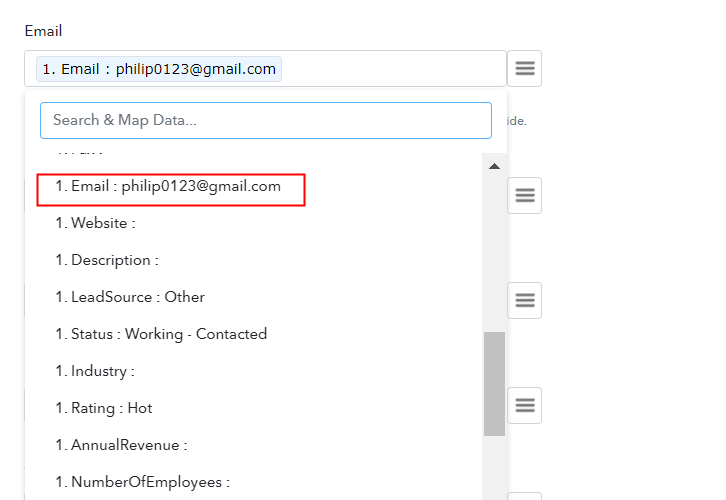 Later on, map the required field from the drop-down option.
(e) Save & Send Test Request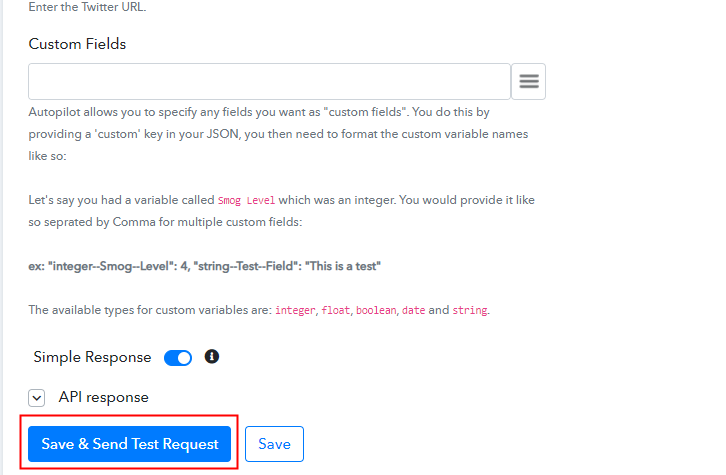 After entering all the details, hit the "Send Test Request" button to test the Salesforce and Autopilot integration.
Step 10: Check Response in Autopilot Dashboard
Finally, when you check the Contact section in Autopilot, your customer entry will automatically appear there.
Conclusion –
Hopefully, now you know "How to Add Autopilot Contact from New Salesforce Lead". This is a one-time process, after which it will be automatically done by Pabbly Connect. Just follow all the step-by-step procedures mentioned above & your Salesforce to Autopilot integration is set.

So, don't wait anymore. Go and try Pabbly Connect for Free.
You May Also Like To Read –