Pabbly Subscription Billing allows its users to auto-populate the customer data on the checkout page through a query string. This means you can pre-fill form fields using a query string in the checkout page URL for a specific customer, even if the customer isn't registered yet. Further, you can send this custom link to the customer. This way, your customer only has to select some specific information and can directly proceed towards the payment checkout.
How to use it?
To make use of this feature, you need to create a plan and if you already have a plan (for the purpose) then skip creating one. Then, click on the 'Checkout' button of the plan that is available in the 'Product' section of your Pabbly Subscription Billing account.
---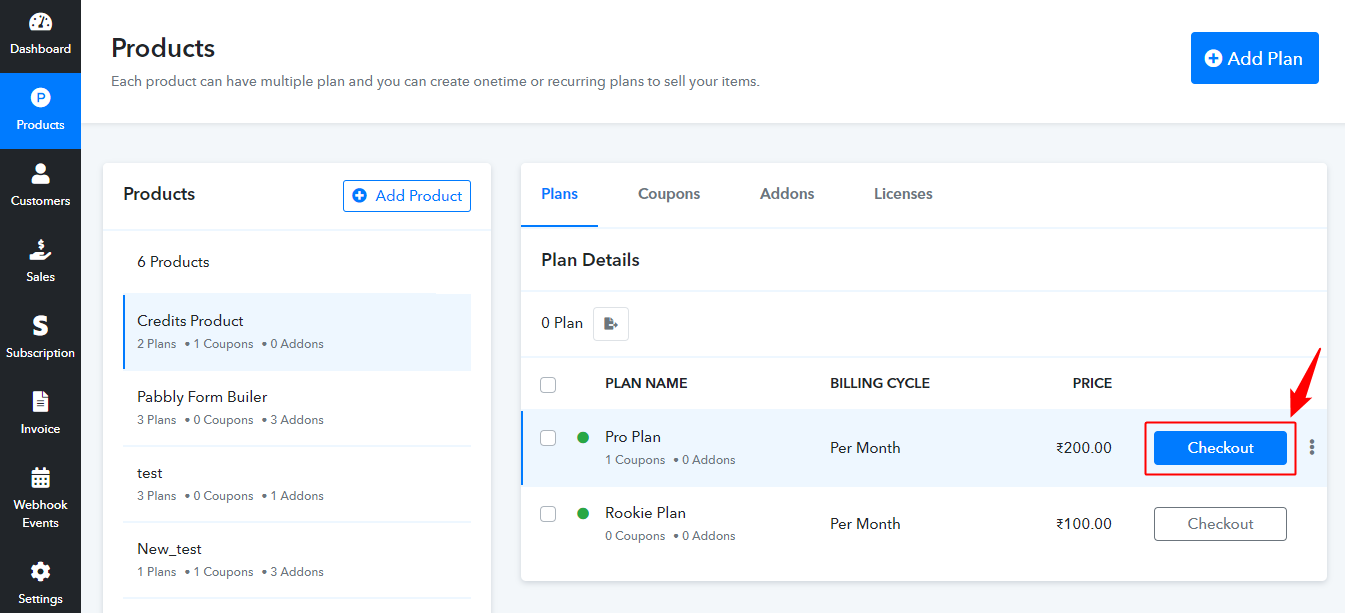 ---
Here's an example, where I have passed the First Name, Last Name, Country & State on the checkout page URL –
https://payments.pabbly.com/subscribe/60213afe1b1c4b1744b7fa50/psb-tier-17-24-month?first_name=Anuj&last_name=Tiwari&country=in&state_code=MP
To learn more about pre-filling the embedded checkout pages and custom fields please check this documentation-
https://forum.pabbly.com/threads/prefill-fields-on-the-checkout-page-custom-and-normal-fields.6106/.
To auto-populate form fields through a query string, follow these simple steps:
Add a question mark (?) at the end of the checkout page URL
Add the Parameter of the field, followed by an equal (=) sign and the Value that you want to pre-fill in the form
For pre-filling, the country and state names use the specific Codes as values that are given below in a table
Separate multiple form field parameters with an ampersand (&)
Note: There should not be any extra spaces in the URL
Now, you need to combine the checkout page URL, form field parameter and the values that you want to pre-fill for your customer. This way, you can generate a URL with auto-populate form fields through a query string.
---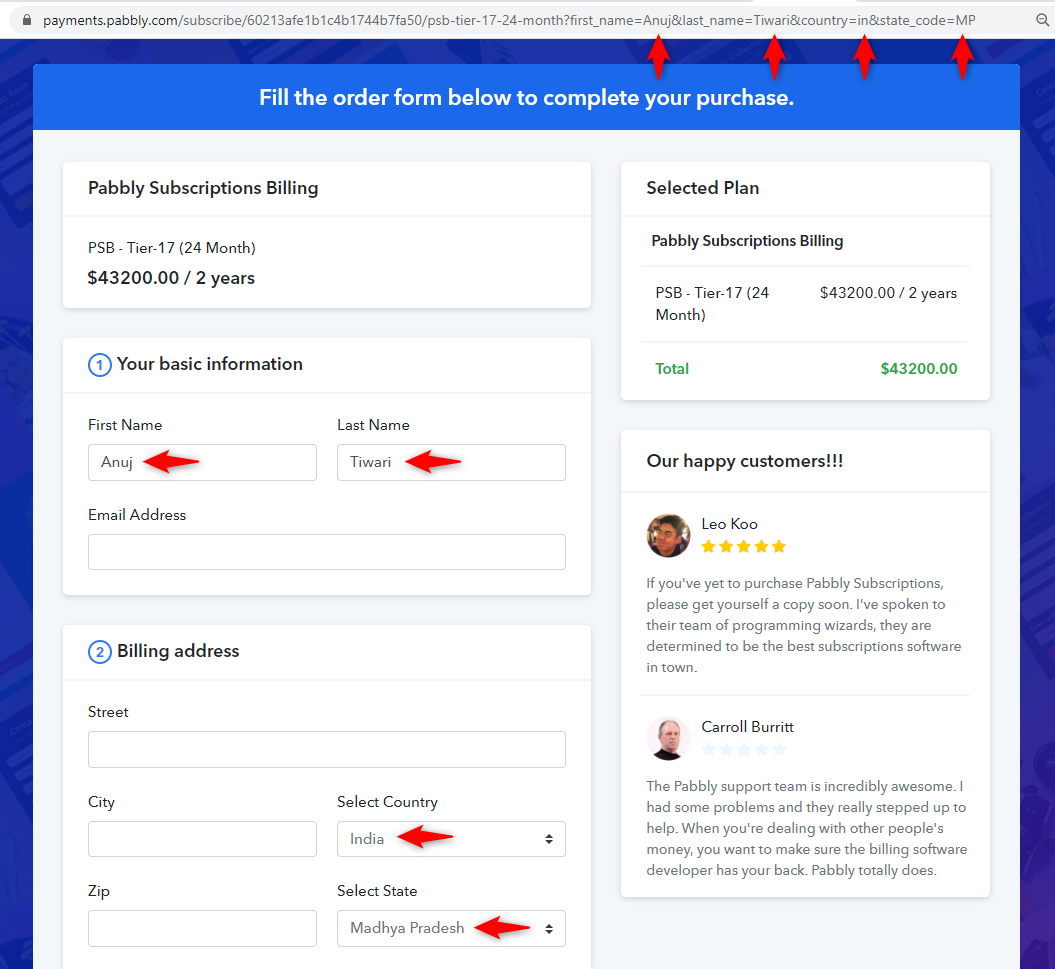 ---
By doing so, the checkout page gets auto-populated with the values that you've entered in the checkout page URL query string. Moreover, the customer can edit and change any of the pre-filled values.
You can share this URL link with your customer anywhere such as emails, messages etc.  The contact that clicks on the link will see the checkout page with pre-filled value(s).
---
You can use the following parameters for prefilling the form:
first_name= To pre-fill the first name field
last_name= To pre-fill the last name field
country= For the country name
state_code= For the state of the country
Country Codes
| Country Name | Country Code |
| --- | --- |
| Afghanistan | AF |
| Åland Islands | AX |
| Albania | AL |
| Algeria | DZ |
| American Samoa | AS |
| Andorra | AD |
| Angola | AO |
| Anguilla | AI |
| Antarctica | AQ |
| Antigua and Barbuda | AG |
| Argentina | AR |
| Armenia | AM |
| Aruba | AW |
| Australia | AU |
| Austria | AT |
| Azerbaijan | AZ |
| Bahamas | BS |
| Bahrain | BH |
| Bangladesh | BD |
| Barbados | BB |
| Belarus | BY |
| Belgium | BE |
| Belize | BZ |
| Benin | BJ |
| Bermuda | BM |
| Bhutan | BT |
| Bolivia | BO |
| Bonaire, Sint Eustatius and Saba | BQ |
| Bosnia and Herzegovina | BA |
| Botswana | BW |
| Bouvet Island | BV |
| Brazil | BR |
| British Indian Ocean Territory | IO |
| Brunei Darussalam | BN |
| Bulgaria | BG |
| Burkina Faso | BF |
| Burundi | BI |
| Cambodia | KH |
| Cameroon | CM |
| Canada | CA |
| Cape Verde | CV |
| Cayman Islands | KY |
| Central African Republic | CF |
| Chad | TD |
| Chile | CL |
| China | CN |
| Christmas Island | CX |
| Cocos (Keeling) Islands | CC |
| Colombia | CO |
| Comoros | KM |
| Congo, Republic of the (Brazzaville) | CG |
| Congo, the Democratic Republic of the (Kinshasa) | CD |
| Cook Islands | CK |
| Costa Rica | CR |
| Côte d'Ivoire, Republic of | CI |
| Croatia | HR |
| Cuba | CU |
| Curaçao | CW |
| Cyprus | CY |
| Czech Republic | CZ |
| Denmark | DK |
| Djibouti | DJ |
| Dominica | DM |
| Dominican Republic | DO |
| Ecuador | EC |
| Egypt | EG |
| El Salvador | SV |
| Equatorial Guinea | GQ |
| Eritrea | ER |
| Estonia | EE |
| Ethiopia | ET |
| Falkland Islands (Islas Malvinas) | FK |
| Faroe Islands | FO |
| Fiji | FJ |
| Finland | FI |
| France | FR |
| French Guiana | GF |
| French Polynesia | PF |
| French Southern and Antarctic Lands | TF |
| Gabon | GA |
| Gambia, The | GM |
| Georgia | GE |
| Germany | DE |
| Ghana | GH |
| Gibraltar | GI |
| Greece | GR |
| Greenland | GL |
| Grenada | GD |
| Guadeloupe | GP |
| Guam | GU |
| Guatemala | GT |
| Guernsey | GG |
| Guinea | GN |
| Guinea-Bissau | GW |
| Guyana | GY |
| Haiti | HT |
| Heard Island and McDonald Islands | HM |
| Holy See (Vatican City) | VA |
| Honduras | HN |
| Hong Kong | HK |
| Hungary | HU |
| Iceland | IS |
| India | IN |
| Indonesia | ID |
| Iran, Islamic Republic of | IR |
| Iraq | IQ |
| Ireland | IE |
| Isle of Man | IM |
| Israel | IL |
| Italy | IT |
| Jamaica | JM |
| Japan | JP |
| Jersey | JE |
| Jordan | JO |
| Kazakhstan | KZ |
| Kenya | KE |
| Kiribati | KI |
| Korea, Democratic People's Republic of | KP |
| Korea, Republic of | KR |
| Kuwait | KW |
| Kyrgyzstan | KG |
| Laos | LA |
| Latvia | LV |
| Lebanon | LB |
| Lesotho | LS |
| Liberia | LR |
| Libya | LY |
| Liechtenstein | LI |
| Lithuania | LT |
| Luxembourg | LU |
| Macao | MO |
| Macedonia, Republic of | MK |
| Madagascar | MG |
| Malawi | MW |
| Malaysia | MY |
| Maldives | MV |
| Mali | ML |
| Malta | MT |
| Marshall Islands | MH |
| Martinique | MQ |
| Mauritania | MR |
| Mauritius | MU |
| Mayotte | YT |
| Mexico | MX |
| Micronesia, Federated States of | FM |
| Moldova | MD |
| Monaco | MC |
| Mongolia | MN |
| Montenegro | ME |
| Montserrat | MS |
| Morocco | MA |
| Mozambique | MZ |
| Myanmar | MM |
| Namibia | NA |
| Nauru | NR |
| Nepal | NP |
| Netherlands | NL |
| New Caledonia | NC |
| New Zealand | NZ |
| Nicaragua | NI |
| Niger | NE |
| Nigeria | NG |
| Niue | NU |
| Norfolk Island | NF |
| Northern Mariana Islands | MP |
| Norway | NO |
| Oman | OM |
| Pakistan | PK |
| Palau | PW |
| Palestine, State of | PS |
| Panama | PA |
| Papua New Guinea | PG |
| Paraguay | PY |
| Peru | PE |
| Philippines | PH |
| Pitcairn | PN |
| Poland | PL |
| Portugal | PT |
| Puerto Rico | PR |
| Qatar | QA |
| Réunion | RE |
| Romania | RO |
| Russian Federation | RU |
| Rwanda | RW |
| Saint Barthélemy | BL |
| Saint Helena, Ascension and Tristan da Cunha | SH |
| Saint Kitts and Nevis | KN |
| Saint Lucia | LC |
| Saint Martin | MF |
| Saint Pierre and Miquelon | PM |
| Saint Vincent and the Grenadines | VC |
| Samoa | WS |
| San Marino | SM |
| Sao Tome and Principe | ST |
| Saudi Arabia | SA |
| Senegal | SN |
| Serbia | RS |
| Seychelles | SC |
| Sierra Leone | SL |
| Singapore | SG |
| Sint Maarten (Dutch part) | SX |
| Slovakia | SK |
| Slovenia | SI |
| Solomon Islands | SB |
| Somalia | SO |
| South Africa | ZA |
| South Georgia and South Sandwich Islands | GS |
| South Sudan | SS |
| Spain | ES |
| Sri Lanka | LK |
| Sudan | SD |
| Suriname | SR |
| Swaziland | SZ |
| Sweden | SE |
| Switzerland | CH |
| Syrian Arab Republic | SY |
| Taiwan | TW |
| Tajikistan | TJ |
| Tanzania, United Republic of | TZ |
| Thailand | TH |
| Timor-Leste | TL |
| Togo | TG |
| Tokelau | TK |
| Tonga | TO |
| Trinidad and Tobago | TT |
| Tunisia | TN |
| Turkey | TR |
| Turkmenistan | TM |
| Turks and Caicos Islands | TC |
| Tuvalu | TV |
| Uganda | UG |
| Ukraine | UA |
| United Arab Emirates | AE |
| United Kingdom | GB |
| United States | US |
| United States Minor Outlying Islands | UM |
| Uruguay | UY |
| Uzbekistan | UZ |
| Vanuatu | VU |
| Venezuela, Bolivarian Republic of | VE |
| Vietnam | VN |
| Virgin Islands, British | VG |
| Virgin Islands, U.S. | VI |
| Wallis and Futuna | WF |
| Western Sahara | EH |
| Yemen | YE |
| Zambia | ZM |
| Zimbabwe | ZW |